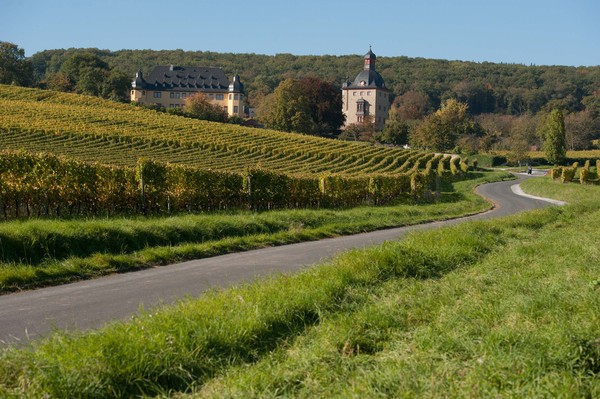 The world's oldest winery, Schloss Vollrads, stands behind its Riesling vines.
I love wine. I love wine with food.
I also love wine with history.
This fall, the great wine estate of Schloss Vollrads, in the heart of Germany's prestigious Rheingau region, is offering the opportunity to enjoy all three delights... simultaneously and palpably.
Though early records are understandably muddy everywhere... one can say with a high degree of certainty that Schloss Vollrads is the oldest operating commercial winery in the world. They first sold wine in 1211, believe it or not... and have just released their 800th vintage, the high-quality 2011... giving consumers the opportunity to wine, dine... and drink in some history... all at once.
In the Carolingian era, way back in the deep Middle Ages, just a year after the start of the First Crusade, the already powerful Greiffenclau family turned their attention to winemaking in the Rheingau. That was 1096. They certainly sold no wine before its time; it was 15 years later that the Greiffenclaus made their first sale of wine, in 1211, to the St. Victor Monastery in nearby Mainz, today a large German city.
Just to give you some perspective:
Four years later: the Magna Charta was signed
99 years later: Dante wrote The Divine Comedy.
228 years later: Gutenberg (also a German!) invented the printing press
It has been a while.
In 1330, the Greiffenclaus began construction of a castle, building on Roman foundations. The castle, or "schloss," still stands today -- after a few facelifts -- and, as the heart of "Schloss Vollrads," has long been an icon of the German wine industry.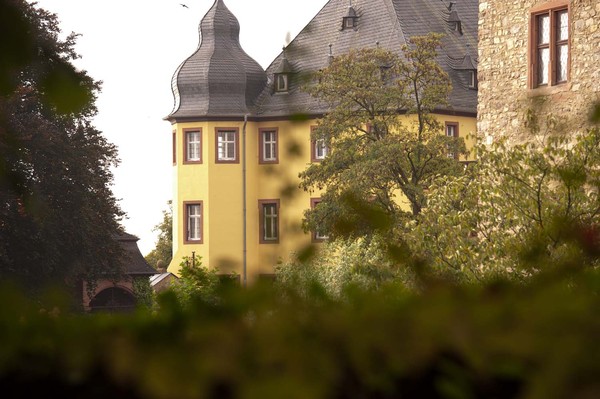 The "schloss" at Schloss Vollrads.
But this became even stronger after 1862, when the Silesian count Huga von Matuschka married Sophie von Greiffenclau. German Emperor Wilhelm allowed the first-ever union of name and seal, creating the name Count von Matuschka-Grieffenclau, the new owner of Schloss Vollrads. And marking the start of a glorious period in the Schloss' history, with the production of superb, world-class wines.
There may have been some finance-related quality decline of Schloss Vollrads wine in the 1990s, but no Matuschka-Grieffenclau ever did more for the international reputation of the estate than our contemporary Count Erwein Matuschka-Grieffenclau, who traversed the globe spreading the gospel of German wine with food, and of his estate Schloss Vollrads.
History has its sad moments, as well. In 1997 -- though we know not why, exactly -- the Count committed suicide. The future of Schloss Vollrads clouded over. But the heritage was saved by a large German bank who, in 1999 hired Rowald Hepp, known as Dr. Hepp, a prominent winemaker, as managing director. Dr. Hepp's vitality soon brought the tragedy-struck estate back to the top, quality-wise; today, Schloss Vollrads is making some of the most vibrant Rieslings in this part of Germany.
And now the fun part: you can taste history yourself with the release of the 2011 vintage.
In fact, one of Dr. Hepp's innovations concerns the consumer who's standing in the wine shop. There has long been (and no one knows this as well as Schloss Vollrads!) a complicated, arcane system of classification on German labels -- Gothic print and all (thank you, Gutenberg!).
A contingent of German producers today strives to simplify the language of the label. Gothic print is history. Elaborate, Teutonic graphics are gone. Often, English words substitute for what used to be German words.
Unfortunately, some producers have streamlined the label to such a degree that the consumer can barely understand any longer what's in the bottle.
Dr. Hepp's labels at Schloss Vollrads today are simplified, yes -- but they give the consumer a fighting chance!
For starters, the detailing of each bottle's provenance -- what town the grapes came from, which specific vineyard -- is gone, as it is on many other modern German labels. But it makes the most sense here -- for the German government long ago decreed, unusually, that "Schloss Vollrads" is both the name of a winery AND the name of a vineyard! So contemporary consumers of Schloss Vollrads have never seen a vineyard name on these labels.
Furthermore, Hepp is using very short and simple phrases, grounded in the German terminology, but using English at times, to clearly designate what's in the bottles.
I recently tasted four of the 2011 Schloss Vollrads releases -- the ones on the dry side -- then enjoyed them with a wide range of foods. The matches were magnificent. Here's a summary of what I tasted, what the labels mean, my notes on the wines, and my suggestions for food with each wine: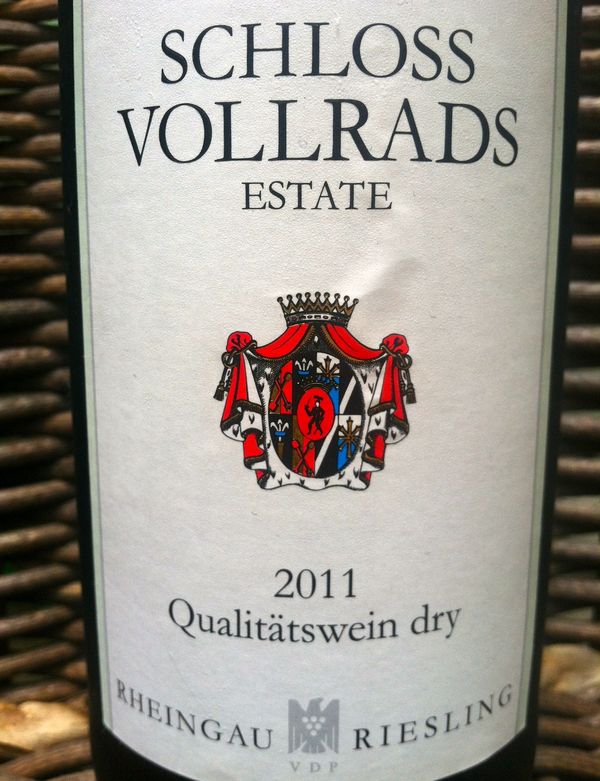 2011 Schloss Vollrads Qualitatswein dry ($18)
"Qualitatswein" is an old German designation meaning "quality wine." Actually, it's a bit of a spin... since the next level up in the German hierarchy is even higher quality! But Qualitatsweins can be excellent wines at excellent value. This one carries the English-language designation "dry," instead of the German "trocken," just to make things clear. Mild fruit nose, suggestive of pear and apple, along with some hints of flowers and wet stone. On the palate, just the merest hint of residual sugar for balance -- but, effectively, this is a stunningly crisp and dry wine with a duly tingly finish. There are so many fish dishes for this wine... including smoked fish... including shellfish. Cold meats as well! Great picnic wine!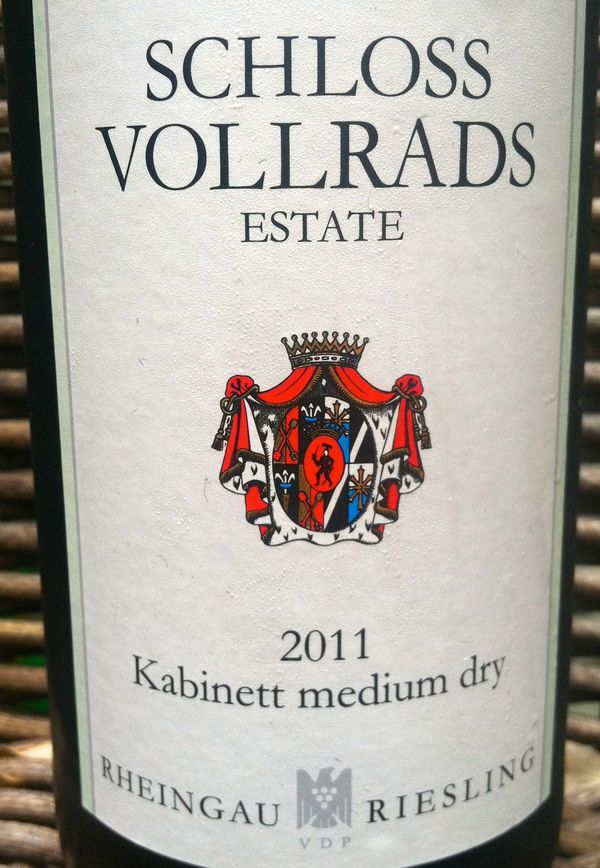 2011 Kabinett medium dry ($23)
"Kabinett" wines are part of the higher-quality category in Germany; technically, it refers to a greater degree of ripeness in the grapes. Once again, Schloss Vollrads could have used a German name to announce the dry/sweet level of this wine -- "halbtrocken," or "feinherb" -- but they chose to use the English term "medium dry." Fuller nose, with riper hints of peach and nectarine. Still low-key and dignified, however. Considerably more concentration than the first wine: slighter richer feel, slightly deeper flavors, even more penetrating acid along with the ever-so-slightly elevated sugar. Still basically a dry wine. To me, it's a perfect sausage wine: hot dogs, brats, kielbasa... as long as the toppings are not sweet. But also a good wine for light, lightly sweet foods: roasted vegetables, some Chinese dishes, sushi with egg.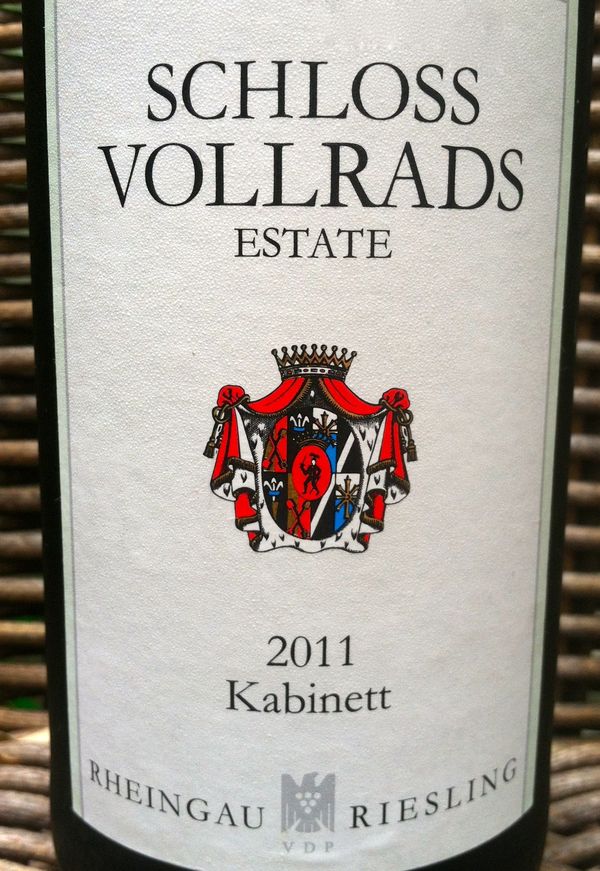 2011 Schloss Vollrads Kabinett ($23)
When a wine is designated "Kabinett" without the words "dry," or "medium dry," or "trocken," or "halbtrocken," or "feinherb" -- that means you can expect some gentle sweetness in the bottle, always matched in Germany by electric acidity. This wine is almost purely peach, with no other interfering generalized "fruity" things. Delicious wine, off-dry and zingy, on the wine/peach juice border. Fabulous for foods, light or rich, that have a little sweetness in them. Equally at home with a light chicken salad containing grapes.....or a rich pork roast with a prune filling! In-betweensies: insanely fabulous with buttered sweet corn! Also loved it with a hot dog on a bun with mustard and sweet relish!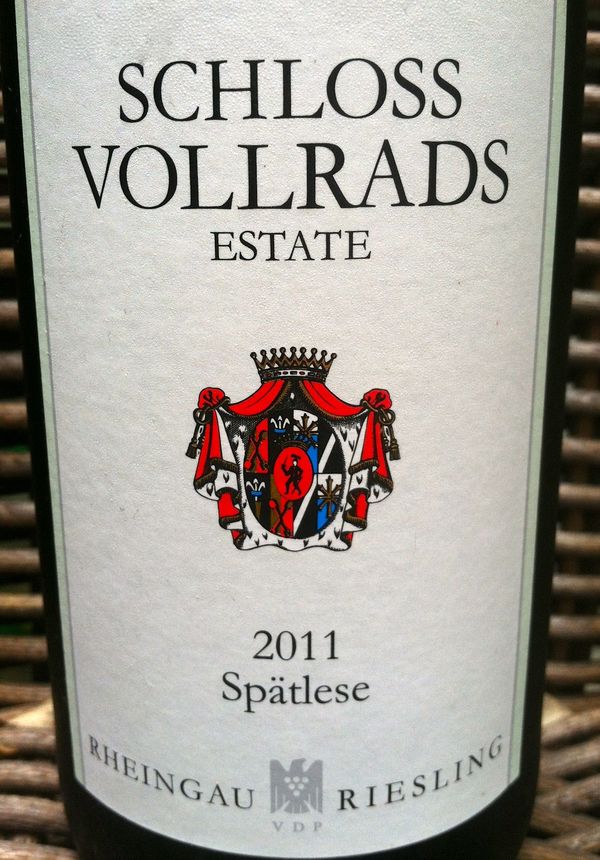 2011 Schloss Vollrads Spatlese ($29)
Another super-quality category, "Spatlese" designates a degree of ripeness in the grapes even higher than "Kabinett." Again... no descriptions of "dry," so here you can expect a convincing strain of sweetness. Still-fermenting kind of nose, very fresh, not that specific yet. Luscious high-wire act: quite sweet, but not all heavy... in fact, ethereal and graceful! I would love this wine, just by itself, as a sipper in the garden on an idyllic summer's afternoon. However, you can feel free do to do one of several things with food:
1) Serve it anyway with "regular" food (Thai curries might be great)... to people who like their wine on the sweet side.
2) Find a savory food that likes kinda sweet wine: cheese or nuts, for example.
3) Consider it a dessert wine... as long as you serve it with lightly sweet desserts that are not sweeter than the wine! A pound cake, for example, would be superb!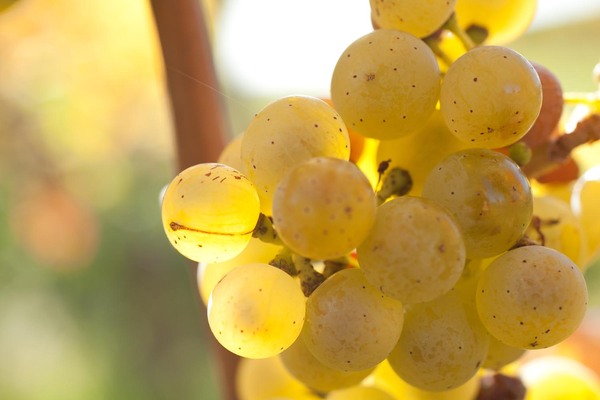 Riesling grapes ripening at Schloss Vollrads.
In any case... history is on your side!
Photos courtesy of David Rosengarten and Schloss Vollrads.
Calling all HuffPost superfans!
Sign up for membership to become a founding member and help shape HuffPost's next chapter