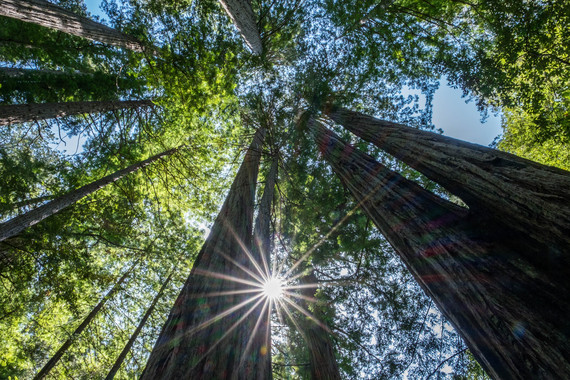 Feast on this, tree huggers: America is home to the largest, oldest, and tallest trees in the world. Sequoia and Kings Canyon National Parks in central California is a habitat for the largest tree by volume, the giant Sequoia. Great Basin National Park in Nevada is home to the oldest trees, the Bristlecone pine, which can live up to five thousand years. And on the California coast at Redwood National and State Parks just south of the Oregon border, the tallest trees on Earth grow upward from old-growth forests and reach for the heavens.
When you stand beneath a redwood tree, even if you can miraculously see the top of it, you will most likely have no comprehension of its true size and scale--it simply doesn't register. Fortunately, the intense forest ecosystem that they help to create is far more visually interesting than is their staggering height. In the top canopy of the forest, redwoods, western hemlock, and Douglas-fir trees commingle; dynamic are their thickets with the activity of flying squirrels and scores of bird life (including the marbled murrelet, a coveted sighting for bird-ninjas!) The middle canopy is filled with Tanoak and rhododendron trees that provide low-to-the-ground shade aiding bottom-up growth, all the while sheltering wildlife and giving them space to roam inconspicuously. The forest floor is a mess of fallen trees, rich soil, tree bark, mosses, leaves, water, stone, and seemingly every variety of emerald-colored vegetation that you think belongs in an old-growth forest.
After a few minutes inside of the canopy, you might forget about the soaring height of the trees completely. Humans are, however, wired to remember superlatives and as a result, Redwood National Park will forever be commonly recollected as the home to the world's tallest trees... but that's not why you remember it. You remember it for its complexity and richness, both inland in the forests and on the perimeter by the sea. After all, you wouldn't look at the world's oldest person and think "look at how old (s)he looks!" There could be any number of other things that one would think of but it would surely be more nuanced than that. Maybe you don't care about all of that and want to see wildlife and explore the coast instead? This park is great for that too--there really is something for every age group and level of physical strength to enjoy here. It is one of the most visitor-friendly parks we've had the pleasure to acquaint ourselves with this year. Here is a punch-list with our top 5:
Tall Trees -- The first stop every visitor should want to make in this park is to the forests where the world's tallest trees live. You may never find the tallest tree (its true location is known only by a few in an effort to preserve the habitat,) but you can get close. Just head to the visitor center and obtain a free permit for the Tall Trees Trail. The hike itself is short but moderately strenuous descending 1.3 miles of steep grade where you will hit the start of another loop trail that brings you into what feels like the secret gardens that are storied in fairytales. Trees and vines and plants swirl and wind into the forest floor, and the forest floor answers back by sending them into a green umbrella sky. It's not a reach to say that these are among the most surreal and lovely forests on our home planet.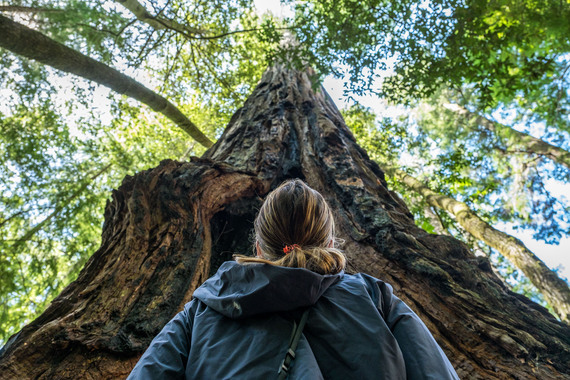 Dwarfed beneath one of the tallest trees on Earth. Image credit: Jonathan Irish
The California Coast -- While the undisputed draw of this wilderness is the inland forest, you won't want to miss the California coast, a stretch of beauty that has enticed the hoards for eons. This coastline isn't just a place to breathe in the salty sea air and capture picturesque views of rocky coastlines (though that's most certainly allowed)--you can also learn about marine ecology while wading through tide pools in search of sea stars, hermit crabs, and other Pacific sea life. This is one of the rare parks that finds itself on a continental coastline, providing an awesome mixed bag of things to do.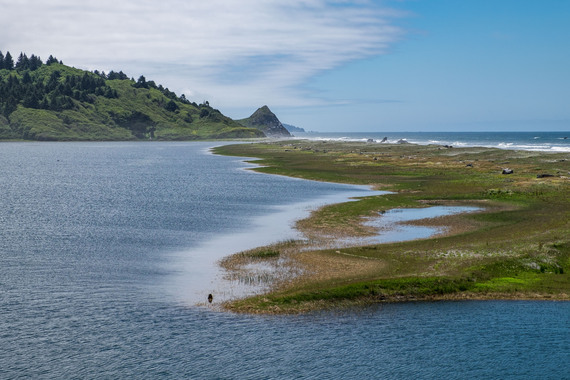 The California coast in Redwood National and State Parks. Image credit: Jonathan Irish
Scenic Drives -- Redwood National and State Park is popular for road warriors because of its well-mapped scenic driving roads. The path that stretches north from the park's beginning and outwards toward the coast is best explored by car, bicycle, motorcycle, or in your RV/travel trailer (bare in mind that large vehicles are not advised on many of the smaller roadways in the park.) It's not how you get around, though, but what you find along the way. This roadside vantage point is a stellar way to see large herds of Roosevelt elk in their natural environment without disturbing them. It is also a great way to hop to and from various trail heads that shine a light into the overgrowth forests.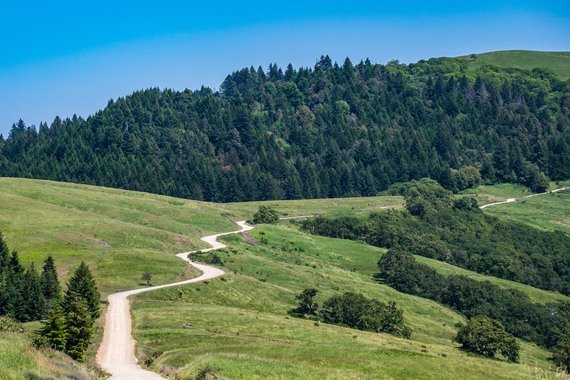 Beautiful Bald Hills Road leads you to solitude, and if the season is right, wildflowers! Image credit: Jonathan Irish
Flora -- One of the great draws to the area during spring and summer is the annual bloom of the native rhododendron trees. It may be Washington State's official flower, but it blooms like a champ in the coastal redwood area of California. There isn't one specific viewing location, for they grow throughout the entire region, peaking out from inside the intense vegetation with glorious peeps of color. To see them, you will want to focus more on when than where--the height of the bloom is mid-May to early-June.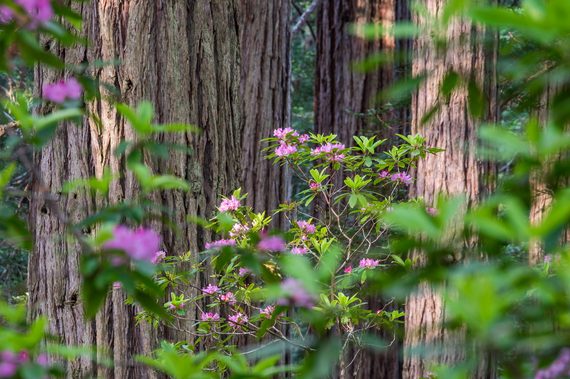 The rhododendron bloom in Redwood National Park in California in 2016. Photo credit: Jonathan Irish
Another splendor of lush vegetation can be found among the ferns. They create fertile ground for scores of shrubs, wildflowers and other plant life that ultimately supports the growth of the redwoods, fir, and hemlock trees. In this area, ferns are the ultimate survivors next to the redwood trees. Fern Canyon offers the most immaculate display you could imagine--ancient ferns cascading down canyon walls onto the bed of a shallow creek. The hike itself is short, just under one mile, but the time you spend there enjoying the environment could as well be endless--for there are few places in the world so mesmerizing and mythical in feel. Additionally, it is very photogenic, particularly the juxtaposition of a tiny human against massive green walls of delicate vegetation. And turn on your earbuds while you're there (the natural kind, not iThings) to hear the sound of nature; moisture falling from the mossy encampment.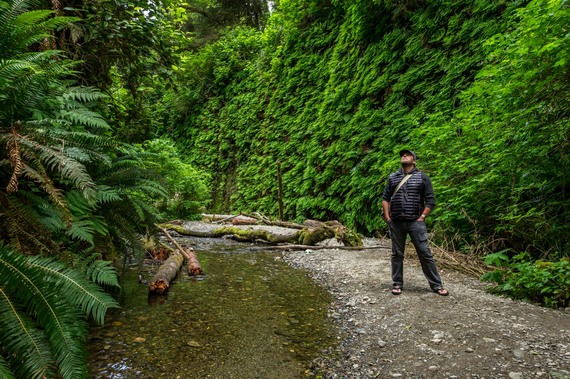 Jonathan Irish stand in Fern Canyon, one of the lushest vegetations in the world! Image credit: Stefanie Payne
Fauna -- Roosevelt elk flourish in Redwood National and State Parks and are a unique draw as they are not found anywhere else in California. There are seven herds living in the vicinity and they are said to be increasing in numbers each year. It would be hard to visit this park and not see the herds that number anywhere from 10 to 50 in quantity. While they are a sight to marvel at and photograph, they are not to be approached--elk are known for their unpredictable temperament, particularly females rearing young during the months that are most popular for park visitation. Males and females with young often break off into separate areas and with the California sun falling upon them, and they sit for long periods of time making this is an amazing place for wildlife photography.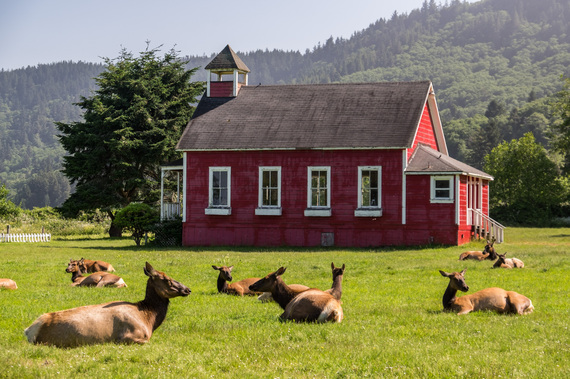 Roosevelt elk relax in one of their preferred stomping grounds in the south part of the park. Photo credit: Stefanie Payne