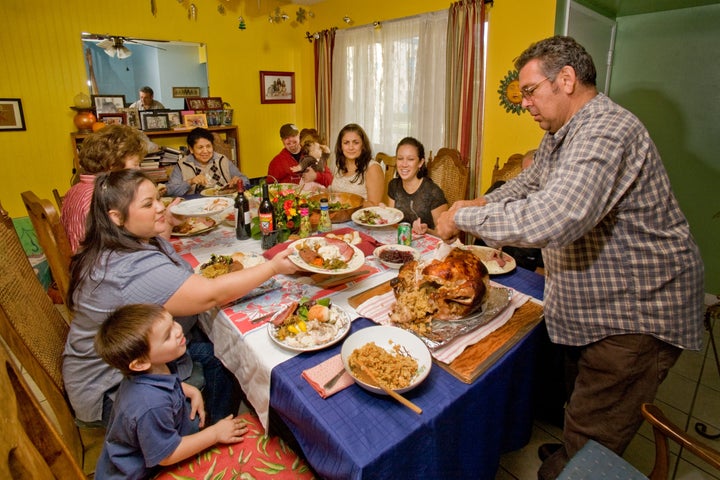 "Being hungry is possibly the worst feeling anyone could ever experience, and honestly, when you're hungry, you can't be productive, and you can't really do anything. And I just remember, sometimes in school I would definitely be hungry," said 17-year-old New York City high school senior Ninaad Dave. During the recession, his father had to close the small business he'd successfully run for 25 years but found another job after nearly nine months of unemployment. "Now, when I am able to have a nice meal or eat, I'm just always thankful that there is food on the table, there is food in my stomach. I'm just always considerate, and I always think back when I was hungry and how privileged all of us are to eat."
So many American families, including my own, celebrate Thanksgiving Day with a traditional feast and an overabundance of food. In many homes, the sight of a table with enough food for everyone to eat and to get seconds and even thirds is actually nothing special. The tablecloths and menu might be a little fancier on Thanksgiving but every night there's something in the house for dinner and everyone goes to bed full. For some families Thanksgiving may be the only meal of the year where they pause long enough before eating to truly give thanks for the food in front of them. But for millions of our neighbors -- including Ninaad Dave and children like him -- they cannot always count on the next meal.
Sixteen million U.S. households are food insecure -- struggling to afford food their family needs. With record numbers of families living in poverty and unemployed and food prices increasing, one in seven Americans rely on the Supplemental Nutrition Assistance Program (SNAP), or food stamps. The overwhelming majority -- three quarters -- are families with children. The latest data showed that in August nearly 46 million Americans relied on food stamps to eat -- the 37th straight month the number has increased, and the highest number since food stamps began in 1939. These families do not take any meals for granted.
Like so many American children, Ninaad knows what it's like to feel hungry. He recently told the Children's Defense Fund, "I've always tried to do what I could to help my family out and achieve the American dream." For most of his childhood, that meant being helpful with his mother's health problems at home and a good student at school. But when his father was struggling to keep his business afloat and it became harder for his family to make ends meet, Ninaad found a new way to help: "It was very visible that the business wasn't doing as well. So I would just try to help alleviate the problem by just making a note to eat at school, to take advantage of school meal programs, eat breakfast at school in the morning, eat school lunch, and then come home and have just, you know, a small meal... I just felt that there should be enough food to go around for everyone, and that my dad was just doing the best he could, so I shouldn't have to be burdensome." After his father became unemployed, Ninaad really learned what it was like to go hungry --- "possibly the worst experience anybody could ever go through."
On December 14th, Ninaad is being celebrated by the Children's Defense Fund-New York City's Beat the Odds® program as one of five exceptional high school students who have overcome tremendous challenges to excel academically and give back to their community. They will receive a scholarship, college counseling, a laptop computer, and an invitation to join CDF's youth leadership training ladder to help pave the road to college and a successful adulthood.
Hunger and food insecurity are particularly devastating for children and Ninaad and millions of young people like him will never forget how it feels to be hungry. Proper nutrition is essential to a child's health, development, and well-being. Hunger and poor nutrition are linked to low birthweight and birth defects, obesity, mental and dental health problems, and poor education outcomes. We know safety net programs like food stamps, WIC—the Women, Infants and Children -- nutrition program, summer feeding and school food programs work to combat child hunger. In the current recession they have proved to be indispensable lifelines for the millions of jobless families with no cash income in our rich nation.
During this Thanksgiving week, I hope those political leaders who refuse to invest in creating new jobs to help struggling families while protecting tax breaks for the richest Americans and corporations and refuse to ask the privileged to contribute their fair share in this difficult economic period will reflect on what their and America's true values are. I believe it's morally unconscionable that the rich should keep getting richer while the poor get poorer—and hungrier.
Related
Popular in the Community