The worst night of my marriage happened four years before my marriage began.
It was during a trip to Europe. We took several in the years between meeting at college and turning thirty. Europe was a bargain basement for Americans in those pre-Euro years. Multicourse French meals cost $6 each, and Spanish hotel rooms cost $4 a night. Such prices spoil you.
Which is why that night was the worst.
We'd raced through Germany by train, reaching Denmark just before midnight. Rooms in Padborg, the border town, started at $25. To me that seemed outrageous. In the street outside the last hotel we tried, I stomped around saying I would not pay. I said we should sleep in a park or sit on the curb until dawn. Tuffy said no. Tuffy said we were tired and needed baths. Tuffy said sure, $25 was a fortune but we had to think about the long-term because staying up all night might make us sick or we might be murdered if we slept in a park. He turned toward the hotel. I wailed Noooo.
Now, granted, I was an extremely childish 24. But even then, I was usually docile. Normally I did whatever I was told and slept wherever I was told to sleep. That night I lost my mind, shouting No, no, no while racing down the street searching for a park. Tuffy caught up with me.
Why must you always be so negative? he said.
What choice have I when everything, I roared, is so fucked-up?
He hung his head. His hair glinted under the streetlight.
I think I know what this is really about, he said. You realized today that you might not love me.
How long had we been together? Four years? Forever, as twentysomethings go. But when you think of eternity, strangers.
My thoughts, my life, my fate swirled before my eyes and scattered at my feet like jelly beans. You know how they skitter away.
We entered that hotel and as he paid the clerk I thought about how easy it would be for each of us to take the next trains out of town, each of us on a different train, speeding in opposite directions. This happens in Europe every day.
Handing Tuffy a key, the clerk jerked his chin toward a room down the hall.
Breakfast begins at seven and ends at nine.
Breakfast, he said. Danish-style breakfast.
I will not say that the promise of a Danish-style breakfast saved our relationship. I will not say that realizing our $25 covered not just bed and bath but a buffet meal for two kept us together. I will not say that without the promise of that breakfast, we might have boarded those separate trains. I will not say that if someone is up there ordaining our destinies, that someone nudged us through that door. I will not say: Were it not for that breakfast, who knows where I'd be. I will not say so. But if you have ever seen a Danish breakfast, in particular a buffet Danish breakfast with its limitless meusli and yogurt, golden rolls and jam, chewy-fresh rye and cheese, creamy coffee in thin-lipped porcelain cups, buttery fruit-nut-cheese-stuffed pastries in the shapes of boats and bows, and bowl after bowl of satiny-skinned berries, you know.
Hotel breakfasts comfort us because they're breakfasts. Not only that, but they are breakfasts for which we need not pay extra because they're included in the room price, like the soap and tiny bottle of shampoo. Staying in hotels means we are not home, thus quite likely need comforting.
Hotel breakfasts feel like being a child and wandering downstairs to find your place at the table already set. Hotel breakfasts thrill us because we do not have to cook them. They're already there.
Even if they're just donuts, hotel breakfasts comfort us because we get to eat them as our private morning selves, before life forces us outdoors.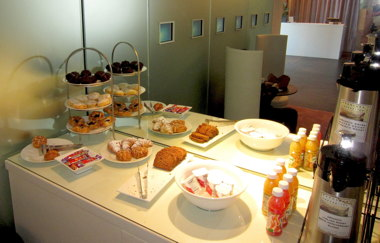 I last stayed at a hotel that offered a complimentary breakfast last month. The Hotel Keen in Palo Alto, California, whose sleek witty design is a sweet Silicon Valley fantasy that merges high-tech and high art, sets out a serve-yourself spread comprising baked goods, fruit, juice, breakfast bars and coffee in a soaring-ceilinged alcove whose whimsically high-backed chairs promise privacy. For guests on the run, the Keen packs takeaway breakfasts in boxes: Fill out a form the night before, checking your choices -- even the way you take your coffee or tea.
Those chocolate pastries melted in my mouth. And someday I am going back to Denmark.
Images courtesy of Kristan Lawson.