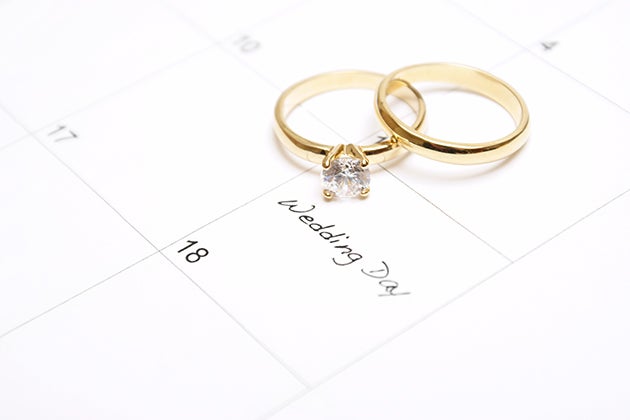 From the second you get engaged, it seems like everyone has advice to share about planning a wedding. Whether they're currently engaged, happily married, have walked down the aisle more than once, or are totally single, everyone has something to say! And — fair warning — not all of that advice is very good. The best sources for planning advice are the experts themselves, but even wedding planners get an earful of tips you should really forget. We've asked top planners to dish on some of the worst wedding planning advice they've ever heard — and to fill us in on what you should do instead.
"I hear bad advice all the time," says Amy Nichols, owner of Amy Nichols Special Events and cofounder of The Poppy Group. "One piece that brides should totally ignore? Telling guests the ceremony starts earlier than it actually does! Using your timeline to manipulate guests to arrive on time isn't the way to win friends or make guests happy." Remember, most guests know that the time on the invitation is the actual start time, and will plan to arrive at least 15 minutes early. "Not only does putting a false start time on the invitation cause confusion for your guests, it can also create a scheduling mess for your vendors." Instead, Nichols says to work with your planner to create a solid timeline that will allow for seamless flow. "A professional will know exactly how much time to allow to make sure guests are seated, get the wedding party in place, and send you down the aisle," Nichols reminds us.
Here's advice any planner would cringe at: Anyone telling you you don't need a day-of coordinator."Even if you aren't investing in a full-service planner, a day-of coordinator is the best money you'll spend when it comes to your wedding," says Teissia Treynet, founder of Firefly Events. "Without a coordinator, you're stuck dealing with all the tiny details (including the surprise ones that could ruin your day). Having a pro on-hand to make sure everything is in order and catch those problems before you even find out about them will enable you to fully enjoy your wedding day from start to finish.
Having incredibly talented friends and family can be great, but having them work on your wedding? Less so. "It's never safe to assume that friends and family are going to help you on the day of your wedding," says Jackie Martucci, owner of Events by Jackie M. "No matter how talented, even professionals love to simply be guests at a wedding!" And if your friend isn't a pro? Watch out. "Even the most well-meaning of friends seriously underestimate the time it takes to complete tasks like decorating your venue (which won't leave them any time to get ready before you walk down the aisle!)." Avoid resentment if your friends or family don't meet your expectations, and instead leave it to the professionals. "Make sure delegated tasks are outlined in your contracts. And speaking of contracts, if you do end up hiring a pro who is also a friend, don't skip this step! You should still outline expectations just as you would with any other vendor," says Martucci. Yup, even if they're offering their services as a gift!
"Family members and friends love to give advice based on what their wedding cost and what you're paying," says Nichols. "They'll critique how much you're spending on, say, flowers, but they got married in a different part of the country (or a different decade!) and can't accurately weigh what is a fair price for goods and services in your area." She advises remembering that prices will vary greatly from one state to another, so instead get a feel for what things cost in your area — and don't look any further. Continues Nichols, "Use your wedding planner to determine what your budget will allow for each vendor, and go from there."
Everyone has an opinion when it comes to money, and if the budget is running out, the first thing to go is often the videographer. "You might think a videographer is a splurge or a luxury, but it's worth including one in your budget from the very beginning," Treynet advises. "Consider your videographer just as important as your photographer. You will be so full of emotion and adrenaline on the day of your wedding that it will be hard to remember all of the special moments and beautiful speeches, and a videographer can capture them in a way that even a photographer can't." You'll be surprised to see the little moments you've already forgotten by the time your film is delivered, and reliving your vows or your first dance will bring it all back. "These are the memories that will last a lifetime, so preserve them!" says Treynet.
The guest list is MAJOR inspiration for free advice. "I hear so many people tell brides to invite whoever they want, because 'they probably won't come anyway,'" Nichols reveals. "But playing a guessing game with your guest list and not being strategic can really cause big budgetary issues when the responses begin to arrive." Instead, be sure that you account for each guest as you're inviting them. "And make sure your budget would allow for every single person's attendance!"
While no bride wants to think about the risk of rain, ignoring the rain plan is bad advice all around. "We all want perfect weather, especially for outdoor events, but denying the fact that inclement weather is a real possibility is simply irresponsible," says Martucci. "Instead, create a Plan B. The more you go over it and iron out the details, the more comfortable and confident you'll feel should you need to implement it." A good wedding planner will talk about Plan B constantly, making sure he or she knows exactly how things will play out in the event of bad weather. "And we want you on board!" Martucci continues. "We don't want to be running into your bridal suite in a panic, not knowing how you'll react if it's snowing. We can't control the weather, and it's the one thing we cannot change. So have a contingency plan and be prepared to roll with it!"

Related