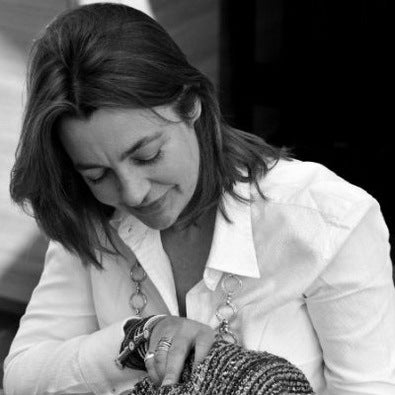 Born in South Africa to European parents, textile designer Toyine Sellers grew up in Africa, North and South America and Europe. Trained as an interior designer, she worked internationally from 1991 to 2006 on bespoke residential and commercial interiors with noteworthy clients as Peter Marino, Chahan Minassian, and William T. Georgis. Her list of prestigious fashion house clients extend to Louis Vuitton, Dior, Gucci and Burberry. Seduced by the pleasure of producing the beautiful materials she once specified for her clients, she began to design custom textiles in 2007 using historical looms in Southern France using only natural fibers and leathers. Now living in Stockholm, she works closely with her atelier in France while developing her rug collection in Sweden. Toyine brings fresh texture and color to her beautiful, handcrafted pieces using old world methods with modern technology contemporizing an ancient craft.
Her newest collection of luxurious throws and pillows recently launched at Barneys New York.
How did you get into textile design? and Why?
I worked with many weavers developing custom textiles for luxury retail brands at Peter Marino's. I fell in love with their creative process, the colors, the textures. One weaver in particular, an elderly gentleman / grandfather figure of sorts, really inspired me. For him and his atelier, I returned to Europe. It was there that I started working as one myself.
What textile pieces are in your collection? 
I have so many, it is hard to say exactly! Most of my collection are textiles for upholstery and curtains. The fabrics, woven primarily of wool, silk, linen, cotton, leather, lurex and fantasy yarns, have unique textures and incredible color combinations. We have recently launched a hand-woven rug collection, inspired by our textile collections. Thus fare we have one of Teflon treated linen rug, and will soon launch a leather and ahand carded mohair rug. I also weave tapestries for special commissions.
How did the collaboration with Barneys New York come about?
I knew Barneys from when I lived in NY, it's a wonderful place to shop! When I launched my sculptural pillow collection and throws, they were the first place I contacted. I was lucky to have met with the buyers in New York and Paris, they were excited at the collaboration and before I knew it, my work was "on sale at Barneys!"
Where are your textiles produced?
 All my textiles, rugs, pillows and throws are produced in my atelier in France. Exceptionally my tapestries are woven in Sweden.
Do you still use traditional looms or have you switched over to the modern day machines?
 Modern day, that is funny! Most of my mechanical looms are 40-60 years old. They weave slowly, but can produce beautiful things! We weave 1-5 meters per hour with one weaver per loom. Modern day looms are more efficient, 10+ meters per hour and 1 weaver per 10 looms. However, I am not convinced that those looms can produce the magic ours do!
You have worked on so many grand projects, Chanel, Louis Vuitton, what was that experience like?  
Those type of projects are amazing! The sky is the limit in terms of what you can create, as everything is custom, especially when Peter Marino is involved! You work with incredible artists and artisans from around the world, creating works of art…as an interior designer I wanted to become one of those people, now I am! It is not quite as glamorous as I thought, lots of hard work. but I love it.
Do you still do interior design work?
I do, for special clients and for myself. I'm about to have my Swedish archipelago home photographed, it was great fun designing! The setting is amazing and I was a rather nice client to work with, though a little demanding at times.
Any upcoming projects we should know about?
We have just finished weaving some incredibly complex custom textiles for the Crillon Hotel in Paris. It re-opens in July, after several years of renovation. I look forward to visiting it.
Dream project you would like to work on?
My textiles are my dream project. When I see a film, visit art exhibit, walk nature, listen to music, remember a childhood moment, etc…I am inspired and start to dream about what I'm going to create next.
 What is the textile market like in Europe vs the US is there more of a demand there or here?
As someone once told me, the US represents 25% of the world decorating market and I'd have to agree. I'd say the UK comes next, but we really work all over. My sales team loves to travel!
What are you working on now? Product wise and project wise.
Textiles and more textiles always. Rugs, more pillows and throws, and a collection of Ipad and computer cases. For the projects, these change all the time depending on the clients we are working with and often, I am not able to discuss them...
Calling all HuffPost superfans!
Sign up for membership to become a founding member and help shape HuffPost's next chapter
This post was published on the now-closed HuffPost Contributor platform. Contributors control their own work and posted freely to our site. If you need to flag this entry as abusive,
send us an email
.