'Tis the season. During the course of the past year, The Writers Workbench has reviewed a wide range of products, but a few have stood out for their combination of quality and price range as being especially good for gifts. And so, in the spirit of joyeux, joyeux, here's the sampler.
The advent of TSA approved luggage allows airline passengers to keep your notebook safely in the bag without having to remove everything when checking in. Though many bags start with a similarity, the small differences Mobile Edge offers are noteworthy.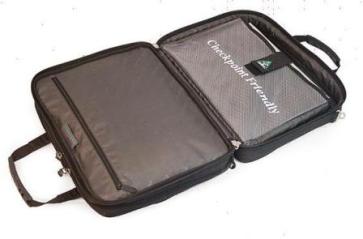 In particular, I especially liked the thought that went into the layout of its numerous pockets and compartments -- an excellent mixture of full-sized pockets, as well as small pouches for individual items you want quick access to. And importantly, there are three pouches are on the outside of the bag, so you can get to items in them without having to open up the briefcase -- and there's a full-sized zippered pocket outside, as well. Further, like that the bag has a full-sized, zippered-pocket in the notebook compartment.
There are a few quibbles. It would be nice to have a pocket on the back (though that may be impossible given TSA requirements) and perhaps divide one of the large outside pouches into two small ones. And it would be nice to have a bit more depth inside. But these are small matters. The Mobile Edge ScanFast Briefcase is an excellent briefcase in the new TSA approved category.
The X-mini II is one of the more impressive portables I've come across, in its combination of size and sound quality. Slightly bigger than the size of a golf ball, it has an especially booming, surprisingly clear and solid sound, just a slight touch on the treble side. It's also extremely well-made, with a very solid feel.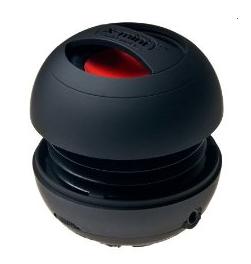 Certainly, other larger speakers on the market have better sound, but the X-mini II doesn't take a distant backseat; it's serious portable sound, and quite amazing for something this tiny. To properly use the X-mini, you twist its ends and pull it apart a few inches. This releases an accordion-like "vacuum" tube which is like a sub-woofer and provides a richer base.
Additionally, now with a new volume control, much longer battery life than the previous model, a built-in plug, and the ability to daisy chain speakers together, the X-mini Capsule Speaker II is a wonderful, impressive, tiny speaker. It retailed at the time of writing for $29.
On the upper end of the portable speakers spectrum, the Pure-Fi 2 is something to pack in a suitcase, or use for portable home speakers, as you move from room to room. It's very portable, though better to call "transportable."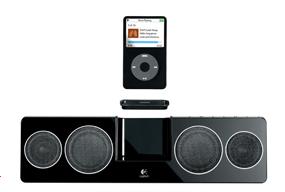 Obviously, no portable speakers, even the larger ones, are going to compare with a home theater, and the Pure-Fi isn't going to satisfy audiophiles. But the sound is very good: crisp, strong, and has respectable bass, though it's not rich. The treble is clear, and there's no noticeable distortion. Most notable is "Stereo XL," which is separation for simulating wide sound. This isn't appropriate for all music, but the quality was wonderful, some of the best separation I've heard, especially for portable speakers.
The Pure-Fi comes with a built-in rechargeable battery, rated for 10 hours, though that mileage will likely be high in normal usage. Also nice is that it has a carrying case, wall-charger (that has fold-away pins, which I love and am always surprised that more vendors don't use them), and a handy remote control. Everything fit neatly in the case. The device comes with iPod dock connectors and will charge iPods, though only when the Pure-Fi is plugged in. At the time of writing, it retailed for $150.
The Epson Perfection V300 is a full-featured flatbed scanner that most notably also provides photo scanning capability. The challenge for photo scanners is that low-end cost tends to mean mediocre quality, whereas one that does excellent work on photos can potentially be wildly expensive. What's significant about the V300 is that retails for just $99 -- but at the time of writing, could be found online for $86, which is seriously low for a good photo scanner.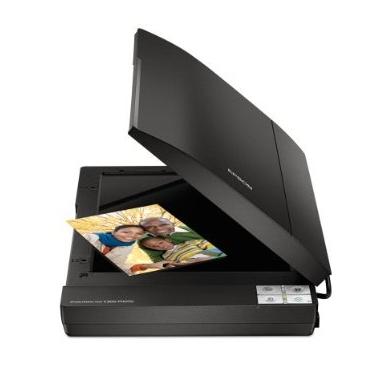 The unit can scan either slides or negatives. A special tray is snapped into the top inside lid of the scanner. One side of the tray has four slots to insert slides. Flip it end-for-end, and a slot is available for a strip of negatives. Place the tray in the appropriate slots and you're ready.
Quality is always an greater issue for scanning photos than documents. In part, this is because the placement of the slides (or negatives) don't lay flat on the scanner window, and so depending on how you insert the slides in the slots, the angles might not be consistent. While the Perfection V300 is not professional grade, its results for photos was wonderful. Images were bright, vibrant and crisp.
I did have a few quibbles with the Epson V300. Each slide tray has very delicate tabs, which not only makes it a meticulous, tentative process for putting the slides in, but if you're not careful, you could snap a tab off. Also, in the midst of normal scanning, a horizontal blue line appeared of maybe four or so photos. This only happened on two scans, and the company suspects that a particle might have gotten attached to the mirror, and then eventually fell off. Finally, there are a few basic settings of the Epson software that I wish could be changed.
For all these issues, overall the Epson V300 was wonderful. It provides many setting options, is very easy to use for beginners, offers high-end capabilities, and most importantly delivers high quality scanning. But perhaps above all, it provides top-notch photo scanning of slides and negatives for an amazingly low price.

Brother MFC-7340
The "MFC" stands for Multi-Function Center, and it's a laser printer, fax, copy machine and scanner -- in fact, it's both a sheet-feed and flat-bed scanner. And very compact. In the past, I've been a bit wary of all-in-one units. If just one function breaks, you're faced with having to replace everything. So, it was with interest that I noted the 7340 was surprisingly low-priced. The street price of the Brother MFC-7340 is around just $200, but at the time of writing, it's available for as low as $140, not much more than many single-function units. Especially at this lowest price, it removes the concern about replacing an all-in-one model if one function goes out. And importantly it's a high-speed laser printer, not inkjet.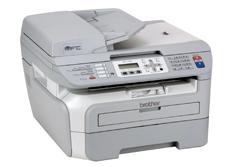 The one caveat to note that the 7340 is black-and-white, not color. While most writers are largely interested in printing text, if color is something you'd like for an occasional print job, there is a low-cost workaround. A respectable color inkjet costs as little as $30-40. Connect it to a spare USB port on your computer, and it's a color backup.
The Brother MFC-7340 is extremely fast, printing up to an impressive 21 pages a minute. The quality is very crisp, though a touch light but that can be adjusted. The only structural negative with the MFC is that the output slot is somewhat narrow and also a bit recessed. The scanner offers perhaps the most-welcome feature of the 7340 because it provides two options, as noted: both a sheet-feeder and flat-bed capability. Faxing works well and reasonably easily. Faxes will print out normally as pages, but if you want an incoming fax to be saved as a document file, you can do so using the product's Control Center. Outgoing faxes can be sent directly from a document you've created on your computer, simply change your printer from the default Brother to Brother PC-Fax.
Yes, the Brother MFC-7340 is only black-and-white. But it's quite compact (especially compared to color unit); very fast; does an excellent job printing, scanning (with both sheet-feed and flatbed), faxing and copying - and is ridiculously inexpensive, especially for a laser all-in-one.

ESET NOD32 Anti-Virus 4.0
Okay, it's just maintenance software, not generally the most cherished of holiday gifts. But tech geeks deserve presents, too. So, why this one? Anti-virus programs are critical to use on every computer, and having several (whether anti-virus or anti-spyware) is ideal. However, most anti-virus companies are wary of conflicts with other anti-malware programs and, as a result, many will automatically block other such programs from running on your system. However, NOD32 handles installation in a thoroughly user-friendly way. While it will search for and recognize anything else you have on your system, it will then do an analysis to determine if there will be a conflict. If not, it'll just pass the program by -- but if there might be a conflict, it informs you and lets you make the option of what you want to do. After all, it's your computer.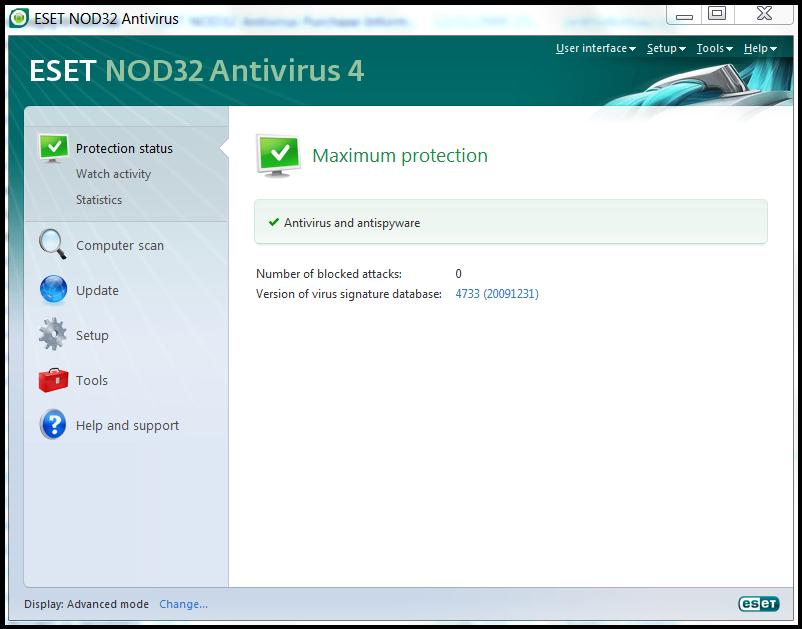 The interface is bare-bones with nothing fancy or glitzy about it. A few flashes would be nice, if only to highlight important features, but it's clean and easy to follow. It defaults to standard mode, though my suggestion is to click the link to advanced mode. This latter includes menu items for user interface, setup and tools, which are pretty important.
NOD32 has a very strong record among testing organizations for virus protection. Though it scans for spyware, as well, it's always good to have a separate anti-spyware program dedicated to that task. This is true for all anti-virus programs, which is why it's important that your anti-virus program not disable such things. Overall NOD32 is a solid, anti-virus program that plays well with others and serves as an important piece of your system protection.

"The Writers Workbench" appears monthly on the website for the Writers Guild of America. To see this entire column, with complete product graphics and additional "TWW Notes," please click here.



Calling all HuffPost superfans!
Sign up for membership to become a founding member and help shape HuffPost's next chapter