As the title suggests, consider this a bonus edition of "The Writers Workbench." Only a couple months back, I just did a column on portable power chargers - a subject which bizarrely is one of my favorites for reasons I can't quite explain - so it's much too soon (even for me) to do another one in-depth. And besides, I have yet another portable power column upcoming (!), though from the different perspective of solar power technology. The thing is, though, I was sent a mass of chargers that were quite intriguing, and I have to do something about them, since they'd otherwise just sit around in a big, problematic box, so I figured a mid-month piece that's much less-detailed than usual would be the way to fly.
What happened is that in my previous review of chargers, I had included one from the TYLT company, which I had been given to review at the CES exhibition back in January. I was impressed enough that I wanted to check out a smaller version of that unit and wrote to the company. In turn, they sent me a huge care package, filled with much of their product line. The FedEx guy is still a little pissed off at me, I think.
I diligently went through everything, and though I have a mix of reactions, overall I thought the collection was terrific. So much so that TYLT is now competing with myCharge as my default go-to charger company. Beyond portable chargers, the CARE package also included a wireless charger, so I had a chance to make my first foray into that world, and I liked what I saw.
(To be clear, TYLT makes more than just chargers, but that's what they sent me, their ENERGI line, and the wireless device.)
More on all that in a moment. But first a few words of comparison between TYLT and the aforementioned myCharge. Normally I'd put this at the end of the article, but I think it's best to know the difference up front.
Both companies make chargers with built-in cables - something I consider de facto necessary these days, eliminating to the need to carry around extraneous cables. If you're going to make something portable, make it as portable as you can. That's my motto. (Or one of them...) The differences between the two companies are these:
Most myCharge devices also have a built-in AC charger plug, making it especially easy to charge the unit itself when drained. The TYLTs do not. However, the TYLT chargers are much thinner and flat (myCharges have stylish, curved surfaces) - this makes them not only more portable, but also much easier to use a mobile phone when charging and talking at the same time, allowing you to smoothly lay the two devices on one another.
It's not a case of which is better. It's which fits in best to your personal needs. Do you prefer the ease of re-charging the charger? Or do you prefer the convenience of size and charging while talking? Dealers choice.
With all that aside, let's now look at the TYLT collection. Not in as much detail as usual, as I said, but enough to get the point.
TYLT ENERGI 5K / 5K+
TYLT ENERGI 3K / 3K+
TYLT ENERGI 2K
TYLT VÜ Wireless Charger
The ENERGI 5K+ is the charger I reviewed previously here. So to recap, it's about the size of a mobile phone - around a half-inch thick, and weighing just six ounces. It also holds a highly-impressive 5.2 mAh which should provide at least three charges of a mobile phone.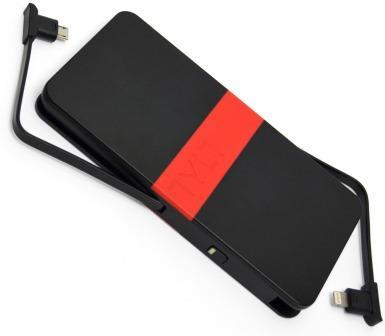 It comes in two versions - the 5K has a micro-USB cable built-in for Android and Windows phones, while the "+ version" includes that and an Apple Lightning plug, as well. There's also a USB port if you have a device that requires a different or additional connector. Unless you have cross-platform needs, or require the Lightning plug, the less expensive 5K should be fine. It carries a lot of power, and is surprisingly light at 6 ounces. My main quibble is that there is only a single power light, not a string of lights to let you know better how much charge remains. The 5K retails for $50 and the 5K+ is $90 at the time of writing.
These are the smaller siblings of the above-noted 5K. And honestly, powerful and small though the bigger brothers are, I prefer the 3K line. In fact, they're among my favorite chargers, period. Very small and light - you can stick them in a shirt pocket - they're half as thin as a pack of cigarettes, and weigh just 3-3/4 ounces, very easy to carry on your person. Yet the ENERGI 3K/+ holds 3 mAh of power, which is almost two full phone charges, more than enough for most people out for the day.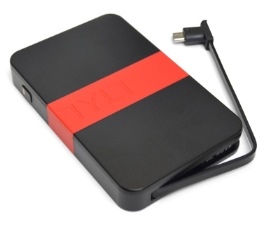 Each device has just the single plug - either a micro-USB (for Android or Windows phones) on the 3K or an Apple Lightning plug for the 3K+. And they both have a standard USB port to use with a personal cable. (Similarly, there is just one power light.) At the time of writing, the 3K model could be found online for $40, while the Lightning 3K+ was $50. Unless you have need for a device with both plugs -which some people do - or want something with more charge to carry in a briefcase or for travel, the 3K/+ model is my preference.
The ENERGI 2K is the smallest of the line, impressively so. And the least expensive, both meaningful qualities. But - it has no built-in cables, just a USB port. And it's not significantly smaller than the very small 3K/+ line. It can be found online at the time of writing for $33, but unless you really want to go as small as possible and prefer to use your own cables, for my taste I think the 3K/+ line is far preferable.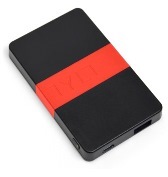 That brings us to the totally different charger in the mix. Wireless charging has been around for a few years, but I never was much an admirer of it as being too impractical. It's not that it didn't work, but there were so few devices that could take advantage of it. That's now changing. The wireless standard is called Qi (pronounced "chee"), and compatible phones are growing significantly. It's still not widespread, but far more common. (Many of the Nokia Windows phones are Qi-compatible, as are some from Samsung. I haven't checked the full landscape. The iPhone is not Qi-enabled, though there are some cases that convert the iPhone to wireless-capable.)
Wireless charging does not mean there are no wires at all - the charger is plugged into the wall. But instead of having to plug and unplug your phone every time you charge, with wireless charging you simply plop the phone down on the charger and then grab-and-go with it. Clearly, plugging in a cord is hardly a challenge. But by only having to drop your phone on a pad or cradle, that makes it so much easier to keep fully charged all the time, since it's no different than simply putting down your phone on a table when getting home. I was not a huge proponent of wireless charging before, but as things have advanced I'm moving in that direction. It's very convenient.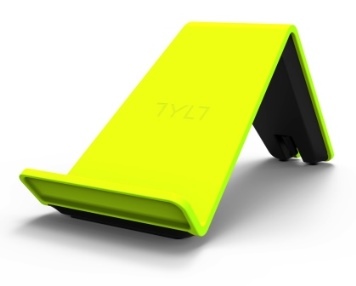 The VÜ wireless charger is basically a cradle. It takes up a bit more tabletop space than I'd prefer though this does give it a better angle on which to rest your phone. A green light comes on when charging, and the Smart charging turns off when full. I had a couple of oddities occur - one, where I'd pick up a fully-charged phone, and then quickly replacing it to the cradle the green light would go back on for another half hour. Also, when fully charged, the green light would occasionally pop back on for a bit. None of this was remotely a problem, since the phone was fully-charged. Just odd. After using the VÜ for a while, I've found myself liking it very much. It could be bought at the time of writing for $60, not the cheapest charger, but wireless charging can be inconsistent, and the VÜ does an extremely good job. (One thing to know: if you have a Samsung Galaxy S5, S4 or Note 3, they require a separate device to install in the phone to work wirelessly, which TYLT sells.)
To read more from Robert J. Elisberg about this or many other matters both large and tidbit small, see Elisberg Industries.
Calling all HuffPost superfans!
Sign up for membership to become a founding member and help shape HuffPost's next chapter