Over the past year, I've had reason to hit the road a lot. Fortunately, with technology today, that means you can carry a whole lot of your office with you. It also means, however, that you need something to actually carry it. So, I thought it would be good to look into a couple of options.
There are, of course, easy ways to ways to bring as much of your portable needs with you. Hey, steamer trunks have been the luggage of choice for world travelers heading across the ocean for decades. But just as obviously, we don't travel by ocean liner as much these days, and mostly the whole point of portability is ease of movement. So, this month we look at a particularly small carry-on, as well as a new briefcase on the scene, particularly made for handling the rugged needs of travel.
Ogio Rocker RBC
Griffin Survivor Briefcase
While I've reviewed briefcases in the past, often from the perspective of how they stand up to travel, I've never yet ventured into the world of actual luggage. Until now. During the past Consumer Electronics Show, I came across an interesting company, Ogio, which had one particular item that caught my eye, for several reasons. It fit a category I've long been intrigued by, it seemed to have a lot of pockets (I'm big on pockets), and all their product seemed to be very well-made. So, I decided to take a look.
The category that I've been interested in, but never have used, is that of small carry-on size - the kind of luggage that basically comes up only to your knees and therefore fits very easily into the overhead compartment of an airplane. I've avoided these in the past because they've just seemed too small for a trip of any substantive length over a couple days - perhaps for just a short business trip only. But the Ogio Rocker offered some possibilities.
To be clear, especially for our purposes here, "business trip only" is not a negative. Taking short trips is often a necessity to a professional writer or someone in the entertainment field - or any business, of course. But the more any product can be employed for additional uses (in this case, a longer trip), the better.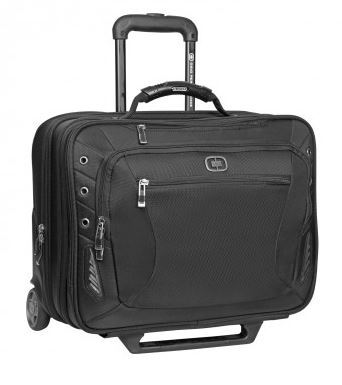 For starters, it is indeed solidly made. Very well-constructed. Nothing feels flimsy here. The zippers were sturdy, the few rivets well-imbedded, and the wheels rolled smoothly. Also, the collapsing pullman handle worked well, and the carrying handle was quite comfortable.
And it does indeed have a lot of pockets. And they're reasonably well-designed. What I particularly like are for most pockets to be on the small side, so that you can better organize your items and not have to go digging around in large compartments. And that was generally the situation here. One small quibble is that I'm also big on these inside pockets having Velcro (or zippers) for closure so that items can't get thrown out, and there weren't any with either. Only one large pocket had a zipper. Not a big failing at all, but for me that loses some points.
Also very good is that there are five separate compartments, which is impressive. Three are main areas - one for clothes, one for general packing (that comes with a well-padded slot for a laptop and a slightly-padded tablet sleeve), and one for more business-related work with a divider panel that would be helpful organizing paperwork, though you can of course just use it for general packing. (My personal preference is that the divider gets in the way of using this section for substantive packing, especially in such a small case where space is limited. So, I'd rather it wasn't there. But I understand the value of it for business purposes - which ultimately is the value of small luggage like this, for day or short trips.) I also liked that there are two small front, zippered sections that are terrific for organizing office supplies or small items for quick access. I'd have loved an outside side-pocket or two, which some carry-on luggage has.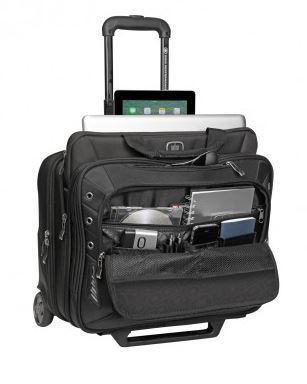 That leaves the larger question of capacity for clothes. As I said, when dealing with a small piece of luggage like this, its intent is clearly not for long-term vacationing. But having the capability to pack for more than overnight would add a great deal of value to it. And...the Ogio Rocker actually comes reasonably close to that standard.
No, it is not something you can overpack for a week. But though the Rocker isn't as tall as a full-sized carry-on, it's a touch deeper than many half-sizers. (Additionally, there are snap-tabs that you can undo that allows for widening the suitcase even more.) And so, I found that I could pack respectably for a short trip, particularly if one is diligent and meticulous, which in the world of travel is a treasured High Art.
The Ogio Rocker is 14" h x 17" w x 9" d. (The depth is standard, before undoing the aforementioned snaps to give you more room.) It isn't light, at 8.4 pounds, but that's because it's so solidly made, and it's hardly heavy. Besides which, it has the pullman handle and wheels, so you can of course just drag it along.
There may be some of these "half-size" business carry-ons that allow for more packing, but what most-impressed me with the Rocker is how well it was organized with multiple, thoughtful pockets. (I can't say enough how much I love pockets...) And there may be some other carry-ons that are smaller for easier traveling, but those are limited in their usage to just overnight or a couple days. I found the Ogio Rocker to be a very good combination of uses making it solidly multi-purpose. There are a few areas I'd like to see tweaked, but that's personal taste, and I'm meticulous about such things. Overall, I was very pleased with the Ogio Rocker. At the time of writing, it retailed for $180, but can be found online for $153, and even in one case as low as $118, which is a steal.
Griffin Technologies has long-made high-end peripheral accessories for Apple products, though many are applicable for non-Apple devices. They've recently expanded their landscape with what they call their Survivor line, which are solidly-made products specifically intended for "road warriors." This includes their new Survivor briefcase (clearly appropriate for anyone).
A disclaimer upfront. Briefcases are perhaps the one product of all that I've reviewed over the years that I am admitted a high-stickler about, with very personal standards for what I look for. In no way does this mean these requirements are the same for other people. So, your mileage may differ. But this is what is critical to me, and others can judge accordingly.
For me, I love pockets. Just love them - and not just big pockets for documents, but mainly small ones because they let you organize your briefcase better, rather than just dump small items like keys, coins, extra batteries, Flash drives, portable hard drives, earphones and on and on, into the bag and have to rummage for them. And the more small pockets (and pockets in general) the better. Related to that, I find it extremely important that at least some of these small pockets have Velcro or zippered enclosures - briefcases get tossed and knocked over, and the contents get spilled out into the bag, defeating the purpose of organization. I think a briefcase should have pen holders (it's surprising how many don't, for inexplicable reasons), and outside pockets - and again, not just large ones, but at least one small outside pocket for quick access. And it's important that the inside compartment be wide enough to put in a thick book, though not so thick as to be unwieldy - it's a briefcase after all, not carry-on luggage.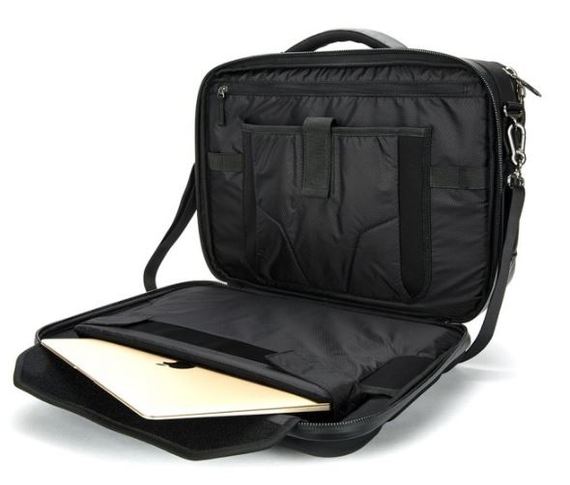 There are other niceties, but they aren't requirements to me. Like a padded compartment for a computer, since that's become pretty standard. And it's a bonus if a briefcase can be TSA-compliant, so it can fold-down fully when going through an airport scanner. (This is less-critical today because a frequent traveler can - and I think, should - sign up for TSA PreCheck approval, in which case you don't even have to remove your laptop at the airport. But still, it's a good feature.)
Having said all this, I'll add that I've yet to come across a briefcase that meets my standards. I've come close, but even with my current favorite bag, it fails on a few levels. Hey, I said that my standards for briefcases are high!
So, how does the Griffin Survivor Briefcase measure up?
First of all, it's important to understand what the Survivor's focus is - and that's sturdy protection. That's the very point of the entire line. And to that end, it accomplishes its intent admirably. This is an extremely well-made, solid, protective briefcase. Though this is a soft-sided bag, the corners and sides have no "give" and can withstand a lot of knocking about. They refer to it as "crush resistant" and though I haven't jumped on it to see how much crushing it can withstand, it provides a lot of protection, along with padded sidewalls. In addition, there is a great deal of padded protection for the inside laptop pocket, holding a computer up to 15", and even good padding on a valuable pocket for tablets, which additionally has a Velcro strap to hold them in. Furthermore, the otherwise-normal strap on the back (for hooking over the telescoped handle of wheeled-luggage) is actually a substantively-sized thick mesh, backpad.
Inside, the briefcase has a good number of large pockets, suitable for documents or folders. One of these pockets is wide enough to allow space for a couple of books. Another is zippered. And a large outside pocket has a zipper, as well. And though there isn't a great deal of space in the inside compartment, it's quite respectable.
There are, however, some quibbles, by my personal requirements.
Though the documentation refers to six inside pockets, this counts pen holders. And while it's a point in their favor to have those pen holders, there really are only four small pockets - that's a paltry number. And they're each pretty small. Further, none of them have Velcro or a zipper to enclose them. (A shame, since an early demo model I saw at CES did have such enclosures, but a re-design dropped that.) These small pockets are all in the large outside zippered-pocket - which is a good thing for its convenience - but the design of the zipper doesn't allow easy access into the recesses of that pocket, so it's a bit hard to dig into the bottom.
The sturdy build of the Survivor is a major feature and a valuable. Just know that, because it's not flexible, you could conceivably have a tight fit under some airline seats that have small space, being unable to "smash" it down to size, especially on some aisle seats that often have less room. It should fit, being 12" high and 17" long, but it's just worth being aware of.
In many ways, I liked the Survivor briefcase. It's wonderfully constructed, and is extremely protective which is its very point of existence. So, if that's important to you - which it is to many - then this is well-worth looking into. It's nicely designed, and is easy to carry. However, if you're mainly looking for a briefcase to serve as a versatile product to carry your office with you, then I think its minimal "niceties" (by my admittedly tough standards) hold me back from loving the Survivor enough to make it a favorite. If they hadn't changed that design with the enclosures and had a few more small, inside pockets this could have been a gem. As it is, it is excellent for what it sets out to do, be protective for road warriors, but falls a bit short on versatility.
The Survivor Briefcase originally retailed for $130, but at the time of writing it can be found on the Griffin site for $90.
"The Writers Workbench" appears monthly on the website for the Writers Guild of America. To see this entire column, with complete product graphics and additional "TWW Notes," please click here
To read more from Robert J. Elisberg about this or many other matters both large and tidbit small, see Elisberg Industries.
REAL LIFE. REAL NEWS. REAL VOICES.
Help us tell more of the stories that matter from voices that too often remain unheard.