This month, we have a couple of admittedly small items. Very small. Nothing whizbang here. But though humble in operation, they each offer the potential of some benefits of basic real-world needs.
One device is a sort of follow-up companion piece to an entertainment-based article I wrote several months back. The other, modest as it is, deals with a logistic issue writers often find themselves having to resolve.
Back in July, I wrote here about a Bluetooth turntable from Audio-Technica, the AT-LP60BT, which made listening to old LPs much easier. It didn't require a stereo receiver, big speakers or finding the space in your living room for a full system—you could even just put the turntable in a closest and connect it wirelessly to a small, portable Bluetooth speaker if you wanted.
I mentioned an option to this, though. The AT-LP60BT retails for $179, but the company sells a similar turntable, the AT-LP60, for $99 and as far as I can tell it's identical but without the Bluetooth functionality. But I noted that for around $30 you could get a basic Bluetooth transmitter and connect it to the turntable's output. I said I would try to test this later on…and have now.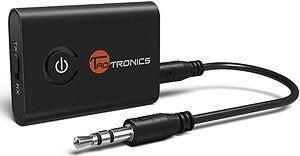 (Well, sort of. I tested it using the Audio-Technica turntable I had reviewed. But as I said, I believe it's functionally the same. I didn't enable the Bluetooth button and used it straight on.)
The transmitter I tested was from TaoTronics, their BlueTooth 4.1 Transmitter and Receiver. Because the company sells a range of Bluetooth transmitters, this is model TT-BA07. It retails for $34, though could be found online at the time of writing (during a special, limited-time deal) for $26.
The device is small, about like a bite-size 3 Musketeers candy bar only thinner, and has a connecting cable at one end. There's also a toggle for switching between transmitting mode and receiving. More on that later.
The way it works is very simple. All you do is make sure the toggle is set for transmitting and plug it into your sound source (in this case, the turntable). You then just turn on your Bluetooth speakers and put them in pairing mode, and power-on the TaoTronics device, double-tapping the power switch to pair with the speakers. Within a few seconds you'll be connected. And that's it.
You can use the transmitter with other sound sources, as well. I tested it with my television, plugging into the Audio Out slot, and within seconds my TV was now Bluetooth enabled. I could listen to the sound wandering around anywhere in my home wearing Bluetooth headphones. If you have a sound source that requires two-headed RCA Audio cables, the package comes with a set—as well as a charging cable.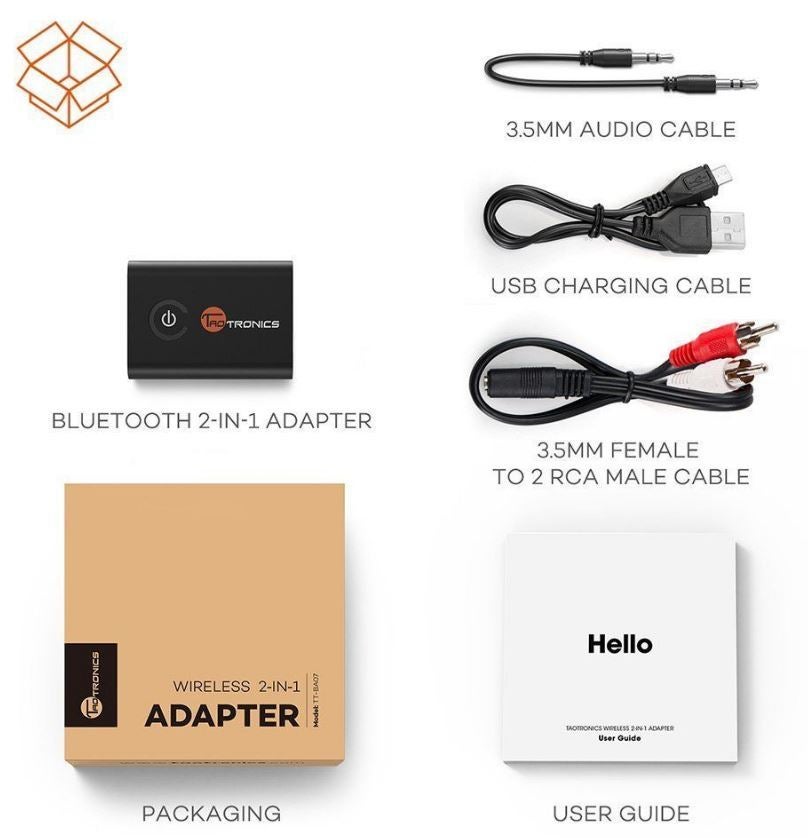 A caveat: though this worked well with various Bluetooth speakers and headphones, I couldn't connect with two small speakers. But—and this is important—the two were from same manufacturer and they wouldn't connect with the turntable using its built-in Bluetooth either. They work well connecting to my mobile phone and are the proper protocol for connecting, but clearly there's something in their specifications that requires pairing manually. So, the issue is with these speakers, definitely not the TaoTronics.
As I said, you can also use the TaoTronics device to receive sound, which will turn a non-Bluetooth speaker into one that is Bluetooth capable. Just plug it into the earphone jack and go through the pairing process.
To be clear, the Bluetooth pairing on the Audio-Technica Bluetooth turntable that I reviewed in July works fine. And there's no fussing with add-ons, or having to periodically recharge the device—easy as all that is, it still might be more than some people might want to do. But I mention all this about the TaoTronics transmitter as an option that does the same thing for $50 less.
Pen light flashlights are exceedingly low-key devices when it comes to the tech world. Almost to the point of being throw-away commodities. But all pen lights are not created equal. On the slightly higher end, they're worth taking a look at, especially since writers are known on occasion to have an idea in the middle of the night and scrawl it down in the dark, only to find their words unintelligible in the morning. And many a brilliant plot point is lost. So, many writers do keep a pen light nearby. A solid-looking product came across my desk a while back so I decided to check it out a little closer.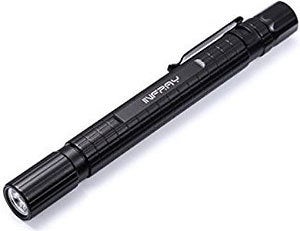 The INFRAY LED pen light is extremely solidly made with "aircraft aluminum," rather than plastic or light metal common in most, and comes with two high-quality CREE LED bulbs. It has three modes, unlike most pen lights, and emits light that can range between either 60-220 lumens. The lower mode gives off a softer beam and saves on battery life. The higher number is an extremely and impressively powerful beam. The third mode is a strobe, presumably for safety when outdoors. It also has one of the more effective adjustable focuses I've seen in a pen tight. When diffused, it spreads its light over a wide span, yet still stays very bright. When twisted and changed to pinpoint, the intensity is especially strong. The flashlight is 6" long and takes two AAA batteries.
My quibbles are minor, though worth mentioning. Being as rugged as it is, the INFRAY is also a bit heavier than most pen lights. Not problematically so—it's a pen light, after all, and hardly heavy, but it's better for holding in pants pockets or a jacket rather than a shirt pocket. (Of course, this is no matter if you just keep it on the nightstand.) Also, without an instruction pamphlet I had no idea it even had those three modes. I only discovered that when reading about the device online. It took a little trial-and-error to figure out how to switch between the modes, though it's easy once you know. (Just press the button part way, rather than fully clicking the light on.) And as for that button—this is how you turn on the flashlight, rather than the more common way of twisting the bulb end, which I prefer. Twisting the bulb end sits better in the hand that way if you like adjusting the focus. But of course, clicking a button on the end is hardly an issue. Just not my preference.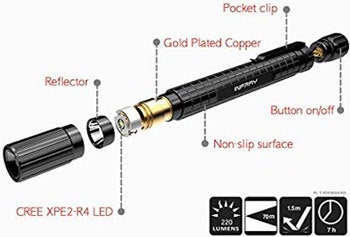 Also, the INFRAY costs more than the most basic pen lights, many of which you can get for maybe around $5 or so. However, at $14.99 online at the time of writing (which you can find here), its cost is well in the same range of pen lights like a similar MagLite and MityLite.
If all you want from a pen light is something for your night stand, you would be fine with a throwaway device. But if you have other uses for it—not just for around the house, but outdoors or if you have professional needs for a small light—the well-made ruggedness of the INFRAY and multiple modes may well be worth the extra few dollars, given that it's also waterproof.
Calling all HuffPost superfans!
Sign up for membership to become a founding member and help shape HuffPost's next chapter
This post was published on the now-closed HuffPost Contributor platform. Contributors control their own work and posted freely to our site. If you need to flag this entry as abusive,
send us an email
.