Okay, so you've bought your iPhone, or SmartPhone, or iPod, or whatever the portable device is that you're going to carry with you and entrust so much of your life to. It's now time to protect it. Is that necessary? Well -- not totally. If the sides or back get dinged or scratched, does that really matter? To some people, it does -- the design of the thing, after all, is half the joy of a handheld device. More to the point, a case does offer some protection if it gets dropped. Okay, when it gets dropped. Though don't think you can drop something without impunity, just because there's a case around it. So, there is value in a case. But where protection is a near-necessity is with the screen, since if that gets scratched up, it might render your device too difficult to read. So, we look at a couple of those products here, as well -- with quite interesting results.
Know, too, that although these are all for the iPod touch (which was reviewed her in March), most of these cases will have an equivalent for the iPhone, so if something strikes your interest, it's worth checking the company websites to see if there's something that matches. I know it's not a perfect solution, but one plays with the cards you have. Perhaps that will change in the future. Updates as they occur...
• Scosche kickBACK sport t5
• Griffin Reveal
• Griffin Protector
• XtremeMac Microshield Stand
• XtremeMac Microshield Accent
• Wrapsol Ultra Screen Protector
• Zagg Original InvisibleShield
In many regards, the kickback SPORT t5 is a basic, well-made sport case. Solidly built of polycarbonate, it offers rugged "sport protection: against impact with a shock resistant exterior.
What makes the model stand out differently, however, is a kickstand which is embedded in the back of the case. Flip it out and the case can stand up for landscape view when watching movies. It works well, and if you're someone who watches a lot of videos and prefers not to hold your device throughout, it's a convenient feature.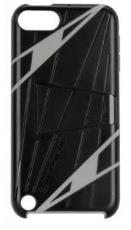 The case has a very sung fit, in which you slide your device. This makes it a little difficult to remove (pulling at the sides), but good for keeping out dust or dirt. There are large openings for the power button, camera and mic, connector, and earphone jack. My only real quibble is that the rubberized volume buttons require a bit of extra force to push.
The case is black with gray trim. As befitting a "sport" model, it has a splashy design with grooves on back. The SPORT t5 retails for $25.00, but can be found online for $15.77 at the time of writing.
Griffin has long made a strong line of Apple accessories. The Reveal case is very simple, but it's perhaps my favorite here. At first sight, it's perhaps the least imposing -- a one-piece shell with black, rubber sides and a clear polycarbonate back, only 1.5 mm thin, flexible and very light. What I liked was how little weight was added to the iPod, how easy it was to slip the device in and remove it, and especially how well it retained the designed-appearance of the device.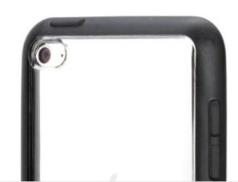 I did find that dirt and dust could enter a bit easier than with others, which isn't a particular problem, except that because the back is clear plastic, so you might want to remove the case on occasion to dust it off. There isn't as much cushioning as with sturdier, fully-polycarbonate cases, but it's solid protection. The loop hole at the bottom is a little tight and not perfectly centered, which can cause a little drag, but then I suspect like many not everyone uses the loop. One last minor quibble: it appears to be slightly angled, so the protective side ridges don't cover the sides as high as at very bottom. I'd prefer more of a ridge in case you place the device face-down on a surface.
It has wide opening cut-outs for the camera and microphone on back, dock connector and earphone jack at bottom. The rubber covering over volume controls are easy to use without needing extra force, though a bit mushy. It retails for $20, but could be found for $18 online.
The Protector is like a rubbery, silicone sleeve you slide your iPod into. In fact, it's one of the easiest for getting the device into and out. It wraps around the iPod and covers everything, and is very easy to grip. There are cutouts for the headphone jack and dock connector, though it covers the volume controls and I found it a bit difficult to differentiate them by feel.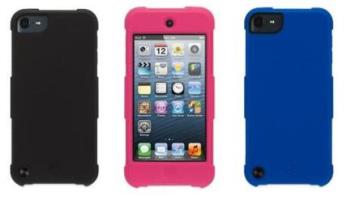 It protects very well, though isn't especially light (albeit protective), and isn't remotely for those who want to maintain the elegant iPod touch design. It comes in black, blue, pink and retails for $20, but can be found for much less, $10, on Amazon.
Though there were others I much preferred, the Microshield™ Stand has one terrific feature that might be of particular interest to some. As the name implies, there is a fold-out viewing stand that pops out of the case (similar to the Scosche above). This allows hands-free operation when watching videos or using FaceTime. The kickstand then slips back flat in place unnoticeable.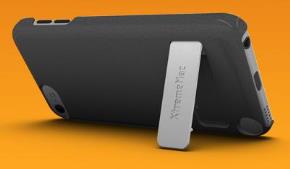 The case is made of durable, hard plastic material. It's somewhat hefty, and open at both the top and bottom. The volume control is open, as well, which has its advantages - but the buttons are so recessed I couldn't access them with my thumb. I had to twist my wrist and then use two hands and a fingernail. If this sounds inconvenient, it was for me. I also found it hard to get out of the case, and the kickstand is almost too tight. If you have long fingernails, it feels like they could break when trying to open.
It's worth considering if you want a stand, but I preferred the Scosche. This retails for $25, but was available as low as $17 on Amazon, though that was in peacock-blue.
Microshield™ Accent has a clean-looking design, with an ultra-thin, translucent hard plastic case back, and soft-grip side border, that's easy to grip. The slip, impact-resistant case offers form-fitting protection while allowing full access to all controls.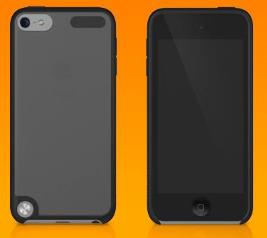 I found an oddity with the volume control -- the button covers didn't seem to match the controls It has a nice, wide opening for the up-volume, but the button covering for down-volume has "+" over it -- and the button with a "-" covered nothing. It retails for $28 and is less-expensive online, but I found better choices elsewhere.
In some ways, more important even than a case is a screen protector, a thin-film that can offer a high level (often incredibly high level) of scratch resistance. There are basically two types -- wet application and dry. The Wrapsol is the latter, dry.
Wrapsol makes two versions -- the Clean model for better pGRrotection against fingerprints, and Ultra, which provides better screen clarity. I think that's more important, and is the version tested.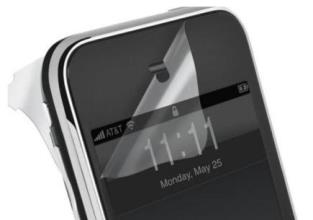 The protection that Wrapsol provides is seriously impressive. A video on the website is scary good, testing the protection of a Wrapsol in ways that are frightening to even watch -- yet the device came through unscathed. It's nothing I care to try on my iPod touch, however, nor do I suggest that any sentient being try on their device, unless you're in the business of selling a screen protector.
The advantage of a dry application is that there's no messy liquid to spray, and you can begin using your device immediately, without having to wait for it to dry. There are a couple of downsides, though. The first is that you have to be extra careful when placing the protector on the screen. With a wet application, you can slide the film around until it's properly placed (and with little fear of fingerprints underneath) -- with a dry application there's a greater risk of fingerprints getting placed on the bottom of the film as you maneuver the film around and aren't completely careful. (I admit it, I wasn't completely careful and screwed up a couple of films.)
The other downside is that more air bubbles seemed to show up with a dry application. The company says that the film is designed so that air bubbles will be released in a day or two and disappear. And so they did, or most did. But most is not all, which is a little problematic. Know that air bubbles can appear with wet applications, but I found it less of an issue.
One other very minor quibble: the instructions that come with the screen protector differ from the "how to apply" video on the Wrapsol website. The video is the accurate one, and does a good job.
Rather than the more convention specifically designed holes that fit over the Home button and front camera, the Wrapsol has larger cutout for both. Being "different" may put off some people, but it works just fine.
Instructions in box different from video provided. Video is closer to real way to install.
For the most part, the Wrapsol ULTRA provides impressive protection and clarity, with good touch sensitivity. There were those few issues, most notable being the air bubbles. You shouldn't get them, but know that you can.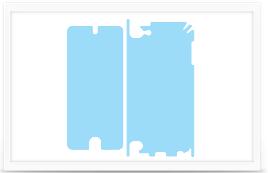 Both the ULTRA and Clean versions sell for $15. The ULTRA also comes in a $30 model that includes a back protector, which was the version tested. For most people, this is unnecessary if you use a case. But for those who like their iPod touch case-free, it's a reasonable way to add protection.
Zagg makes another screen protector, though they use the "wet" method of application. The package comes with a bottle which you spray on and carefully slide the plastic shield around until it's in place. This takes a bit of maneuvering, since things get a bit slippery. Once in place, you squeegee out the air bubbles and then have to let it dry overnight, during which time any remaining bubbles should disappear.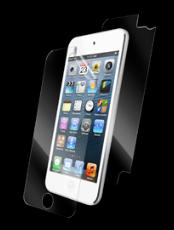 Some may prefer the dry method, since it's not as messy, but I've grown to appreciate the ability to slide the plastic around until it's in the proper place. My dexterity is not pro-grade, and I need the flexibility of not having to get it right the first time.
Zagg has a wide range of protectors for most devices. They have regular and full-body, the latter of which is overkill for all but the maniacally obsessive. I don't even particularly care about protecting the back of a device, just the screen, though the regular does include plastic for the rear.
They also have different levels. Original is the ubiquitous "military grade patented material" for scratch protection. There's also XTREME (for break protection), High Definition (for clarity), and Smudge-Proof (which is fingerprint resistant). All have lifetime warranties. I tested the Original, and it seemed to offer plenty-enough protection for most humans.
I came to this conclusion after having a brainstorm. Zagg also has one of those scary-good videos that shows how impressive their protection is. And while I thoroughly believe these videos, I actually figured out a way to test the InvisibleShield myself. No, I didn't try it on my own device -- what I did though was get an unused CD and turned it over, so that the part that is so easily scratched. I then covered half with the Zagg InvisibleShield, got a screw driver, and went to town. I mean, honestly, I scratched the bejeepers out of the thing, putting my full body behind it and digging into the plastic and exposed CD. And the results were -- well, otherworldly impressive.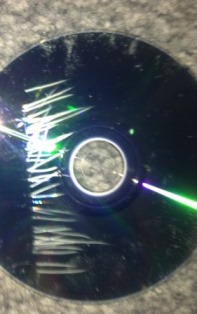 The side that was open was destroyed. The covered side was pristine. I'm sold. I was always concerned about putting my iPod in a pocket where my keys could bump up against it. I am no longer remotely concerned, and have it there all the time, without a hiccup. After all, if the protected CD could survive the hell I put it through, a key bumping against the screen won't be bothered in the slightest.
To be fair, from its video, I suspect the Wrapol would have the same result, but I didn't test it.
The Original retails for $25 for full body protection, though you can buy front screen alone for $15. For me, front protection is plenty.
The bottom line is that screen protectors are very good things and actually do work. For my own taste, I preferred the "wet" version which, in this case, was the Zagg.