Man does not live by typing alone, and one of the pleasures of the Internet is being able to not only access all manner of audio, but access it from anywhere. This month we take a look at a wide range of devices from portable speakers to wired - and options in between - that connect you to the sounds of the Internet.


WOWee ONE SLIM
The WOWee One Slim [http://www.woweeone.com/index.php] offers a very interesting product and a questionable name. A small speaker (about a bar of soap), it offers fine, though ordinary sound when held in your hand, but - because it's basically a sub-woofer designed to resonate through a Gel Audio driver, the bass frequency is transferred into whatever surface it's placed on. As a result, when sitting on a table, for instance, the bass suddenly becomes deeply rich, and the overall sound vibrant - especially for a small speaker. As such it's probably not best for holding in your hand when walking, but excellent as a rich-sounding, external speaker for your notebook, if you have a convenient place to park it. And although a single unit, it delivers stereo.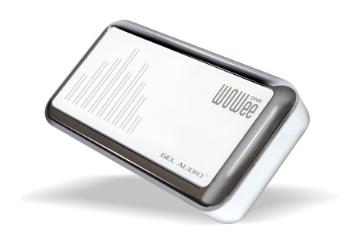 It use runs a rechargeable battery that is rated to run for 10 hours, which isn't especially long. However, if you're mainly using it with a notebook, rather than a handheld device, you likely will be charging it at the same time, so battery life under those conditions shouldn't be an issue. At the time of writing, the Slim version wasn't yet on the market, so no price is available. However, the standard WOWee One could be found online for $55.


MACALLY TUNEPAL PRO
Once upon a time, earphones were inexpensive commodities. As the quality of MP3 devices grew, the market for high-end earphones grew with it. And so too did the range of prices. Toss into the mix that later-generation iPod touches allow for remote control commands built into the earphones themselves and smartphones utilizing a microphone for calls, the landscape for earphones is now vast. Macally's TunePal Pro falls nice in the middle-range of the pack - good quality audio, with remote control and a mic, at a reasonable price.
The TunePal Pro won't compete with the highest end headphones, but it won't break your wallet either. The sound isn't overly crisp, more muted (on the good side of muddy), but with a very rich and clear audio. There seemed to be a good separation and depth, where individual instruments stood out nicely. It isn't a booming bass, but a pleasing full sound.
The remote control, built into the cord, generally works quite well. It provides play/pause, fast forward/reverse and also volume control, something missing on several competing units. There were a few other features that were hit-and-miss, but that's largely a function of problems with the Voice Control feature of iPods, not the TunePal. My one quibble is that the control is high up on the cord, and I prefer it to be lower where you can see it and have better hand control. I would imagine the reason is the keep the microphone near one's mouth, but if it was lower there's nothing stopping a person for simply lifting it to your lips. Overall, though, the TunePal Pro delivers a solid product that can found online for $27 at the time of writing.


GRIFFIN iTRIP FM TRANSMITTER
One of my eternal quests is to find a great FM transmitter device. It's such a mythical pursuit in large part because of the problematic realties built into the technology. FM transmitters emit extremely low-level FM signals: you plug them into your sound source (generally an MP3 player, but it can be anything, even your computer), find an FM radio frequency that doesn't broadcast anything, and then set the transmitter to that same frequency. Your sound will now "broadcast" through your radio's speaker.
The difficulties are several. First, it's hard to find a radio frequency that if isn't broadcasting, doesn't have a nearby signal overlapping into it. Second, because the devices must transmit at a low power, it's a problem for them to be strong enough to "broadcast" through static. Third - though these can be used anywhere, it's most common to use an FM transmitter in a car, so you can hear your MP3 without headphone. As a result, as you drive along, you will likely continually move out good signal areas into bad ones. And finally, especially in cities, buildings will block signals. So, finding a great FM transmitter remains that grand challenge. Some good devices do, happily, exist. Though all must still battle the above-noted issues. And so the quest goes on.
The Griffin iTrip (made for in iPod/iPhone) takes its place as one of the better FM transmitters, though for a unique reason, not entire related to being an FM transmitter. I'll explain.
To begin with though, the iTrip does a fairly nice job making it relatively easy setting up station presets, something that often can be a challenge with most FM transmitters. You can use its SmartScan feature, which does a respectable job automatically finding open stations, though manual scanning worked better. Three presets can be programmed. There also are controls for playing and pausing, and the screen is clear enough to display track information when playing. All very nice features. The biggest issue is that the FM transmitter wasn't the strongest I've come across - it did a good job, but there was still more static than preferable, unless condition were strong. (Note that, as with any FM transmitter, if you set it for mono, the signal will be better.)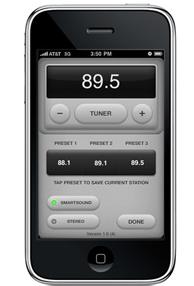 Where the iTrip shines is that is pairs up with a free, downloadable app, the iTrip Controller. With the app, the problem of finding and setting up stations, and creating presets, disappears. It uses the large screen of your iPod/iPhone, and clear, easy-to-use touch control make programming a breeze. There are better FM transmitters (and worse), though the iTrip is a fairly good one - but the iTrip Controller app adds a functionality that makes it a pleasure to use. Though having an FM transmitter that delivers the top sound is likely the goal for many, it is no small attribute for an FM transmitter to be so easy (perhaps the easiest of all) to use. At the time of writing, the Griffin iTrip retails for $50.


GRIFFIN ROADTRIP
The Griffin Roadtrip is essentially the company's iTrip FM Transmitter designed for use hands-free in a car. Slide an iPod or iPhone into its cradle and plug the device into your auto's cigarette lighter, which will keep your iPod/iPohne charged. A long, twistable arm allows you to position the unit for most-convenient use.
A panel underneath gives you the exact same set-up and control as the iTrip, as described above. And like that device, you can run the Roadtrip by downloading the iTrip Controller app from iTunes.
As an FM transmitter, it functions just as well as the iTrip. And being able to charge your iPod/iPhone is a very good touch. Also, it's convenient having your player at close, hands-free range.
However, I found certain issues with the Roadtrip problematic. Most notably was that because of the short length of the "twist arm," about six inches, my iPod touch was usually too close to the radio, and the ensuing static drowned out any music playing. I could twist the arm to a different position, but to get the iPod far enough away, it usually ended up in an awkward spot to use. Also, depending on your car's set-up, it might be a tight squeeze to plug the Roadtrip in and have it far enough away from bumping into your knees.
In the end, if one wants to use one of the two Griffin FM Transmitters along with the iTrip Controller app, I think it's far better to do so with the straightforward iTrip FM Transmitter itself, and just find some easy spot to lay it down. Your options for good sound and convenience are wider. The one advantage of the Roadtrip is its ability to charge at the same time as playing (no small thing). But ultimately, you buy an FM transmitter to play music, and I found the iTrip much better for that. The Roadtrip retails at the time of writing for $80.

One of the pleasures of the Internet is being able to access radio stations from around the world on your computer. It's referred to under the umbrella of "Internet Radio" - but there are, in fact, Internet radios out there. No computer needed, but rather actual radios that will bring in any broadcast that exists in the ozone. They're not exactly the same, of course, as your transistor or clock radio, but pretty close cousins.
The Livio Radio featuring Pandora is one such, adding its own tweak by merging with the Pandora music website. It allows you to play any Internet radio station - and create pre-set buttons on your car radio - but also access all the Pandora stations you've created with your online account.
(Pandora is a free service where you enter any term - a favorite genre, favorite performer, favorite instrument, whatever - and it will find "stations" made up of music that relates to your choice. An all Irish folk music channel, for instance, or one with performers similar to U2.)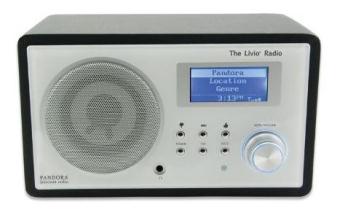 Normally, I like to read through manuals before setting up a product. (I know, I'm odd that way...) But the Livio Radio came with a Quick Start that said how easy it was, so I figured I'd give it a test, to see if it really was as simple as they said. And for the most part, it was. Basically, you plug it it, let it find your Wi-Fi network, tweak some settings, unplug the radio - and re-plug it. That's it. If you want to add the Pandora feature, it takes a little more effort, but it walks you through the steps, and is easy to follow.
At start-up, it locates all the available Wi-Fi networks and displays them on the unit's small screen. You turn the volume knob to scroll through the list until finding yours. Then, once again using the volume knob, you enter your password by accessing an alphabet on the screen. (All commands can be accomplished with the remote control, as well, using the arrow keys.) The process is a bit bothersome if you have a long password that combines capital letters, small case and numbers, but at least it's easy to do. It took quite a while to initially connect to the network (something that isn't uncommon), but eventually did. As mentioned, adding Pandora requires signing into your account on the Livio website and getting information from the Livio Radio itself to enter - but all through the process it holds your hand.
Locating stations can be done using a wide range of options: listed by "Location World" or "Genre World" (where you click through options to pinpoint your interest), a more general Search, and Pandora channels, which lists your existing channels or you can set up new ones. (If you have a Pandora account, though, it would be significantly easier to set them up online.) The process is very easy, though if you do repeated searches you generally have to start from scratch each time which gets a bit repetitive. When finally locating the Internet station you want, you aren't limited to just the live broadcast, but can also access On Demand shows or podcasts.
You can configure pre-sets, which allow you to jump directly to a station. This is extremely convenient, though only five pre-sets are available. Five are okay, but a little skimpy. However, you can also save stations as "Favorites." They're not as convenient to use as pre-sets, but easy enough.
The sound delivered by the Livio is quite crisp, though without much richness. It's definitely pleasant to listen to like an extremely good AM radio, though would be disappointing to an audiophile, lacking much bass and treble. However, you can plug in external speakers.
The biggest quibble with Livio is the small screen on the front of the unit. It's not just that not much information can be displayed on it at a time (song titles and information scroll across non-stop), but also that it uses a DOS-like text that simply looks cheesy.
The surprise of the screen is enhanced because everything else is extremely well built, the unit itself but even the remote control. All very solid and well-designed, with an elegant, almost-retro look, in either silver or black.
The unit has an alarm clock built it in, so you can use it to wake up in the morning - something you can't do with Internet radio or Pandora on your computer. (Though you could, of course, with the alarm feature of an iPhone/iPod.) And befitting its integration with Pandora, there are buttons on the unit (and remote) for registering thumbs up/down on songs that play, just like the music service offers online.
The Livio Radio featuring Pandora isn't a must-have device, but it serves a purpose and does it well: if you want to wake up to Internet radio stations, or provide Internet radio where it's not convenient to have a computer, the Livio is very easy to use (if occasionally time-consuming) and provides simple access to the overwhelmingly array of Internet music. At the time of writing, the radio retails for $200 but can be found (black only) for as low as $110.


OoTUNES RADIO
Okay, if you use any radio station apps, this is a must-have. OoTunes is far and away the best of this genre I'm come across. It's $5. I know that's a lot in AppWorld. Although on Planet Earth, it comes out to $5. Is it worth paying $5 for something you can get close to and pretty good for free? Hey, it's $5.
OoTunes provides access to significantly more live broadcasts you can choose from than most other apps. And it provides a great many lot of ways to find them, whether saved as Favorites or Most Recently played. (These broadcasts include not just radio stations, but concerts, some TVcasts and even police emergency scanners...) For example, other such apps provide links to maybe 20 radio stations in Chicago. This has between about 100-150. Overall, Ootunes says it can stream 32,000 live broadcasts from over 150 countries.
There's also a built-in alarm, so you can wake up (or set day reminders) to either Internet music or songs on your iPod. And you can set it to Sleep mode, so it will automatically go off when you select.
You can also record a broadcast that's playing.
Further, when a song is playing, if you click "Lyrics," it'll go online to find the words. It provides album art when a song is playing. You can click "YouTube," and it will find YouTube videos that feature the song that's playing.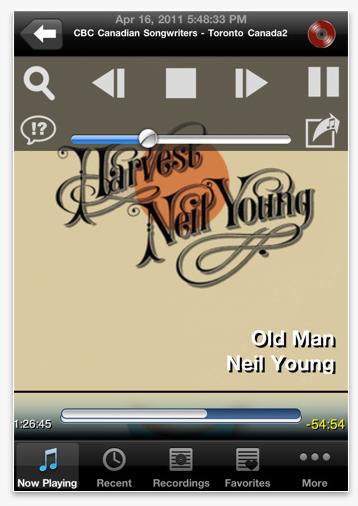 OoTunes allows multi-tasking, so you can listen to the music as you use other features of the iPod.
There's also built-in access to a browser, so you can do a web search or browse the Internet from within the program. Or post to Facebook or Bookmark the current track.
The only quibbles to mention are that I had a little difficulty figuring out recording. And sending an email didn't seem to work, though in fairness it's possible I didn't have my email set up properly. But for $5, it's a gem, even in a world of free.


"The Writers Workbench" appears monthly on the website for the Writers Guild of America. To see this entire column, with complete product graphics and additional "TWW Notes," please click here

Calling all HuffPost superfans!
Sign up for membership to become a founding member and help shape HuffPost's next chapter