Back in June, the subject of ebook readers was first broached on these e-pages, a look at Amazon's groundbreaking Kindle. The discussion included the wide range of pros and cons about e-reading. I won't repeat the discussion here (anyone interested can go back and take a look), but the short version is - there remain many advantages to read hard-copy books, but if your personal life is such that e-books are particularly convenient, then an e-reader is well-worth looking into. And so this month, we look at the Kindle's biggest competitor, and see if the upstart has transcended the master. At the same time, we look at an intriguing low-cost option that bridges a couple of worlds.
Note: Just after the complettion of this review, and just prior to its publication, Amazon released four new editions of the Kindle. Three are exclusively ereaders, including a touch version, and the fourth is a color tablet-style device. The latter lacks a camera and 3G and microphone, and information on apps was limited (it runs a modified Android system), though it can play movies downloaded from Amazon's cloud services. More on them at the end of the each review below. BARNES & NOBLE NOOK
Though the Nook line from Barnes & Noble may be best-known for its Color Nook, they've subsequently released a new version of its original black-and-white device. I chose to look at this "all-new Nook" for a couple of reasons. One is because it's the most direct comparison to the Amazon Kindle. Another is that if you want to read a book - the point of an ebook reader, at heart - color doesn't matter much. (Two exceptions: for magazines and children's books which are filled with pictures, color does make a difference.)
The "all-new Nook" - henceforth here called the Nook - has a 6" touch screen that uses the similar E Ink Pearl technology as the Kindle, though with one important difference. (More on that later.) There's also a significantly improved battery life, rated at up to two months of usage on a single charge with the Wi-Fi turned off, which compares favorably with the Kindle. (My experience was good, though not that good. Sitting completely at rest, it lasted about six weeks. Usage, of course, will bring that down, but it's still long-lived.) It's about the same size, though a bit wider and shorter (6-1/2x5x1/2") and light at under 8 ounces, but will still fit comfortably in your pants or jacket pocket. Know, too, that this is a Wi-Fi only device - no 3G connection is available, as it is with the Kindle. But though 3G is a nice convenience, it's a convenience most people won't have much use of.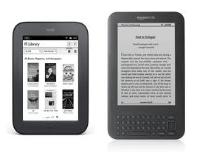 (I'll be making various comparisons to the Kindle here because - well, though there are other good e-reader options, these are the two 800-pound gorillas in the room.)
One note to mention: I received a unit with a defective battery that would only last about two weeks. However, a replacement unit did significantly better, as noted above.
When the Nook is locked, it takes a bit more time to boot-up than I'd prefer, about 30 seconds. However, because the battery life is so long, it makes sense just leave it on all the time and put it in Sleep mode. Once booted up, you start it up by pressing the "Quick Nav" button (the device's only hardware button, which also serves to bring up the main Command Bar) and dragging a "padlock" icon - an extra step from just one-touch, but hardly problematic.
The Home screen shows what you're reading right now, of course, as well as what you've recently read. It also displays suggestions about what you might want to read next, as well as a link to the Barnes & Noble "Top 100." Click on these with the Wi-Fi turned on, and you'll be taken to more online information. I'm not crazy about these "helpful" suggestions on the home screen, finding the advertising pushy and too intrusive. The Kindle doesn't have this - unless you select one of their lower-end models that not only give you a $25 discount, but also have special offers thrown in.
Also on the home screen is a Status bar at the top, with your battery life, Wi-Fi info, and the time.
Tapping the aforementioned Quick Nav button at the bottom brings up the Command Bar with your home library, search options, shopping information and settings. This is all done, as mentioned, with a touch screen, which is fairly responsive.
After loading a book, a tap on the screen brings up a context-sensitive menu. The options are Content (which has chapter links, as well as being where Notes and Bookmarks are stored), Find, Go To, Text (which lets you change font and margin size) and "More..." taking you to book summary information, reviews, related titles and the ability to "share" the book.
(Creating a bookmark is brain-dead easy. No accessing menus - just touch the bookmark tab that appears in the top-right corner of any page.)
A nice thing about the Nook is that it displays page numbers for its books. And if you change the font size, that doesn't affect the page numbers, it adjusts. At the time I reviewed the Kindle, they didn't have page numbers, just "lines." Subsequently, new software now allows for page numbers in the Kindle, though my understanding is that you have to manually change settings because the default is still lines. And page numbers only work on official Kindle books, not public domain ePUB books. (This may have changed and may not be accurate.) However, with the Nook, all books show page numbers built-in. Very nice and convenient.
That brings us to actually reading the book, and here is where the previously-mentioned difference with E Ink comes into play. E Ink Pearl technology (which both the Nook and Kindle employ) is very crisp and easy on the eyes, because there's no backlighting. This means that you read it just like a book - if the room is dark, you need overhead light to see the text. But it also means you can read outdoors in the brightest sunlight. With the Kindle, however, when you turn a page, there is the slightest black flash. Some people may not be bothered by this, but it drove me absolutely crazy. It was especially problematic (to me) if I flipped back through a lot of pages - the constant, black flashes almost sent me over the edge. The Nook, though, uses a slightly different E Ink Pearl technology - and there's almost no black flashes. Instead, the words on the page quickly fade out as the new page quickly fades in. Every fifth page or so, there is a brief black flash, but it's unobtrusive. This is a major benefit for my taste.
Since the new Kindle touch has not yet been reviewed, I don't know if the "black flashing" issue of previous Kindles still exists. If it's gone, as some report suggest, that would be a huge improvement. If it still is there, however, it would remain problematic for me.
(One oddity. As I mentioned, the original unit I received had a defective battery and lost power a couple times. You can use the Nook when recharging, and when it was half-charged I started flipping pages - and the fade out/fade in was notably pronounced. It went away when fully charged. What's so odd is that this only occurred when charging up from zero. Never once after it was fully charged, or even during a normal charge. For all I know, this is related to the bad battery I got in that first unit. The second, replacement device worked perfectly, and never completely drained.)
Another noteworthy difference is that you can turn pages three ways: by clicking thin "bumps" on the sides of the device, by taping either a side of the screen, or by "swiping" a page. With the Kindle, you can only change pages with buttons. I much prefer the Nook options.
If you use the "Go to" feature and jump directly to a page, you can access a "Go back" option to return to exactly where you left. However, if you flip back through pages individually, there's no way to "Go back" to your starting point. If it's technically possible to do this, they should add the feature to later versions of the firmware. My recollection is that it does exist on the Kindle, but distant recollections are not always accurate here...
To look up a word or add a note or highlight a passage, you hold your finger down on a word (or swipe the full passage). Appropriate options come up. I don't think most people add notes while reading, though I suppose it can come into play for schoolwork. That said, the touch keyboard is significantly easier to use than the teensy keys on the Kindle.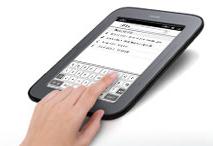 Not surprisingly, the Nook is linked to the Barnes & Noble online store, with its collection of over 2 million books. Especially nice is that it also can read ebooks in the standard ePub format that most free public domain books are in. This is not the case with the Kindle. It can also read PDF files, though not Word documents. Additionally, the Nook can be used for checking out ebooks at most public libraries, a change the Kindle has now made, as well.
By the way, though you can download from your computer any of the many thousands of free books on the Barnes & Noble website, I had difficulty getting that full list when trying to download directly from the Nook. Personally, I prefer searching for books from websites, so it's not a big issue for me, just a surprise. (Also note, in case it's not clear, that that books using the ePub format are available from numerous third-party websites, so you'll likely be searching for those from your computer, anyway.)
The Nook can hold up to 1,000 books, and has a feature that allows you to "share" a book with someone for 14 days. While both these are certainly nice, they also fall into a common category for technology of "Things that sound great, but serve little practical purpose." For instance, in my entire life I've never met anyone with 1,000 books - and one of my friends is the former book editor of the Los Angeles Times. I'm certain such people exist, but it's not a major need for most humans. Also, while being able to share books is A Good Thing, few people have the time to read a borrowed book in 14 days. In fairness, some books are very short, some people are speed readers, and sometimes you just need to read a chapter. So, this is a perfectly fine feature, and something that doesn't exist on the Kindle. It's just not the major selling point to me that Barnes & Noble makes it. (All this said, if ever you do fill up your 1,000 books, you can archive them to make more space on the device.)
In addition to sharing books, there several other social attributes. The Nook Friends feature allows for sending and receiving book recommendations. And there are connections to Twitter and Facebook, the same as the Kindle.
The back of the Nook has a soft, rubberized feel, which is quite comfortable. Being a touchscreen, this allows for more fingerprints, but I found the screen to say reasonably clean.
A nice touch (no pun intended), which won't mean as much to everyone: I like that you can select a theme among a variety of choices (for example, nature) for your screensaver, and it will stick with that, rather than change every time you put it to sleep and present only drawings of authors, as does the Kindle. Also, you can upload your own JPG graphics to make your own screensaver.
The Nook has no support for audio, so it won't play MP3 files. There's also no voice feature which the Kindle has, and it won't play audiobooks. And unlike the Color Nook, there's no web browser, nor any connection to the Internet. (The Kindle has a limited connection to Wikipedia.)
One small quibble - though there's a Nook User Guide in the library, I'd have liked to see a Help file that was more quickly accessible.
At the time of writing, the Nook sells for $139, though it was on sale for $129. With the new lower-priced Kindles, I suspect there will be a price drop very soon - if it hasn't already occurred between the time these words are being type and published.
As mentioned at the start, an earlier column went into detail about the pros and cons of ebook readers. Suffice it to say that if you got this far, you're likely more on the "pro" side of the issue and are trying to decide what to get. To be clear, there are many options for ebook readers today, far beyond just the Kindle and Nook, though these two are far-and-away the leaders in the field right now. While both are extremely good - and very similar - for my taste the "all-new Nook" made enough improvements to be my favorite of the two. It's lacking a few very nice features of the Kindle, but the absence of "black flashing" and the ability to read ePub books make it the definite choice of what I'm personally looking for.
Note, again, that this has been written before testing the new batch of Kindles. Two are touch models - one for $149 that includes 3G, the other is Wi-Fi only for $99. As previously noted, I don't think 3G is critical for most people. At question with the lower-priced Kindle touch is whether the "black flashing" still exists, and the inability to read ePub books. If either remains the case, I'd continue to lean to the Nook, even at the higher price, but I'd wait a bit because I'm sure the price will now drop. (If not, that would be a problem for the Nook.) The third new Kindle is not a touch model: I much prefer a touch device, but this only costs $79, so it's certainly worth considering, after holding off to see what Barnes & Noble does with pricing for its Nooks. As for the Kindle Fire - Amazon's color tablet-like device that sells for $199 - that's appears to be competing with the Color Nook and Pandigital Nova below, far more than with the iPad or Samsung Galaxy Tab. More on this at the end of the Pandigital review. PANDIGITAL NOVA
The world of ebook reading is such that there are many options other than just dedicated e-readers. And though at the moment these alternatives aren't the focus here, it's worth addressing and looking at one interesting option. Pandigital calls their Nova a "media tablet." In practicality, it's halfway between a serious, high-end tablet (like the iPad or Samsung Galaxy Tab) and a pure e-reader. Therein lies its strengths and weaknesses. But important in this mix is knowing that its cost at the time of writing is only $189 retail. By comparison, full tablets begin in the $500 range.
Pandigital is best-known for its excellent line of digital photo frames that have been reviewed here previously. In recent years, they've begun branching into other areas, and have made a foray into e-readers and tablet. The Nova is a big advancement for them.
First, some techie specs, so you know what you're dealing with here. The Nova is about 7-1/2x5x1/2" -only an inch taller than the Nook, though thicker, and most notably heavier, at 14 ounces. Though it won't fit as comfortably in your pocket as the Nook or Kindle, it will fit and isn't difficult to carry around that way. The screen is a large 7" with a respectable 800x600 pixel resolution. The Nova also has a touch screen, which I'll discuss a bit later. There are also two, very low- resolution cameras on the front and back, something you won't find on any standalone e-book reader.
This is a Wi-Fi only device, which is all you really need for an e-book reader, and it's acceptable for most tablet usage, as well, though clearly not with the versatility (and cost) of 3G connectivity. There is no Bluetooth available. Because it's a tablet and not a dedicated e-reader, the battery life is significantly less than you'll get on the Nook or Kindle, rated at 8 hours with the Wi-Fi off and just reading. It'll charge almost full in about 2-1/2 hours, and you can use the device while charging.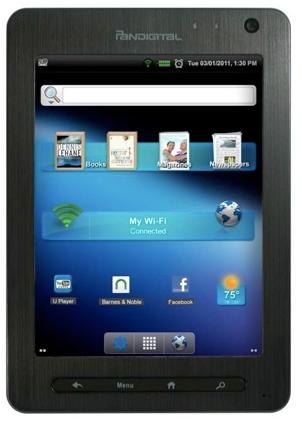 The internal memory is small for a tablet, 4 GB, but large for an e-reader. However, you can expand this with up to a 32 GB microSD card. That's a lot of space, though I initially had a problem related to this. What appears to have been at issue is that the original Nova model I tested was from the first production run, and it had a defective card reader. When the company sent me another unit from a later production run, the problems had been fixed and disappeared. In fact, a few other general issues I'd come across disappeared as well. The Nova has now been running significantly better, and the issues should be a thing of the past.
The operating system for the Nova is Android 2.3. This isn't as up-to-date as the much more powerful version 3.2 that high-end systems employ, but it still allows for doing a great deal with apps. (As the case with lower-end products, the device is unable to access the substantial Android Market, though there are still many thousands of apps available through a direct link on the device to the GetJar website, and you can also download additional apps a touch less elegantly from other sites. Keep in mind, of course, that on a dedicated e-reader by comparison, apps are very limited or generally non-existent, and with the Nova you also get full Wi-Fi access to the Internet and videos. In addition to apps, there are quite a few "widgets" built into the device that provide more functionality - like a clock/alarm widget, one for weather, a power-setting widget with controls available for easy access, and an ebook reading widget.
And it's that ebook reading capacity of the Nova that's the main topic at hand here.
Like the Nook, Pandigital has a relationship with Barnes & Noble, so you have direct access to their full online store. Clicking on the B&N app takes you to the Nova's My Library screen, and from there, a click jumps to your Barnes & Noble online account for easy downloading and synching. The My Library screen provides a graphical bookshelf (or if you prefer, a plain, text list), and you can set up individual bookshelves for better organizing as your books increase. The top "shelf" shows your most recently-accessed books. (Note: If you set up the B&N "widget" on the home screen, it will display your two most-recently read books there, as well as a direct link to your magazines and newspapers.)
The e-reader itself is basic but well-featured enough and works nicely. Best of all, being an LCD screen, there is absolutely zero flashing when you turn a page - the new pages smoothly slide left or right. (You turn pages by touching either side of the screen, but you can also tap the Return and Search built-in buttons to turn pages.) Text is crisp black on a bright, white background. This makes for pleasurable reading, and you don't need any additional light in a dark room, as you would with E Ink, though there's one important caveat - unlike E Ink, you can't read outdoors in bright sunlight, since the text will be washed out.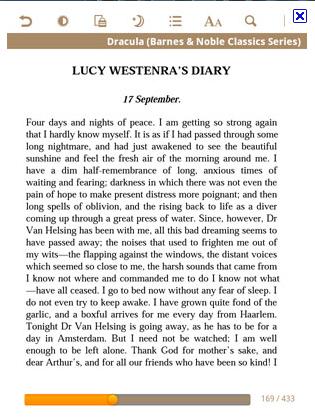 Holding your finger on a word or passage brings up an options box. You can highlight the selected text, add a note or access the dictionary. If your Wi-Fi is active, another option will take you to the Internet for a Google search.
Along the top of the screen are always-accessible options where you can change font size, bookmark a page by just touching a link, and search for text. A nice feature inverts the brightness for reading at night so as not to disturb anyone else in the room, changing the black text on a bright white background to white text on a black background. You can also lock the screen so that it won't change to landscape mode if you turn the orientation of the device. (There's a slight lag when changing orientation, though I suspect most people read a book vertically.) The Table of Contents page is where all your notes, highlights and bookmarks are kept.
The bottom-line is that it's a very nice ebook reader, though heavy and with a short battery life, but with some advantages and disadvantages (as noted) compared to dedicated E Ink e-readers.
But as mentioned, however, the Nova does a great deal more than offering e-reading. Some of those things it does impressively, and some...well, less so.
The two cameras (front and back) only have a 1.3 megapixel resolution, which is very low end, though for basic use - unless you plan to print out enlargements -- that's okay for most quick-need occasions. There's no flash, however. When taking pictures, you can choose between three levels of quality, along with a few additional options. Photos are extremely crisp when viewed in the device's Gallery; however it takes a couple seconds for a picture to come into focus after it loads. You can even take video, although the camera has to be moved extremely slowly or you'll get blurs and graininess. The aforementioned Gallery is where videos are kept for viewing, too. When you turn the frame between vertical and landscape mode, there's no lag (worth noting because when reading a book, there's that slight delay for things to change perspective). You can also "pinch" a photo to enlarge or shrink the image. Videos can be watched with a choice of three players that pop up, each which provide different advantages.
One of these, the U Player, is configured specifically for YouTube videos and works well and runs smoothly. However, it's difficult to search for videos, and oddly offers a very limited selection. I preferred going directly to the YouTube website from the browser. It's not as convenient, but YouTube works just the way you want it to, with full lists. Whichever player was used, though, videos played back quite nicely.
The browser itself is basic, but respectable and gives you a full Internet experience. Typing in commands is done with a pop-up keyboard (as is all typing on the Nova). Keys are quite responsive, and though it'll never come close to competing with a real keyboard, it's even better than the pleasant keyboard offered on the Nook.
It takes about 25 seconds to boot-up the Nova. Because of the 8-hour battery, you may not be as ready to leave it on all day like with the Nook, though, unless you don't mind recharging regularly. And you probably won't want to leave the Wi-Fi connected all the time, unless you have the device plugged in, since it's a battery hog.
I had trouble re-connecting to the Wi-Fi the very first time, but after that one hiccup, it has connected smoothly and fast every time.
(I generally had a good experience connecting to the Internet with the apps, for instance accessing the ESPN app or the Chicago Tribune. But unfortunately I had no luck reaching the a couple radio stations I tried, getting a "network connection is too weak" error message, even though the corresponding app worked immediately with an iPod. The problem is that, being a lower-end device, the chipset on the Nova that supports Wi-Fi connection likely isn't strong enough to do everything you can with other devices. But it did most things. And it did connect with another radio app, TuneIn Radio Pro - which oddly was about to get one of the stations I couldn't receive with the station's own app. So, it appears to be hit and miss with getting radio, but more on the hit side.)
Initially, I wasn't able to get the Email feature to work, but this appears to have been another of those "first production run" problems because when the later model arrived, email set up fine. (Note that it takes a bit of manual configuring on your part, entering server and port information, which could be confusing for some people, but that's always the case whenever you want to enter your existing email configuration on any device.) The email reader is extremely basic, with few bells-and-whistles, but it works okay.
The Nova also has a built-in MP3 music player, which is easy to navigate (although scrolling down a list is not one of the device's strong points -but it was noticeably improved with the later-run model), with large text, and big, clear controls. There is also the ability to do a web (or device) search of the song, album or artist while a song is playing. The sound is perfectly good with earphones, though of course tinny but very listenable from the built-in speaker in the back. It's reasonably loud, unless something is muffling the back.
I tested the expanded capacity of the Nova by using 32 GB microSD card from SanDisk. If you copy your MP3 files onto a microSD card (which is preferable to using internal memory because of the card's larger capacity), it will take a while for them to load whenever you turn the device on. (This is true, too, of putting photos and videos on the card.) The amount of time will differ depending on how much material is being stored. In my case, I tested it with about 20 GB total for songs and photos, and it required around 30-40 seconds for them to load. But know two things: 1) the time it takes to load begins from when the device starts up, not put off until you want to access the features. That means that unless you try to load your music or Gallery immediately after start-up, you won't ever notice the delay. And 2) once loaded, you'll then be able to access them both instantly, as long as the Nova remains on.
All your apps appear alphabetically on an Applications page, but when you move one to the home screen, you can create folders to organize related-apps together. And you can place them on different screens (not only the home screen) which are simple to shift between, with a touch of the page.
Working with the apps was occasionally frustrating, though not a problem. (This is the touchscreen matter mentioned at the beginning.) For instance, I had a little difficulty moving apps around a screen to delete them. However, other sensitivity issues seem to be largely resolved with the later model - now, when touching apps they are much more responsive (though occasionally require a second touch), and when you scroll down a page, apps don't tend to open as readily before you finishing scrolling.
The Nova can read PDF files, but doesn't handle them well with the built-in OfficeSuite app. However, better 3rd party apps will likely do an improved job.
Android is not an operating system I particularly like, though this is true for whatever the device uses it. Built on the Linux system, it doesn't have the most intuitive functionality and therefore isn't always user-friendly. It's not difficult to get used to, but still, when trying to figure out how to log-out of the Skype app, I had to search the web to find instructions, and discover that commands are buried under folders that are sitting in sections you wouldn't expect. But that's an Android issue only, not anything unique to the Nova.
As for finding Help on the Nova, its User Guide is alas not one of its best features. A great deal is dealt with in only the most cursory fashion, with a lot of information nowhere to be found - and some wrong. (For instance, it says that charging can only be done with the included charger, not by plugging it into your computer with the USB cable. But that's not the case. It does charge with the cable. I'm told by the company that a new User Guide is coming.)
By the way, you use that USB cable to give access to the device for storage. Nova and its microSD card (if installed) then show up in Windows Explorer just like there are external hard drives, so you can copy/paste ebooks, photos, music files, documents and more that way.
As noted, at the time of writing the Pandigital Nova retails for $189, though it can be found at Best Buy for slightly less. The value of the Nova depends on how you look at it. If you're interested in a powerful tablet that will be as close to a productivity device as a tablet can be, you should get a full-featured, high-end tablet. If all you want is a device to read ebooks, then a dedicated ebook reader (light and with a long battery life) is the best choice by far. But if you look at the Nova like a solid, if limited tablet that's very inexpensive - or an e-reader that gives you full access to the Internet, a camera, video player, music player and a wide world of apps, and more, for a price not much more than an e-reader alone, then the Nova (for all its weaknesses...and strengths) is well-worth taking a look at.
And finally, a word about the Nova in comparison to the not-yet-viewed, just-released Amazon Kindle Fire, which is in the style of a tablet and sells for $199. The Fire It has the ability to stream movies from Amazon and likely (with its Kindle heritage) has a very strong ebook reading capabilities. There is no camera or microphone, and it uses its own propriety Android app store with 10,000 apps compared to the Android Market and GetJar each with over 200,000. (And over 400,000 apps for Apple's iOS.) At question are how long-lived its battery life is (reported at 8 hours), and whether it still has "black flashing" when turning pages (reported not to). No doubt it will continue to be E-Ink compares to LCD, with the differences discussed above. In the middle of all this is the Nook Color, which appears closer to the Kindle Fire than the Pandigital Nova. "The Writers Workbench" appears monthly on the website for the Writers Guild of America. To see this entire column, with complete product graphics and additional "TWW Notes," please click here
Popular in the Community