 As the tech world becomes more mobile, some devices need to play catch-up. Laptops may have built-in speakers, but they're only ideal if you're born with tin ears. Smart phones and tablets can play back sound wonderfully through earbuds, but sometimes you don't to be tethered or might want others around you to hear the same thing. Or what if you're on a long airplane trip? Or in your car? Or...or...or...??? Okay, you get the idea. This month we look at one our regular and fun subjects, portable sound.
• X-Mini Kai
• X-Mini Rave
• Satechi BT Wireless Pocket Speaker
• Braven 600
• SuperTooth Disco
• Audio-Technica Quietpoint ATH-ANC27 Headphones
• Audio-Technica Quietpoint ATH-ANC23 Headphones
• Phiaton PS 210 BTNC Headphone
• Luxa2 BT-X3 Bluetooth Headphones
• Macally Tape Car Adapter
X-Mini has long been one of my favorite makers of tiny, but wildly powerful pocket-sized speakers. There are now other competitors, but X-Mini leads the way. They've added a couple new entries into their line.
At first glance, the X-Mini Kai looks like the company's standard-bearer, the X-Mini II. It's golf ball-sized, and twists open to provide a richer bass. But then the differences appear. Most notably, the Kai allows for a Bluetooth connection, so you can now listen to the speaker the traditional way (plugging in the connected cable) or wirelessly. The Kai also has a microphone, so it can serve as a speaker phone. More on that later.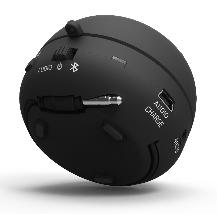 Though like all X-Mini speakers, you can create a chain of speakers by plugging them into one another, the Kai now also can serve as a Bluetooth "dongle." This means you can connected an unlimited number of wired speakers to it via the earphone jacks and play them all together wirelessly. I tested this, and it worked well -- with seriously loud sound.
The sound is even more impressive than the original X-Mini. The Kai is slightly larger, and uses 40 mm drivers now, for a speaker output of 2.5 watts. The quality is wonderful, and even richer than the X-Mini II. It doesn't have a deep bass, but the sound is vibrant and loud for something this small. Don't be fooled by its pocket-size -- the speaker boom out enough volume to fill a medium-sized room.
(It's important to understand something about listening to music over a wireless Bluetooth connection. And this is true for any speaker with Bluetooth. Bluetooth uses digital compression and that will cause a slight degradation of sound over the wireless connection. The quality is still extremely good over Bluetooth, just a little muddier than if you use the cord to connect to your music player. As will be the case with any speaker.)
Bluetooth pairing is easy, and the device was instantly recognized. If you want to switch from Bluetooth to corded, you have to remember to switch a button to "Audio" from "Bluetooth." This will break the Bluetooth connection, and you have to simply re-pair.
You can control playback with the volume wheel -- a quick turn to the right or left jumps tracks. Turning the wheel and holding it increases or decreases volume. (It beeps when you've reached full loudness. And the wheel will pause playback, as well. Though I prefer the standalone volume wheel of the X-Mini II, that device doesn't have need for playback capability, and this works perfectly fine. Besides, having everything all on one button makes for a cleaner design.
There's another important feature to the Kai -- the aforementioned built-in microphone, so you can use it as a speaker for your cell phone. If you're listening to music when a call comes in, the music cuts off when the phone is answered. Push a button, and it turns into speaker phone.
The X-Mini Kai is just 3.5 ounces, and has a rechargeable lithium-ion battery. It provides 8 hours playback, or 4 hours using the Bluetooth. The wireless range is a very respectable 33 feet. My only serious quibble with the speaker has nothing to do with the speaker. Like all X-Mini products, it has the world's most teensy lettering in the user guide. Have a magnifying glass ready, as you set out to begin. It retails for $140, but at the time of writing, the Kai could be found for $81 online.
Another new speaker in the X-Mini line is the Rave. This offers a built-in FM radio. In most other respects, its features are similar to others from the company. The sound is excellent and loud. The speaker jack is built into the device, and there is a separate USB charging jack and carrying sack. You can daisy chain other X-Mini speakers to create even greater sound. And its rechargeable battery will last for up to 8 hours audio, with 6 hours for FM playback.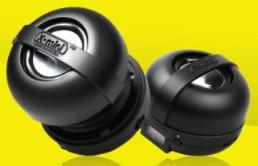 You tap an up-and-down button to scroll through the available stations. In general, sound came through crisp and clearly, though I did have some issue. To be clear, I'm sure that the X-Mini Rave works well for most people. It's been a successful product for the company, whose representative said that they don't have a record of customer returns -- something I'm inclined to believe, because the rest of the X-Mini products I've tested over the years have been of such high quality. However, I can only speak to my personal experience, and (even if it was just a rare luck of the draw) I had a problem. When scrolling to find stations, I went through the entire FM band, and over half of the stations didn't come in at all. This included two stations I listen to regularly. Many of these stations perhaps had weaker signals, but there should still be something coming through, but it was just dead, total silence. And other portable radios at home were able to pick up the stations. I am sure that the product works well for most people. Perhaps this was from a particular run that had an issue.
Having an FM radio built into a little speaker is certainly a convenience. And the highly portable X-Mini (which weighs 3.5 ounces) did have its usual wonderful sound on the bulk of the stations, which did get picked up. That said, I have a larger, personal quibble with the product -- there are no presets, so it can potentially take time switching between stations if the ones you want to listen to are distant from one another on the dial.
The X-mini Rave is a very nice concept with some very strong features. And I have to believe that most don't have the issue I came across. Still, I prefer other models in the X-Mini line, though for some people, having FM built into your pocket speaker might be a preference. At the time of writing, the X-Mini Rave retails for $75, but can be found for $50 online.


SATECHI BT WIRELESS POCKET SPEAKER
The Satechi BT speaker is one of the competitors that have challenged the X-Mini design, in this case, specifically the Kai. The Satechi connects wirelessly through Bluetooth to listen to music and also includes a built-in DSP microphone to handle cell phone calls. It can also connect to your music player with an earphone jack plug, or daisy chain other Satechi speakers, becoming a Bluetooth "dongle."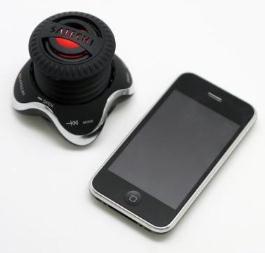 Similar in design to the X-Mini Kai, though with spread out flat-bottom "legs." This makes is a touch more stable when placed down on a table, though a little less compact. Nonetheless, it's very small and pocket-size portable.
The Satechi provides very good sound. Tones were crisp and loud, though not particularly booming. (Also, like all Bluetooth speakers, the sound is slightly more muddy than when using the built-in cord.) There are function buttons for volume, next/previous tracks, and to change modes -- all are clear, but I found their design a bit disorderly and therefore slightly more cumbersome to use than I prefer. It can be found online at the time of writing for $46.
Braven has a line of three portable, Bluetooth speakers that find their place in-between products of pocket-sized portability and those with highest-end stereo audio. The model tested is their low-end (albeit high quality) 600. What sets them all apart from most small speakers though is that they can also serve as a portable charger.
The Bravens aren't speakers that you'll stick in your pocket to go. They're more suited for a briefcase or backpack, or for moving around a home. (They'd even likely be too big for purse, unless it's a larger, over-the-shoulder bag.) Make no mistake -- Braven speakers are small, just not "tiny" small. The 600 model is a rectangular block 6.25 x 2.5 x 1.75 inches. It's not uncomfortably heavy at all, though does weigh 12 ounces which you'll notice when carrying. All are elegantly designed with sleek, stylish lines, in solid aluminum bodies.
First things first -- the sound quality is extremely good. Very crisp and clear, with no muddiness, an extremely nice treble and quite respectable bass (though don't expect it to be deep and booming). There are two HD speakers, so you get stereo, as well (-- somewhat. It won't give you a wide separation of sounds, but does add a good deal to the richness). Volume won't blast across the prairie, but it puts out sound loud enough to fill a good-sized room.
The sound via Bluetooth is quite good. (As previously mentioned, all Bluetooth devices have a slight degradation of sound, because the digital file is compressed.) It pairs easily, and will work up to a little over 30 feet. If you don't have Bluetooth on your audio device, an audio cable is provided to connect the Braven -- and it can be "daisy chained" to other speakers, linking them together for bigger sound. The Braven can also be used as a hands-free speaker phone. (Though it is portable, you'll most conveniently use it this way when it's sitting on a desk.) You can take a call and return to your music with the push of a button.
Most notable among its features, though, is that the Braven line can also function as a charger, in case your phone or audio device runs out of power on the road. Just connect the included cable between the speaker and device. It's not the most powerful charger (1400 mAh), and is only for phones and music players, not tablets, but you should be able to get a full phone charge from it. Playing music only, the Braven 600 battery is rated to last for about 14 hours, however when used for charging, you'll likely lose a couple of hours.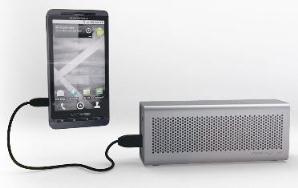 The quibbles I have are minor. The product comes with a carrying sack, but it could have been a bit bigger: when you stick everything in (the speaker, its two cords, and a very nice, small charger with foldable plugs), the bag is over-crammed to the gills. (Not just does that make it clunky, but it looks ugly, no big deal except that the Braven went to such lengths to be stylish.) Also, I'd have liked for the audio cable to have been built-into the speaker, which would be far more convenient.
The other models in the Braven line include one that's made for particularly rugged, outdoor use, as well as a high-end model with stronger battery life for playback and charging. The Braven 600 does not come cheaply. At the time of writing, it retails for $150. That's the price online, as well, although since it was brand new when reviewed, that online price could change. Price aside, you're getting high sound quality, as well a portable charger.
Wonderful though the best pocket speakers can be, there will nonetheless be times when you want something higher end -- either for the depth of the music or the location you want to play it in (at a party, a picnic or large room, for instance). SuperTooth has a strong entry with its Disco. It's most definitely larger and heavier than the others reviewed here, but offers some interesting features.
To start with, the Disco can be played either on battery power or AC, and it also can play your music wirelessly or corded. The Disco is compatible with any device that supports Bluetooth A2DP (this includes Smartphones, and the iPod touch, among many) -- but there's also an included cable to connect to an MP3 player or notebook that isn't Bluetooth-enabled.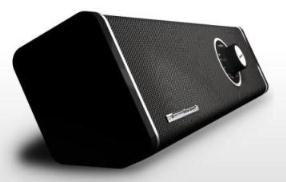 The sound is quite impressive, loud and booming, but also with a crisp clarity, and a nice balance of bass and treble. (Obviously this is all subjective to one's ears -- and audiophiles will demand more. Then again, audiophiles always demand more.) It features 28 watts of sound -- a 12-watt subwoofer and two 8-watt stereo drivers.
To importantly reiterate what was stated above: while Bluetooth offers the advantage of wireless connection, it also used digital compression which will degrade the sound. That's where the advantage of having the cable comes in. Using it will eliminate any compressed distortion. Even without the cable, wireless Bluetooth sound here is still extremely good, though it's a bit muddy (although that will be more or less pronounced depending on the music you're playing). The Disco includes a Bass Boost button to compensate for any degradation, and it works well, though you lose a little crispness. So, for some music you might prefer not to use it. It's worth noting that the Disco's Bluetooth had 36-foot operating range, which is longer than many devices.
The Disco is rated to play between 3 and 10 hours on battery, depending on how loud the volume. Its standby is rated at a seriously impressive 1,500 hours. (And no, I didn't get a chance to test that...) The speaker uses a rechargeable battery, and has a 3-hour charging time.
It would have nice to include a remote control, though in fairness most people will likely have their portable music source in hand and therefore can control volume, track and fast-forwarding that way. Otherwise, a dial on the front of the Disco is how the device is operated.
As stated, the Disco is not light. It comes in at just over two pounds, though it's most-definitely portable at 12.5" x 3.5" x 2.75" (and comes with a protective case). However, it's not something you'd want to carry around in a backpack for long hikes or regularly tote from room to room. It's more for carrying to a specific location (like, taking into your backyard or putting in the car and then bringing out) and letting its sound pour out when needed. It would also make a very nice speaker set in a room.
One other thing worth mentioning is that the Bluetooth is wonderfully designed, almost elegant in its look. It's extremely solid and has very nice, angled lines, making it all the more appropriate to be a room speaker. There are rubber feet on the bottom which add to its stability.
Note that there's no pocket in the carrying case for the charger or cable, though the latter is easily stuffed inside. At the time of writing, the SuperTooth Disco can be found for $118, which is a very respectable price for comparable speakers.
Sometimes, of course, you want to listen to your music but need the privacy that only headphones can bring. And if those headphones can also deliver noise-cancelling technology that comes in so helpfully when on the road taking all that airplane travel, all the better.
Audio-Technica has a wide-range of headphones, from those for audiophiles to highly portable in-ear models. We'll look at a couple for travelers.
The ATH-ANC27 are over-the-ear headphones that claim to reduce noise up to 85%. They require a AAA battery for the active noise-cancelling, but will work passively with the battery off. (The on/off switch is on an ear cup, with a battery compartment that snaps open easily, something that's not always the case with headphones.)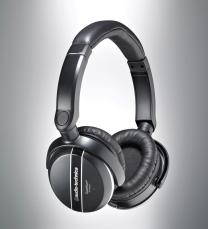 The headphones deliver good audio, though of course it's distinctly different in the two modes. Used with noise cancellation off, the ANC27 provide a very warm sound, that's well-balanced, albeit a little muddy. However, turning on the noise cancellation, the sound is quite crisp and bright and (for my ears) better, with reasonable bass and okay treble, although it's a touch tinny.
There's also a slight increase in volume. Importantly, too, it does a good job getting rid of ambient noise, most especially at the lower, rumbling levels, which is what you'll have on an airplane (or in the murmurings of a coffee-house, for instance). Even higher-end noise, like other music, was respectably blocked, though some came through. Being over-the-ear, you also get the benefits in reverse, as the audio you're listening to is kept from bleeding out.
The headphones are very comfortable to wear, with soft cushions on the ears and a padded, adjustable headband. The ear cups are on the smallish side, though, so larger, lobed-challenged heads might have different results. Weighing just under 7 ounces (without the battery), these are pleasantly light, but they do get heavy on the ears after a couple hours. A minute or so to refresh gets things comfortable again.
In a nice touch for packing, the ear cups turn and fold conveniently flat. They come with a hard shell carrying case, which is extremely protective -- the only downside to this is that the case is a bit large and will take up valuable room in a small carry-on. (Oddly, the case comes separated, and the two halves must zipped together, something that took a little effort. But then, that's an issue between me and my independent thumbs.)
Another nice touch is that the cord is detachable, so if you want to use the headphones solely for noise cancelling without music (like when sleeping), there won't be a loose cable flopping around. Those among us who easily lose such things might want to keep the cord plugged in. Helpfully, a little twist locks the cord into plug-in slot.
Battery life is up to 40 hours. The ATH-ANC27 includes a 2-prong Airline adapter, as well as a / ¼" stereo adapter. It retails at the time of writing for $120, but can be found online for $60. It's a very good price for a solid quality, mid-range pair of noise-cancelling headphones.
The ATH-ANC23 are very light and ultra-compact in-ear headphones that offer noise-cancelling. (Without the included AAA battery, it weighs just about 11 ounces.) The company claims that noise will be reduced up to 90%. Noise-cancellation requires the battery, but the earphones work passively without one.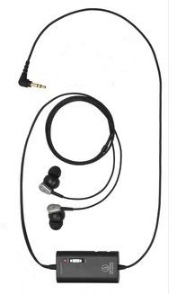 The sound quality for such everyday headphones is quite nice. With noise-cancelling off, the sound is warm, well-blended though slightly muted. Some of this latter is due to the fact that the volume drops lower without noise-cancelling, but even after raising the volume, the "muted" sensibility continued. With noise-cancelling activated, the sound is brighter, louder and feels more separated. The bass is a touch more pronounced, but not very deep. Treble is respectable, though a little thin.
The active noise-cancellation works well. It blocks low-end, rumbling ambient noise very nicely, however it doesn't cancel out as much "high-end" outside noise (like music) as over-the-ear head phones. Being in-ear earphones, the ANC-23 won't keep as much of your music from bleeding out as cups that cover the entire ear. There's one caveat -- you have to make sure to press the earplugs deep into your ear to create to "seal," otherwise noise will bleed in.
An external control hangs from the cord and contains an on/off switch, volume control and a clip for attaching to your shirt. If left hanging, it's a little cumbersome, though quite light, and when clipped it works well. Though it's not essential to be able to control the volume from your headphones, it's certainly convenient if you want to keep your music player in a pocket or pouch.
The ATH-ANC23 comes with rubber tips in three sizes, as well as an extra foam tip. Also included is a 2-prong airline adapter, and a soft carrying sack. Battery life is up to 60 hours.
To a large degree, it's personal if one prefers in-ear or more encompassing over-the-ear headphones. These are supremely light and easy to wear for long periods of time, and offer strong, mid-range quality sound. They retail at the time of writing for a hefty $170, though could be found online for as little as $47, which is quite a bargain.
PHIATON PS 210 BTNC

Phiaton offers a great many high-quality features in a small, light package. It comes with a lot of plus and some minuses, but mostly the former. These are Bluetooth in-ear headphones with noise-cancelling and a mic for cell phone use. They also can be used wired, though they're best-designed for wireless.
Hanging from the ear buds are a dongle, which contains all the controls (volume, fast-forward, reverse, phone pick-up and such). It can be clipped on to one's clothing, or used with the included neck strap, particularly useful for jogging. The dongle is reasonably light, though you'll feel a drag which clipped on. The earbud headphones themselves are very light and sit extremely comfortably.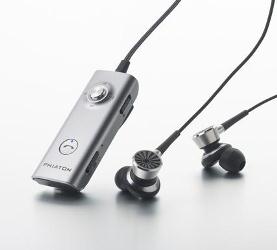 Sound quality is impressively good. The high-end treble is crisp, and although the bass isn't deep and booming, it's clear and well-rounded. The sound comes across with a pleasant richness, though not necessarily with the widest separation. As with all Bluetooth sound devices, there's a slight muddying of the compressed sound, but it's slight. I didn't notice any change when the noise cancelling was turned on, which can sometimes affect the audio itself.
Noise cancelling was seriously good. The company says it will block out 95% of background sounds, and I wouldn't be surprised if that was accurate. (There's also an "Echo-Off" technology which limits background noise when using the mic to make a call.)
As noted, the Phiaton can be used with wired, but it's clear from mere observation that it's designed for Bluetooth -- the audio cable isn't built into the dongle; it comes separate to be plugged in. The downside is that it's a separate piece that can be lost. The upside is that this makes for a far more elegant, convenient device if you plan to mostly use it via Bluetooth -- there's no cord hanging down. Note, however, that although no battery power is needed when the wired audio cable is connected, this overrides the Power button. That means you can't use any of the buttons on the dongle, nor noise cancelling. Also, on my unit, the audio cable didn't snap in crisply, though it held fine.
Speaking of the Power button -- it doesn't just flip on or off like most. You must hold it for a few seconds. This is slightly annoying, though hardly a big deal. However, the device provides voice confirmations that play through the earbuds (telling you things like "Power is on," "Bluetooth is on," "Bluetooth connected," which is a very nice touch, taking out the guesswork.)
Overall, the Phiaton feels very well-built and is quite nicely design -- with one exception. The cover over the slot on the bottom where you plug in audio cable and charger cable seems extremely flimsy and likely to break off. Ultimately, it's not a big deal, since that would just leave the jacks open like on most devices.
Phiaton uses a "half-in-ear" design that fits well in your ear canal. Four different-sized Silicone ear tips are included. Also included are a USB charger cable and carrying pouch. The pouch "snaps" open and closed - which is perhaps more protective, though less convenient than a draw string. As for charging, the earphones are rated for 14 hours of music, and 12 hours calling time (both with the noise-blocker turned off, a couple hours less with it on) -- and standby time is a seriously impressive 500 hours.
All in all, the Phiaton PS 210 BTNC is an extremely high quality, small and light multi-purpose headphones, particularly best-suited for Bluetooth use. If you expect to mainly use your headphones with a connected wire, however, other choices (like the above-reviewed Audio-Technica ATH-ANC23) might be better. But if you're a wireless soul, that's what these are designed for. They do come at a cost -- at the time of writing, they retailed for $159, but could be found online for $129.
The Luxa2 BT-X3 bridge a couple of worlds. They have no noise cancelling technology, but what they offer is wireless Bluetooth connection, a built-in microphone, and a Red Dot award-winning design.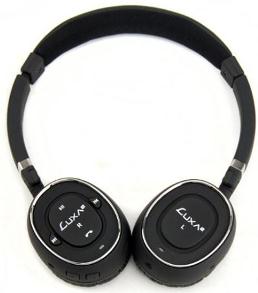 The stylish headphones are light at 4.5 ounces, and have very comfortable leatherette cushions. Although they're small, they fit easily on one's ears. The headband is covered with a little bit of soft padding, but it's enough to sit lightly on the top of the head.
Well-designed buttons on one of the ear cups allows controlling play/pause, track change and fast-forwarding and volume. There's an embedded microphone for hands-free talking, and music can be paused to take cell phone calls. (Nicely designed as the BT-X3 is, there's one oddity: the fast-forward button is on the left, and rewind is on the right. The standard is, of course, opposite.)
Connecting to Bluetooth was easy, and provides a solid 33-foot range. Though these are as much designed for cell phone use as music, they deliver respectable-enough sound, though not the highest end. Music is clear and not muddied, though there's no particularly richness. Everything is largely in the mid-range, without pronounced bass or treble. Know that when listening to music through any Bluetooth connection, the sound will always be slightly degraded because of the digital compression that Bluetooth uses, and that's likely at play here. What you get is respectable sound with the convenience of wireless Bluetooth.
The rechargeable lithium battery proves 7.5 hours of play time and 9 hours of talk time. Standby is 90 hours. The charge time is a quick one hour. The Luxa2 BT-X2 comes with a charging cable and spacious carrying case. At the time of writing, it sells for an MSRP of $120, though online could be found for $100.
It might seem like an odd addition when discussing portable sound options, but no matter how low-tech, if you want to listen to music from your MP3 player when in your car, it's quite high quality: the lowly cassette adapter. The one caveat is that it, obviously, requires having a cassette player in your car. But it's one of the best reasons to have a car cassette deck, even if you haven't had an audio cassette in decades. Plug one end of its cord into the headphone jack of your music source, and put the other end (which is basically an audio cassette without any recording tape) into your car's cassette deck. The music will then play through the car's speakers.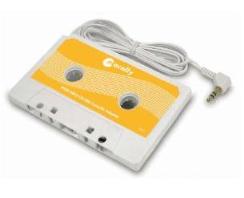 Macally makes a wide range of accessories for Mac products, but the adapter works with whatever your portable MP3 device is. The cassette adapter is made of very light plastic, but the sound it provides is as good as whatever you'd get from your car radio speakers. The most significant question with cassette adapters is how noisy they are, since their manufacturing tends to be low-end. The Macally has a small "rumbling" sound, but it's reasonably quiet. This isn't problematic at all if your music is loud, though during soft passages, you'll likely hear it like a soft "whoosh." It's far less distracting than clicks that other devices sometimes have -- and significantly less than the static of an FM transmitter that can overwhelm the sound.
FM transmitters send a very low-range frequency to your car radio, through which your music files can then be heard. They work okay, and they're often the only option for people without a cassette player in their vehicle. Their static issue, though, is exacerbated because reception changes as you drive. That's not a factor with cassette adapters. Know that cassette adapters are only appropriate for use in a car stereo: with regular cassette decks, the protruding cord would get caught in the mechanism. The Macally Tape Cassette Adapter retails for $15. Online, it can be found for as low as $8.50.
Popular in the Community