As life has become more portable, the need for to support that portability keeps growing. Once upon a time, having the biggest, most powerful home speakers and sub-woofer was the pinnacle of an audiophile's dream. In many ways, of course, with the growth of home theaters, it still is -- though not limited to just that. Today, whither thou goest, so goes your sound. To be clear, none of the portable speakers we look at here this month will ever meet the highest standards of an audiophile, or come close -- but then that's not their point. It's to have something that's so small it's easy to carry with you, while providing a listening experience that provides the best on-the-go quality. How close any of these portable speakers come, these pages will tell. The speakers themselves range from easy to move from room to room -- to one literally the size of your thumb. And even something you can take in the shower with you. Carry on...
Rapoo A600 Bluetooth Portable NFC Speaker
Scosche BoomBOTTLE H20
Lepow Modre
X-Mini Me
I recently reviewed another portable speaker in Divoom's Voombox line, its Travel model which I thought was terrific, having some of the best sound I've heard in fairly small, portable device. The Party is a larger model, meant for more substantial use.
Though portable, the Party is not something you'd regularly carry around with you when you left the house. It's something for occasionally moving from room to room, or putting out in the back yard, weighing in at 2.5 pounds (and 9"x4'x2"). Outdoor use is a large part of the point, since the speaker is shock-resistant and water-resistant (though not waterproof). Being water resistant is a valuable feature if you plan to use it around a pool, though other than that it's probably not critical. (With the Voombox Travel, though, it's made to hang in the shower.)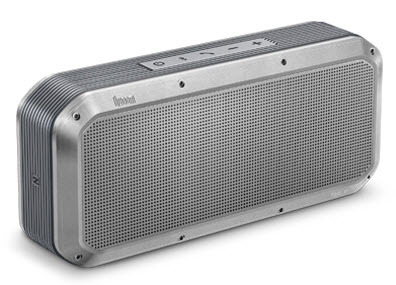 Sound is completely subjective. I thought the Voombox Party had pretty good bass and was fairly clear and crisp in mid-range, though it seemed a bit thin at the high-end. This is when using a cord to connect the speaker to your music device -- sound quality for any speaker will be slightly degraded with connected via Bluetooth. Audio was a touch muddier with Bluetooth, but still good. The speaker is fairly powerful, with five drivers, built-in sub-woofer, and 20 watts of power. (Some users have commented on a slight hiss when on very low volume, but I didn't experience that at all.)
When using Bluetooth, volume controls work independently of your music device's volume control, which is a good feature. The volume control buttons also double as track navigation if you hold the button down. That's some I don't particularly care for, since it can cause an accidental issue. (I found that jumping ahead to tracks worked more easily than going backwards.) Also, by doubling-up on the volume buttons, it doesn't allow for fast forwarding-fast rewind.
Connecting the Voombox Party to Bluetooth is made easier with NFC tap-to-connect. It's a nice feature when products have it, but I find it more sizzle than significant. Connecting to Bluetooth using settings is pretty simple. There is also an integrated speakerphone microphone - just know that the speakerphone aspect is what you'll be using, since this is not a device you'll likely want to hold up to your ear to use.
The rechargeable battery charges in 3-4 hours. It plays up to 8 hour on normal to low volume. Maybe 2 hours if you're blasting out music at full volume.
The Divoom Voombox Party retails for $150, but could be found for $100 online at the time of writing. I liked the device, and find Divoom products especially well-made and extremely solid, which is an important selling point for people. If you do expect to use a speaker around a pool, being water resistant would be valuable. However I've found other portable speakers with as good sound and lighter, more portable for the same price, if a bit lower.
The Rapoo A600 is a conveniently portable speaker that does several things quite nicely, though I think it outclassed by some others in its field.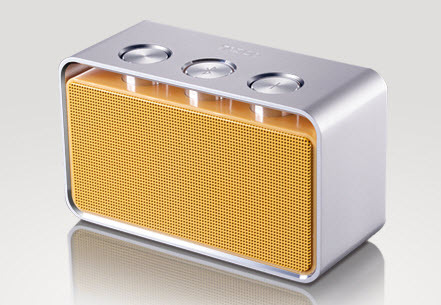 Sound is respectable, though I found bass to be a bit on the short end. It's a convenient, compact size - not tiny so that you'd carry it in your pocket, but easily transportable for a briefcase or to carry around a home, about 5"x2"x3". One quibble is that you can't change tracks directly from the device, only from your music player. The company makes a very well-designed iOS and Android app that, among gives you extra control of the speaker from your phone, as well as providing a few other features, like helping you to connect to Bluetooth remotely.
You can also connect to Bluetooth, with the NFC tap feature for a quick connection. Additionally, the Rapoo allows you to connect to two devices simultaneously, though I couldn't get that to work. (Whether it was my failing or not, I couldn't say...)
You can use the Rapoo to make and receive phone calls, as speaker phone. To access the phone feature, you tap the Bluetooth logo - it's perfectly easy, but not especially intuitive. The rechargeable battery life is about 8-9, and recharges in about 2-1/2 hours.
The Rapoo A600 retails for $140, but could be found at the time of writing for $123. It's a solid speaker, but I think that price is a bit high for a device that doesn't stand out in any particular way, other than the good app. And that has some small things lacking.
Scosche takes the concept of an outdoor speaker and ratchets it up a level with speaker that's fully waterproof. It has a unique shape - like a waterbottle (hence the name...) that would probably fit in a bicycle's holder or your car's cup holder. At 4.5" tall (and with a 3" diameter) it's shorter than the company's standard BoomBOTTLE speaker - that's not waterproof - a size that makes it more convenient to carry around.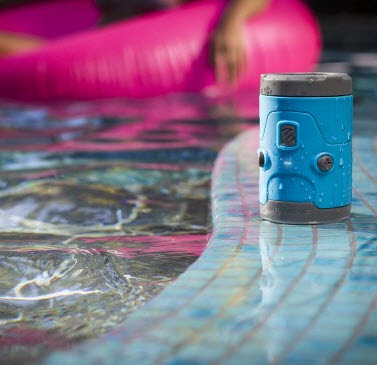 The sound is pretty good. It doesn't have deep bass or crisp soaring treble, but the mid-range is extremely clear with respectable low and high. The speaker sits on top, which diffuses the sound just a bit. (Since the sides are round, it would be difficult to lay the device flat.)
The BoomBOTTLE Hz0 connects via Bluetooth, though surprisingly there is no phone/speakerphone feature. The speaker has integrated controls to play, pause, adjust volume and jump tracks forward or backward. The rechargeable battery provides a long life of up to 11 hours playing time.
For all its features and sound quality, it's the waterproof aspect that makes the Scosche stand out. It will survive the snow or rain, but fine by the pool, and you could take it into the shower. It's also impressively ruggedly made. For all that, the speaker it most compares to is the Divoom Voombox Travel. The Scosche is fully waterproof, which is a plus - though for most people, I think water resistant (which is the case with the Divoom) would suffice. Also, the Divoom Travel has slightly better sound, and the ability to be used as a speaker phone.
The Scosche BoomBOTTLE H20 retails for $100, and was $85 online at the time of writing, a respectable price. If you want a speaker that can withstand the elements, or that will fit neatly in a bicycle holder, or cup holder - or in a water bottle pocket of a knapsack or some briefcases, the Scosche would be your best option. As compared to the Divoom Voombox Travel, I prefer the Divoom.
Lepow is a company that seems to regularly make intriguingly-designed products. Some are elegant and chic, while occasionally some seem to push the envelope too head-scratchingly far. But they do tend to stand out. The substance of the products themselves tend to be more standard, compared to their looks, though always well-made.
The Modre Bluetooth speaker is another uniquely-designed product. It's a small tube, only about 3.5" tall while just a little over 2" wide, with the speaker on the top, but curved slightly. The sound is a bit thin, but quite respectable for something this small. It has fairly good clarity, though mostly mid-range. The treble comes through more than the bass, although it doesn't especially soar at the high end.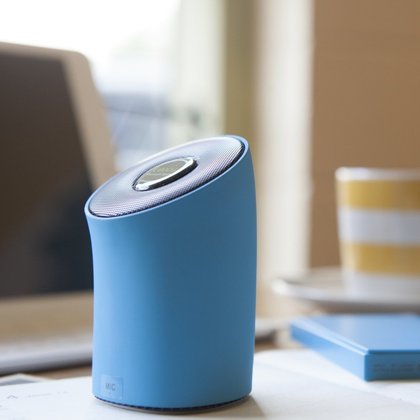 (As with all such devices, sound is slightly degraded when using Bluetooth which compresses the sound files. There is an included flat cord with an earphone jack on both ends that allows for plugging into your music device.)
I have mixed feeling about the design - it's wonderfully stylish, to be sure, though I'm not completely sold on the practicality. Rather than having a speaker that directs the music right at you, the sound is more diffused into the air. That's actually beneficial if you're trying to fill a room with sound, though for that you'd likely want more of an actual surround design than something that's directing sound upward-ish. Rather, this is a personal unit, something you'd more often carry (it's quite light at a mere seven ounces) or place on a desk to playback at you. I found that when I put the Modre on its side, which did then send the sound more directly to me, it seemed richer - however, being a tube worked against this, since the sides are rounded and it can roll. To be clear, this diffusion is extremely slight, just something I noticed when testing.
The Modre is rated at seven hours of battery life for playback. A flat cable is included for charging. It also has a built-in microphone that allows for hands-free calling
There are other small, portable speakers on the market whose sound I prefer, although audio quality here is fine, if basic, and if you're someone for whom design is of critical importance, the Lepow Modre would be worth looking at. It retails for $59, though at the time of writing it could be found online for $25 -- though that's for the green or orange models. Oddly, it was just $20 for blue. Go figure.
X-mini is a terrific little company that helped pioneer the pocket-size speaker market with an innovative line of golfball-sized high-end products. The X-Mini ME is a touch different from most of their devices, though it's an extremely close cousin their X-Mini WE.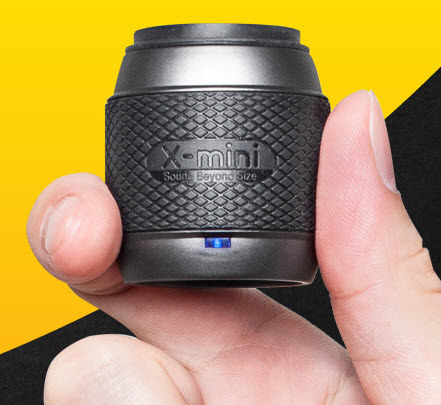 The ME is very small -- thumb-size would be a good description (provided you have a big, fat thumb...), but impressively it has very reasonable sound. No for an audiophile, obviously, and not even for someone looking for really good, loud audio. This is the size of your thumb, for goodness sake. But for something that tiny (it's a mere 1.7"x1.5" and only 1-1/2 ounces), the sound quality is quite good. Not much bass, and thin treble on the high end. But in the mid-range, you get pretty crisp, and reasonably loud sound.
The difference with the WE, is that this ME unit does not have Bluetooth. You can only connect with the included speaker plug. (Unlike most X-Mini products, because this is so small, the plug is not built in.)
Playback time for the X-Mini ME is up to 6 hours, and it charges in about 1-1/2 hours. It comes with a lanyard, for wearing around your neck and holding your music player -- I make that qualification because the connecting cord isn't long enough to wear the ME around your neck and keep your music device in your pocket or a purse.
Because the WE is more versatile with Bluetooth -- and because the cord for the ME is not built in - I thank that the higher-end WE is preferable. Keep in mind that using the cord you'll get better sound quality than Bluetooth... though the WE can also be used plugged in. That said, there is a valid reason to get the ME -- it realis for $25 and can be found online for just $17 at the time of writing. That's almost half the online price of ME.
"The Writers Workbench" appears monthly on the website for the Writers Guild of America. To see this entire column, with complete product graphics and additional "TWW Notes," please click here
To read more from Robert J. Elisberg about this or many other matters both large and tidbit small, see Elisberg Industries.
Calling all HuffPost superfans!
Sign up for membership to become a founding member and help shape HuffPost's next chapter