Okay, yes, I admit it. And there's no way to hide from the reality. But as I've often noted here, I love portable chargers. I think it large part it's because the whole point of them is to augment what mobile devices you have and therefore they have to be not just portable and (ideally) light but also cover a range of needs and features, and I simply love the cleverness of design that is required of them. To me, they are an ultimate gizmo. And so…yes, this is our first portable charger column of the year. And yes, there will be others to come, at least one, perhaps more. So it has been written, so it shall be done.
But although all of these devices fall in the category of portable power, there are notable differences between them all. Much of that ranges between functionality and design. And two devices are even completely different from the rest, one of them a gem of a kind that I've been looking to find for years.
As I said, one of the reasons I like portable chargers so much is that they tend to be well-designed. And the ReCHARGE+ fits directly into that category.
At the most basic, it's a very nice-looking device and holds 3000 mAh (milliamp) of power, enough for about 1-1/2 charges of a mobile phone. It's about the dimensions of a mobile phone, which makes it easy to use your phone and charge at the same time. It's quite thin (living up to its Thinium name) and has a built-in plug (actually three, which I'll get to in a moment). Built-in plugs are high on my list of requirements for portable chargers since that means you don't have carry around extra cables – an important thing for portability and ease of use. And the ReCHARGE+ handles this differently than most – rather than have a cord that pulls out, as is typical, there is a sort of "platform" at the bottom which you push out, revealing a micro-USB pin. (Note: Thinium also makes an Apple model with a Lightning plug.) Your mobile phone plugs into this pin and sits on the platform. With the thin size, this lets you conveniently use your phone while it's charging, holding both devices in one hand.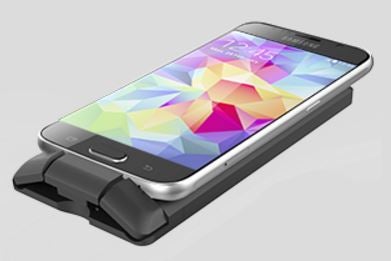 As I mentioned, there are two additional plugs, one of which is particularly notable. That's a pull-out AC plug, which means you can charge the device in an AC outlet without having to use (and carrying around) an adapter. As you might imagine, this is very convenient. (I've see built-in AC chargers on a few other devices, but those chargers have been much thicker and heavier.) The third plug is a built-in cord with a standard USB connector, in case there's no AC outlet handy, and you need to charge the device in a computer. In addition, there's a micro-USB port, which allows you to plug in a separate cable and charge a second device at the same time.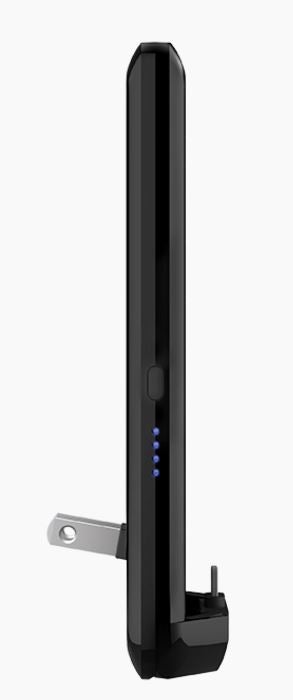 The package includes tiny suction cups that you can place on the charger which supposedly give extra support for your phone when charging. I found them useless on my phone, since they had no suction for holding the back cover. They did cling a bit to the glass front, but you can't connect the phone that way.
In many ways I quite like the ReCHARGE+. It has a good, clean design and feel, is very thin and light, has built-in plugs, and a built-in AC charger, and fast-charges at 2.4 amps. I don't think the suction cups add much, and they're a bit ugly, especially for such a sleek design – you can easily remove them, but it leaves behind "placeholders" that work against the nice design. It's personal choice if you like the "platform" set-up, rather than a built-in cord. My one quibble is that the 3,000 mAh is a bit low. Not problematically so, but I expected at least 4,000. It retails for $70. At the time of writing, it could be found online for $61.
Moshi has long been a leader in elegantly designed portable chargers, and their Ionbank is no exception. This is beautifully designed, with a metal cover (it looks sort of like an cigarette case), and a fold-up panel which holds two built-in cables – one, micro-USB, and the other a standard USB Type-A. There's also a port for either charging the unit or charging a second device at the same time.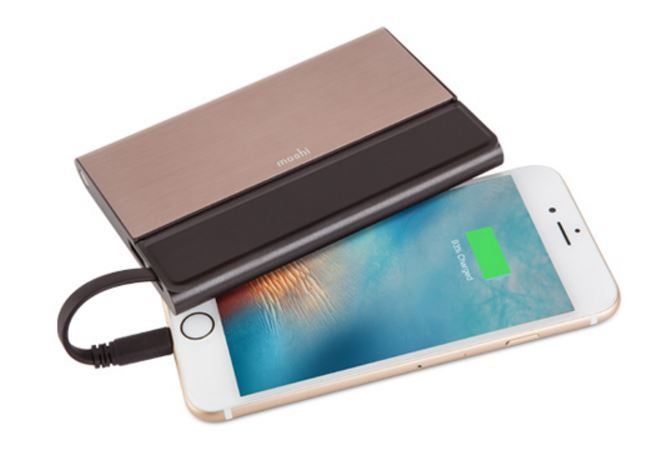 The Ionbank hold respectable 5 mAh of power, enough for two full charges of a mobile phone, maybe 2-1/2 times. And it fast-charges at 2.4 amps.
I think the Ionbank is ideal for someone who is particularly interested in style over pure portability. Make no mistake, it's light and portable. But it's a bit wider than many chargers at 3 inches – fitting easily in your end, though not as easily if your hands are small. And while it's light, the metal cover adds some weight. Again, to be clear, this is very portable, but I think people for whom style is paramount, this would be of more interest. It retails at $80. At the time of writing, I could only find it available directly on the Moshi website, though the Apple Lightning version could be found on Amazon for as low as $30.
myCharge has long been one of my two favorite companies for portable chargers, the first company I came across that made portable chargers with built in AC plugs. They have a wide-range of different styles these days, and the RazorPlatinum gets away from their traditions of built-in cables, which tends to be the case now across the industry for higher-capacity portable chargers.
And this is a higher capacity device, at 13,400 mAh. That's not at the highest end on the capacity spectrum, but it's substantive and provides enough power for at least six charges of a cell phone, and can provide several charges of a tablet. But what's more notable about the charger is that it's a USB-C compatible device…and is actually able to charge a USB-laptop, in particular a MacBook. It can work on any laptop that uses USB-C, though right now there aren't many. More will come, but for the moment the MacBook is by far the most prominent.
(USB-C is the new standard for USB. It isn't widespread yet, and so most devices still use the micro-USB and large Type-A plugs. But it's growing. USB-C charges 25% faster, and the plug is small and reversible, so you can plug it in using any direction. Let's put it this way: it's an impressive enough standard that Apple is migrating to it from their Lightning plug, which they developed only a few years ago.)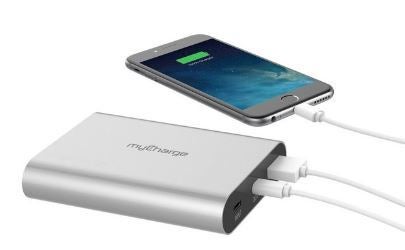 As I said, there are not built-in plugs. It has three ports: two are for USB-C input and output (that's another advantage of USB-C, it can be used for either), as well as a standard USB-A port). It also comes with a small USB-C to USB-A cable. The device itself is small and compact, but it's fairly heavy at 10 ounces. Given that its greatest value is for charging a laptop, weight isn't as much an issue as it would be for a charger whose main function is to just charge a cell phone.
The myCharge RazorPlatinum retails for $70. It's a great device IF you're looking for a portable charger for your MacBook or laptop. For use only with mobile phones, there are better options. And for that matter, coming soon, there will be better options I think than the RazorPlatinum for charging a laptop. At CES this past January, I saw several portable chargers that could charge laptops which were very impressive – one, a model from myCharge itself. (It's called the Adventure Extreme. It's currently expected to be more expensive, perhaps $130, but it held a serious 20,600 mAh and, most notably, it was shockingly light for such high capacity.) These new chargers won't be available until later in the year, though – and I haven't been able to do a real review of them, only a quick check – so if you're looking for something right now, or want something at this good price, it's worth checking out the RazorPlatinum. But if you're in no rush, I'd wait and make a comparison.
Though the FINsix DART fits properly in this month's category of portable charging, it's a completely different fish. It isn't a charger at all, but a power adapter. And it's terrific.
One of the problems long-facing portable laptops is that they come with power blocks that are bulky and heavy. You certainly wouldn't carry them in your pocket and they're even a bit much (and especially bulky with all the cords) for carrying in a briefcase. The Dart resolves that. It's a small, universal 65 watt device that comes with a set of adapter tips that fit a wide range of laptop manufacturers. Connect the correct adapter tip, and you have a small, light, portable power adapter for your laptop.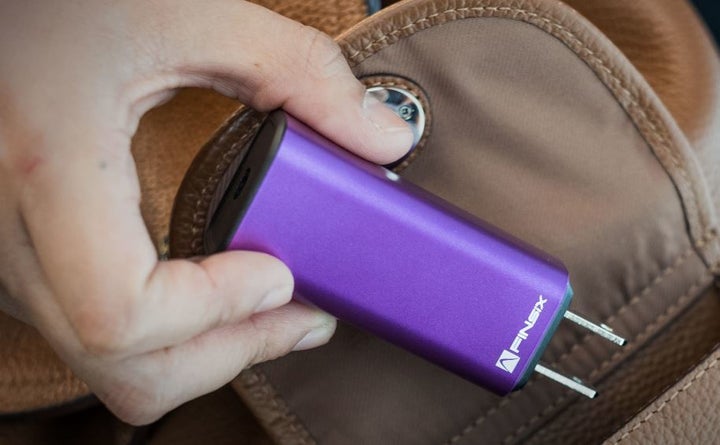 The Dart is about the size of a thick Bic lighter, with AC plugs built in at one end, eliminating the need for one of the typical cords that power blocks use. It comes with a separate thin cord (power blocks use thick ones, the set of eight adapter tips, and a carrying case. The company says that if there isn't a tip that fits your laptop, just write them with the model, and they'll send a new one for free, no shipping charge either. Though I have a pretty standard HP laptop, there wasn't a plug that fit (though they did have two tips that fit other HP models). I wrote in – and got the correct tip in three days.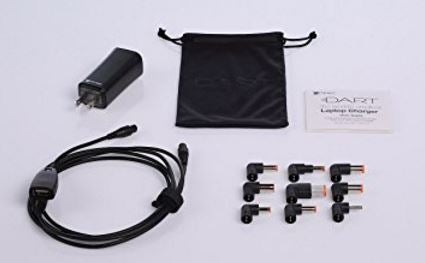 A nice touch too is that there is a USB port on the Dart, so you can plug in a mobile device while charging. And it will work internationally (as long as you have a global adapter to convert to the proper AC plug.) It doesn't come cheap – though hardly break-the-bank – retailing at $100. The FINsix Dart isn't for everyone – most people tend to only need their original power block -- but if you do a lot of traveling with your laptop, or carrying it around for work, it's a terrific and valuable accessory.
The Innergie Powergear 65 is a similar device to the FINNsix Dart. There is the base unit, a connecting cord, a set of adapter tips and a carrying sack. And it works just the same and well. But there are differences.
Mainly, it's bigger. The base unit is not all that much smaller than the power blocks which come with most laptops – though (importantly) it's quite a bit less bulky. But the base unit is quite a bit bigger than the Dart, maybe 2-1/2 times. Also, there are no built-in AC plugs, but a thick, bulky add-on cord. The cord for the adapter pins is attached to the other end of the base unit. There are six adapter pins, but like FINsix if none of them fit your laptop, the company will send you a correct one for free. (And of the six included, one did fit my HP laptop.)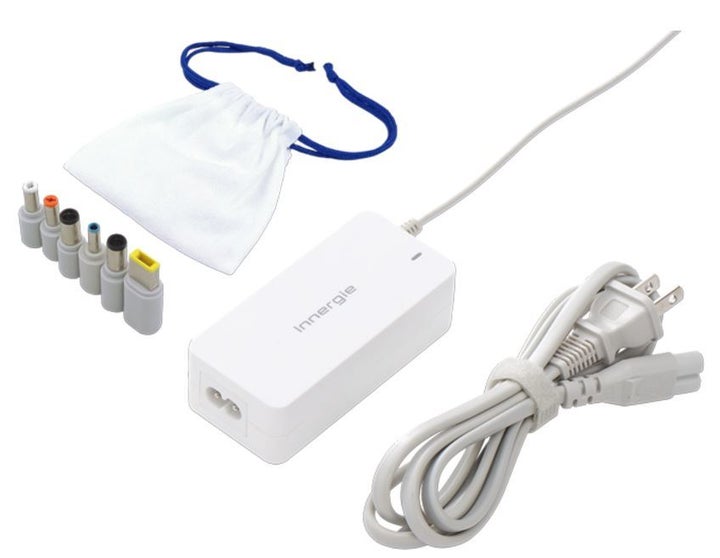 The Powergear base unit is about the same weight and bulk as a many traditional power blocks, though the whole package is probably smaller because of smaller cords. But it's heavier and significantly-less bulky than the FINsix Dart. It retails for $80, but could be found at the time of writing for $65, so it's a good price. If the Dart didn't exist, the Innergie Powergear 65 would be a reasonable back-up power adapter accessory – though depending on the size of the power adapter that came with your laptop, it might be just as good to get the manufacturer's own model. If you're looking for a power adapter that's convenient to travel with, I think the FINsix Dart is the better choice, unless you'd rather pay a bit less.
"The Writers Workbench" appears monthly on the website for the Writers Guild of America. To see this entire column, with complete product graphics and additional "TWW Notes," please click here.
To read more from Robert J. Elisberg about this or many other matters both large and tidbit small, see Elisberg Industries.
Related
Popular in the Community