The past two months, The Writers Workbench has reviewed a variety of tablets. In the course of all that, I'd been sent or just generally came across in the process a range of accessories to work along with tablets. It seemed like that would make a reasonable wrap-up to this (unintended) series.
Box Wave EverTouch™ Capacative Stylus
Box Wave EverTouch™ Capacative Stylus XL
PhotoFast I-Flash Drive
NomadKey / NomadChargecard
Kingston MobileLite Wireless G1
This is a look at two devices, the regular stylus (about 4-1/2") and the company's XL version, two inches longer at 6-1/2". Especially with small tablets gaining prominence, the stylus is becoming more important for many people - not just with chubby digits, but simply the accuracy is taping on tiny hyperlinks.
The challenge with any stylus is to be soft for easy conductive use, and firm to be long-lasting. A lot of otherwise good styluses unfortunately shred a bit too early in their life. Thus far, the Box Wave EverTouch has combined the two features quite well.
The standard stylus comes with a ring, promoted to hang on your keychain, but it's really far too big for that. A couple of lanyard are included (one is 12"), as well, to attach to the headphone jack of your device, but even that seems a bit cumbersome. However, it's got a clip like a pen, and I find that the best way to use it.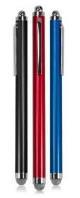 The XL is about the length of a pencil. I prefer the standard version - it's compact enough and very easy to use. But if you're an artist or like to use the text-writing feature of a tablet, the XL is ideal for that.
I found the FiberMesh tip to be quite firm, no flopping like a paintbrush, or what happens with some styluses. It costs a bit more than some of the competition, but I have the feeling it will last longer. If I had one wish it was that the stylus came with a protective cover for the tip. In fairness, I haven't seen that on any model, and it's hardly critical.
Both retail for $25. At the time of writing, I found the standard stylus for only $8, while the XL was found at $15.
One of the biggest problems faced by users of tablets today, in this multi-format tablet world is the difficult to transfer files. Apple and Android/Windows use different connectors, and they all use different system formats.
The PhotoFlash is a Flash drive with a clever design that pulls itself apart to provide separate connectors. This allows direct file transfer between any computer (Windows or Apple) and your iPad (or iPhone) or Android device.
There are three pieces - a USB unit, a microUSB/Lightning unit which connects to it, and Lightning-30-plug adapter that snaps on for other iDevices.)
No WiFi or battery power is need. And the Flash drive holds a respectable 16 GB for storage.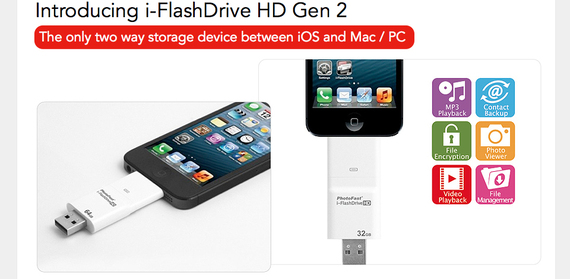 This is more than just a Flash drive though, since to really be able to use direct transfer of data properly, you need a file manager. And PhotoFlash has created one for iOS. The app lets you manage the material on the drive. (It's supposed to auto-download when you plug the device in for the first time, but didn't work for me. That wasn't a problem, though, since it can just be downloaded manually from the iTunes store.
With an Android device, you can use the default file manager (on tested Android), but the company's built-in File Manager provides added features:
Among these features are the ability to create folders on the fly, use a text file editor and import photos, as well as backup/restore contacts. There is also a built-in voice recorder (which accesses the recorder of the device, and saves audio file directly to the iFlash). You can playback video and music from the external memory of the iFlash without taking up space on iDevice.
Other basic, but helpful features include the ability to delete, move, copy files, email as attachments, and direct access to Dropbox built in. For people who are security conscious and concerned about losing their Flash drive, a Lock Mode is provided to add password security.
All of this lets you share, view and manage files and exchange between mobile devices and computers. At the moment, it cannot work with Windows Phone, though you can share material with a Windows computer. (Since Android and iOS are the most popular devices, this isn't an issue for most people, though I look forward to the day when they add Windows Phone capability - spoken as one who uses a...well, yes, Windows Phone.)
My only big quibble is that the app for Android didn't work. (It kept shutting down when trying to access its External Drive.) But since you can use the built-in file manager on your Android device, you're covered fine. And by the time you read this, that glitch might likely be fixed. Know that the app for iDevices worked fine.
The PhotoFlash iFlash is a touch confusing when you first take it out of the box, what with all the sections that can come apart. But it's very easy to grasp after a while. There are other similar-such devices on the market now, but the iFlash is the first one I came across. And its file manager capability sets it apart from many others.
It comes in units ranging from 8 GB to 64 GB. The 8 GB model retails for $100, but could be found at the time of writing for $83). The 64 GB version retails at a hefty $330, sold for $273. The model tested here was 16 GB - it retails for $170, but could be found for $150 at the time of writing.
Nomad is an intriguing company that this year released its first two products, and they're both similar - serving like-purposes but in different ways - and unique.
With mobile devices today, there's now a need for connecting your tablet or phone for a range of reasons, most notably to battery chargers, but you might need to connect to a printer or sync devices, or whatever other purpose. The problem, of course, is that most people don't carry a cable around with them. You can have the smallest charger for ideal portability, but carrying around a cable defeats the purpose of that portability. That's where Nomad stepped in.
(And then stepped back, sort of. The company is redesigning its product line and website, and adding a carabiner model. At the moment, you can only pre-order at the Nomad site, though the company says the current devices are available on Amazon if you'd rather not wait a few months. It's these current models which are reviewed here, though the photos are of what's coming.)
The NomadKey is an extremely small and portable USB cable that hooks onto your keychain. The company makes models with either a micro-USB connector on the other end (for Android or Windows devices), or an Apple Lightning connector.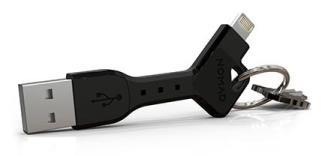 The NomadKey is made of high-grade, thick-but flexible rubber, and only a touch over just 2". This allows for charging from or connecting to any USB port. In fact, if you love the ease of portability, this means that in some instances you almost don't have to worry about even carrying around a portable battery charger - just use the Nomad Key (or NomadCard below) to connect between your device and a computer. It does make your keychain a touch bulkier, but only by very little. The NomadKey is seriously small - but sturdy.
Small as the NomadKey is, some people might simply not want to add any bulk to their keychain. Or maybe they see times when they won't have their keychain with them. (Less likely, I know, but possible.) For that there's the NomadCard
The ChargeCard is the size of a credit card, though perhaps double-thickness, and fits in your wallet. There is a USB cable "inserted" inside the card that you push out - again, one version has a micro-USB connector, and another comes with an Apple Lightning connector. It stays attached to the card, but swings out.
It's very solidly made, though I found the cable almost too tightly connected. In many ways that's a good thing, since it keeps the cable from flopping around. But it was nonetheless more pressure than I'd have preferred.
The NomadCard was a very good device and would be something I'd consider carrying around as a back-up cable if it wasn't for the NomadKey which I found far superior. It not only was more easily accessible - but attaching a tiny cable to a keychain strikes me as far preferable to making one's wallet thicker. If you always keep your wallet in a purse or coat pocket or attache, that's less an issue. But the NomadKey is so simple and well-done, that I find it best and a no-brainer for always have a cable with me.
Ultimately, that's the thing about both these products - they're extremely well made and give the security of always having a charging or sync cable with you, which you can then plug in anywhere that has a USB port.
That brings us back to Nomad, which as I said is an interesting company that, among other features, even has had a barter system in place as an alternative way for customers to buy their products. (You could make an online offer of a barter, and the company would respond whether they accepted it or not.) At the time of writing this, the website is under construction, so there's no guarantee that bartering will return, though the company rep I spoke with says it likely will be revived.
In the meantime, both products retail for $29, but could be found for $25. More than most basic cables (though Lightning cables can be costly), but with far more convenience.
Popular and versatile as tablets are, they don't have nearly the capacity of desktop computers. Connecting to the cloud does have increase capacity, but that requires being able to access connectivity. A device like Kingston's MobileLite Wireless G1 can help. There are limitations, but the extended capacity is flexible to your needs, within reason.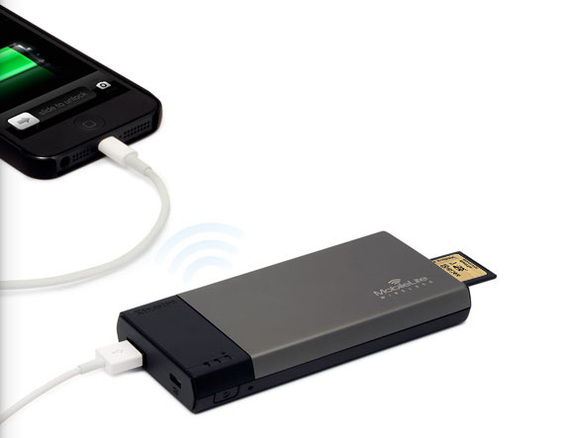 At its core, the MobileLite Wireless is a card reader that connects to your Android or iOS device, creating its own short-range personal network. It's able to read USB Flash drives, or SD and microSD cards (coming with an adapter) - simply plug your Flash drive or card into the MobileLite, make the network connection, and launch the Kingston app, and you're all set.
(It's very simple to make the network connection. Just press the On button for three seconds. Find the Kingston network in your phone or tablet's WiFi listing - the same as if you were connecting to any WiFi network or hotspot - and you're done. If your device is set to connect automatically to networks it recognizes, you won't have to run this process again.)
Creating its own wireless network, that means that it can broadcast to any number of devices. If you want to play a movie file, for instance, it can be streamed to up to three people within range - who have the app. (This sounds great in theory, though I tend to find that in practical everyday use it tends not to happen much - but given the small size of a phone screen, it's certain not out of the question that a group of people might all want to watch the same video file. Or listen to the same song.)
With the app, you can copy-and-paste files from the Flash card to your handheld device, handy for backing up important files. The tutorial video uses the word "simply" a lot - "simply click on Edit, simply click on..." - and it is simple. It just uses a lot of steps, which can be a bit convoluted. Though simple.
Previously, Kingston made a product call the Wi-Drive, which I quite liked. It did much the same things, but had Flash memory built in. Its capacity could be much higher than Flash drives or SD/microSD cards, and I preferred it for that. But time and devices move on, and the MobileLite does have its own features that trump those of the old Wi-Drive.
One offbeat but extremely nice feature is that the MobileLite (which is exceedingly light, at just 3.5 ounces) can double as a battery backup. Just tap the On button and connect to your handheld device to charge from the MobileLite's battery. (Hold the button down a few seconds longer when charging, and you can use the MobilLite wireless function again.) Know that the capacity is 1800 mAh, which would provide one charge for a mobile phone (it can't charge a tablet), so this is something to use in a pinch - though pinches happen all the time on the road. The MobileLite Wireless G1's own rechargeable battery provide the device with five hours of run-time.
And given that it reads whatever storage cards you have, that means, in theory, that the storage capacity is limitless. Most people don't tend to carry around a lot of SD cards or Flash drives, but you may have several at home, or pack them on trips or in a briefcase or purse.
A nice feature, too, is that you can create an "Internet Bridge." This means that even though you've connected to the Kingston wireless network, you won't lose connectivity to the Internet and can surf as always. A tutorial video explains the steps, and you only have to do it once.
There are other features, related to uploading to social media, connecting to your devices camera roll and such, and they're all quite nice - though it's likely that your device has those features already built in and are what you'll mostly use. That said, there are times you might want to access them for content on your Flash drive or cards - most especially if you want to free up space on your mobile phone -- so it's good to at least have, just in case.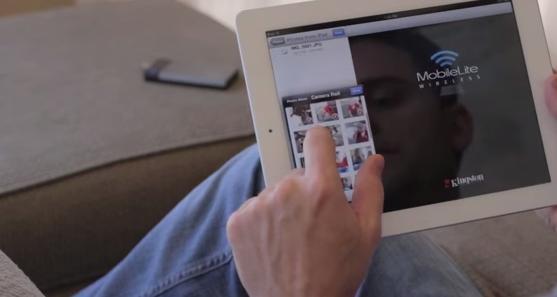 The MobileLite does what it does well. It's nice to be able to extend your capacity, back up critical files, clear space in your camera roll, and have a built-in, limited battery backup - though I suspect most people prefer the simplicity of a single handheld, to swapping Flash memory cards into a separate device. But there are users for whom having this extra capacity and ability to free space by moving files is critical, and the Kingston serves its purpose well. As I said, I preferred the old Wi-Drive, but that's not an option today, and the MobileLite takes its place fine. It's reasonably small at 5" and very light, as I noted, so though an extra device to carry around, it should be quite convenient if this is something that fits your needs..
The Kingston MobileLite Wireless G1 retails for $60, but could be found online at the time of writing for $37. The company also makes a G2 model that is slightly larger and has a two-year warranty (rather than one-year), a 13-hour battery, and a WLAN Ethernet Port which can function as a mobile router -- that retails for $70 and was found online for $54.
"The Writers Workbench" appears monthly on the website for the Writers Guild of America. To see this entire column, with complete product graphics and additional "TWW Notes," please click here
To read more from Robert J. Elisberg about this or many other matters both large and tidbit small, see Elisberg Industries.
REAL LIFE. REAL NEWS. REAL VOICES.
Help us tell more of the stories that matter from voices that too often remain unheard.