Every once in a while, I dive in and do a brief round-up of one of my favorite kind of accessories, USB Flash drives. As time as passed, these little suckers have grown from a nice, odd convenience to something that can border on a computer in your pocket (if you install software like Portable Apps, U3, urDrive, or Ceedo Virtual PC, which allow a wide range of programs that take up little space to run). Further, what once provided a small amount of storage now can go up to a massive 64 GB, bigger than many people's hard drive needs.
Now, toss into the mix USB 3.0, the new protocol that allows Flash drives to operate significantly faster than the current USB. 2.0. Not everyone can use USB 3.0 yet - it requires either a new computer with the proper hardware installed, or installing boards on your current computer that will allow USB 3.0 (more on this later) - but it's around the corner. Claims are that USB 3.0 can run up to 10 times faster. (While this is theoretically true in lab tests, Real World results are different. More on that later, too.)
This report will look at both versions of USB Flash drives. Though for most people the USB 2.0 drives will be the only practical ones at the moment, there are enough people using the new protocol to make it valuable to include. It's also important to know that USB 3.0 Flash drives are not only "backward compatible" and will run in the older ports on your system, but most should also run faster, even if you only have USB 2.0 - just not nearly as fast as if you have the new equipment. One important thing to know: the higher the capacity of the Flash drive, the faster it should run compared to the same model at lower capacity. I tried to test all 32 GB models in order to be equivalent (for both speeds and prices), though in some cases I used 16 GB. It's all noted in the reviews.
A word on testing. Most results you read about are done with "benchmark" tests. Those are generally what will show the blazing differences between USB 2.0 and USB 3.0. It's done using software that runs checks on the Flash drive, and basically gives results under ideal lab conditions. I'll include a few benchmark results for the USB 3.0 Flash drives, and a few of the USB 2.0 drives. But - for all drives I use my own, bizarrely low-maintenance, Real World Tests. For this, I do three tests: 1) I copy an Outlook file (to see how the drive handles a huge, half-gigabyte file), 2) I also copy the My Documents folder (to see how it deals with a great many small files), and 3) I do a copy with my Photographs folder (for handling of mid-range sized files).
There are two reasons for preferring my Real World Tests. The first is that Flash drives are configured in one of two ways - some handle big files best, and some are designed for small files. A Flash drive may have great Benchmark test results, but those may be for big files, and you may only be concerned with copying small ones, like documents. The second reason is that Real World results are incredibly different than lab tests. As you'll see below, some Benchmarks do indeed show speeds close to 10-times faster - but when copying files as you would do in the real world, the results may be only two or three times as fast, if that. In large part, this is because copying files (as people do in the real world) requires going through your operating system's user interface, to copy-paste, and that will always impact speed. Benchmark tests are valuable, because they allow for the best control and even-comparisons, but my Real World Tests provide results for what you'll likely get. And some of those results are surprising.
But enough of all that yammering. On with the show...
Warning: if you haven't figured out by now, this will be a particularly geeky column, most especially for something that's oh-so simple. It's a freaking "thumb drive," for goodness sake. But there are a lot of numbers here in order to make comparisons, and it's dealing with a new protocol. I'll try to make it pleasantly readable, and will even include a simple Recommendation Chart at the end you can jump to (and skip all the details) to ease things, but...well, you've been warned.
•Verbatim Tuff-n-Tiny
•Verbatim Store-'n'-Go Micro Plus
•Kingston Data Traveler 109
•Corsair Voyager Mini USB 2.0
•Corsair Voyager USB 2.0
•Corsair Voyager USB 3.0
•Super Talent USB 3.0 Express ST4
•Lexar Jumpdrive Triton USB 3.0
•Super Talent USB 3.0 Express RC8
•A few words about USB 3.0 testing...
•Best in Show
The Tuff-n-Tiny is easy to overlook. Literally. Where once upon a time Flash drives were called "thumb drives" because they were the size of a thumb, the Tuff-n-Tiny is the size of a thumb nail. But its size is deceiving, since it can hold as much as a whopping 32 GB. (The model tested was 16 GB.)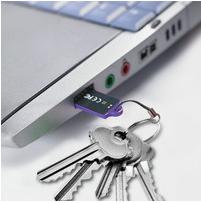 What's also impressive about the Tuff-n-Tiny is that it lives up to its name -- resistant to dust, water and static discharges. Indeed, there's no cap to keep track of. The only semi-caveat is that because of its design, it's possible to plug it into a USB port the wrong way. This won't cause any problems, but you might waste a little time trying to access it, only to realize it's backwards.
The drive isn't the fastest on the block, but handles itself well overall. It was fairly slow on the large Outlook file, although when dealing with small and mid-range files the drive was respectably impressive. So, if you're mainly handling files on the lower end (like documents and most photos), it's worth a close look. But ultimately, it's the miniscule size for hanging on a keychain that's standout.
Outlook - 1:20
My Documents - 8:30
Photographs: 14:15
The 16 GB model tested was available on Amazon at the time of writing for $16.
In many ways, the Micro Plus is Verbatim's upgrade to its Tuff 'n' Tiny. Though it's about twice the size, that's meaningless since it's still so incredibly small, about double the size of your thumbnail. Two other differences are apparent - first, has an especially large carrying ring, which eliminates the need of a lanyard for carrying on a keychain. And secondly, it's has a protective rubber cover that folds back over the USB connectors. While this gives the comforting sense of greater protection, the Verbatim Store 'n' Go line has long been highly resistant to damage, with or without a cover. (Personally, I found the cover unnecessary, and therefore a minor bother.)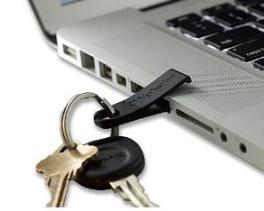 The model tested was the 16 GB version. "Write times" (copying files to the drive) for the Micro Plus are all pretty close to the Tuff-n-Tiny. In fact, though, they're all a touch slower, though perfectly respectable.
Outlook - 1:35
My Documents - 9:55
Photographs: 15:35
The 16 GB model can be found on Amazon at the time of writing for $24. If you want an especially miniscule USB 2.0 Flash drive and prefer to carry yours on a keychain without use of a lanyard, or (more likely) if you want the peace of mind of a protective cover, Verbatim's Micro Plus is the choice over its Tuff-n-Tiny. However, in all other regards, Verbatim's Tuff-n-Tiny trumps the Micro Plus, being even smaller, a touch faster and less expensive.
The Kingston Data Traveler is almost equally small, just slightly thicker and a touch longer at 1-1/2". A big hole at one end is where it attaches to a keychain.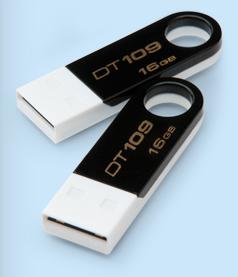 Unfortunately, the Data Traveler was sluggish on all files, large and small alike. (Note that the model tested was only 8 GB, which will run slower than the higher capacity drives tested here.)
Outlook - 2:10
My Documents: 13:50
Photographs: 26:10
However, it comes preloaded with urDrive software which adds impressive features to the Data Traveler, which could be of particular value. When launched, the urDrive interface appears on your monitor like its own desktop. This lets you access the files, photos, videos and music stored on the drive. It also has a built-in Photo Viewer, Web browser, and music player. (Note, however, that it will only play MP3 files.)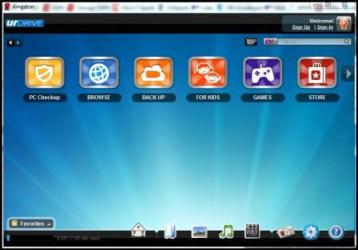 The built-in Maxthon browser won't be as familiar as IE, Firefox or Chrome, but it works fine and will let you store bookmarks. The "Fooz Kids" app allows for browsing in a secure environment which can be controlled by a parent.
There is a urDrive Store for downloading proprietary games and apps (like a word processor) directly onto the Data Traveler drive. A great many are free, though the normal range of software seemed to be $10-50. The Data Traveler also provides a backup app and 6 GB of free online storage.
There are two advantages to software like this. One is that it provides full computer features without having your computer with you. The other is that the urDrive can be used at work or in Internet cafes where people aren't allowed to install their own software - the built-in browser, for instance, has anti-key logging software and stores all cookies and passwords right on the drive itself. That means that settings, history, and media files will stay private and disappear when the Flash drive is removed.
It's important to note that if you're interested in the urDrive features, it's very similar to other free software, like Portable Apps, which can be installed on any Flash drive. The advantage of urDrive is that it has a particularly elegant, very well-integrated user interface.
The 8 GB model tested retails at the time of writing for $39, but was available on Amazon for $15.
Corsair is actively transitioning its line of USB drives to 3.0, but still offers some strong 2.0 versions. The Voyager Mini 2.0 is noteworthy among them for its combination of size, speed and ruggedness. It comes in a rubberized housing that's shockproof rated to 40G. Though a bit chubbier than the other tiny models tested here, it's nonetheless only 1-1/2" long. It has a retractable plug that slides out from the bottom, so there's no cap to lose.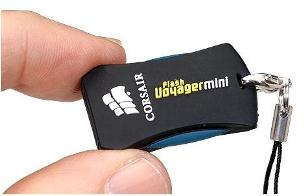 The Voyager Mini 2.0 handled all-sized files respectably well across the board, though was notably better with the large Outlook file.
Outlook - 27 seconds
My Documents - 9:55
Photographs: 15:20
The 32GB model tested retails at the time of writing for $67, however it was $34 on Amazon.
The Corsair Voyager USB 2.0 is the big brother to the aforementioned Mini. It's rugged, water-resistant with a rubbery protective covering, and also shockproof rated to 40G. It's quite a bit longer, 2-3/4", and is a fairly thick ½". Though the Voyager 2.0 does have a cap, rather an a retractable plug, it is extremely snug and not likely to fall off. A large ring connects to a keychain.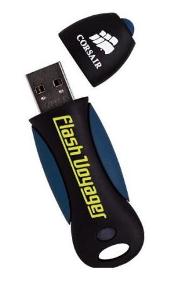 As for speed, the drive seems configured for small files. It clocks in speedily for a 2.0 drive with small documents, but is surprisingly sluggish with the large Outlook file.
Outlook - 1:27 seconds
My Documents - 8:30
Photographs: 13:05
This was the only USB 2.0 drive I ran a Benchmark test on. Results showed that its highest speed peaked on files that were 64 KB (though it began to reach high speeds on smaller files of 32 KB). Its Benchmark results were -
Read: 27.42 MB/sec
Write: 6.86 MB/sec
Between this and its Mini sibling, I preferred the Mini. Though this larger Voyager model was faster on small and mid-range files, the difference wasn't huge - but the Mini 2.0 oddly blew it away on the large Outlook file. To be fair, the Voyager 2.0 test was 16 GB, so it isn't an apples-to-apples comparison because drives with larger capacities tend to run faster.
The Voyager 2.0 retails for $25 and could be found on Amazon for $16 at the time of writing. (For comparison purposes, the 32 GB model sold on Amazon for $30.)
This is a near-twin in looks for the 2.0 version of the Corsair Voyager. The only difference is that the tested version was 32 GB, and...well, it's USB 3.0
The difference is notable, though not as clear-cut as the Benchmark tests suggest. Still, you get much faster speed at every level (and most significantly when copying the large Outlook file, where it takes just 14 seconds, compared to 1:27 - or even the zippy 27 seconds of the Voyager Mini.)
Outlook - 14 seconds
My Documents - 6:00
Photographs: 11:25
On the Benchmark test, its highest speed peaked on files that were 32 KB. What's noteworthy is that while its "read" speed (opening files that are already on the Flash drive) were a bit faster than with the USB 2.0 version - the "write" speed (which means copying files to the Flash drive from your computer's hard disk) of the 3.0 drive absolutely swamped the 2.0 version, by a factor of five. Its Benchmark results were -
Read: 34.239 MB/sec
Write: 35.135 MB/sec
One thing to be aware of, it comes with 5 year warranty, compared to 10 years for the other Corsair USB 2.0 Flash drives. Then again, most people risk losing their drive by five years anyway. At the time of writing, this 32 GB model retails for $45, but can be found online for $29, not all that much more than the decidedly slower 2.0 model.
Verbatim's newest entry into the consumer USB 3.0 market is its Store 'n' Go V3. It's an oddity, with some very good things about it, and some less good. There's no cap to lose, with a slide connector - the slider looks sort of cheap, but when in use, it feel fairly solid.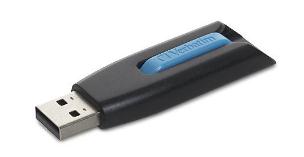 The first oddity comes with the benchmark test. Its "Read" results (for opening a file that exists on the drive) is blistering fast, however its "Write" number (copying/saving files to the drive) plummet back to earth and are ordinary for USB 3.
Read: 84.149 MB/sec
Write: 11.930 MB/sec
Where the second oddity appears is when doing a Real World test -
Outlook - 60 seconds
My Documents - 5:55
Photographs: 9:50
Copying the large Outlook file was shockingly slow for USB 3.0 - at slow USB 2.0 levels. Yet its USB 3.0 results for small document files were solidly respectable, and for medium-sized graphic files were, in fact, quite good.
If you do a lot of copying of especially big files - like movies, for instance - I might be hesitant suggesting the V3. (Though its Read numbers for files already on the drive were crushingly fast.) However, for transporting basic-size files, the Verbatim Store-'n'-Go V3 is worth looking into, especially at its low price. The 16 GB model tested retails at the time of writing for $26, while available online for a mere $21. (For comparison purposes with Flash drives below, the 32 GB model retails for $53 and can be found for $42.)
Super Talent's Express ST4 fits a nice niche in the USB 3.0 world. Very good speeds, while not as expensive as those on the very highest end - though, to be clear, it's not cheap. It comes in a an aluminum case, and is very solidly made. The cap slides on and off easily, although a bit too easily, and gives sense it could slide off. However, the cap can be snapped on the back end, which is a nice touch for keeping tracking of it. The drive is a little longer than many, at 3-1/2", while .75" wide and a quarter-inch thick.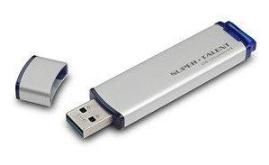 Its benchmark results show blistering "Read" speeds, though its "Write" numbers don't come in at that level.
Read: 122.294 MB/sec
Write: 44.590 MB/sec
However, much more importantly, when looking at how it does in the Real World test, that shows the ST4 at its best.
Outlook - 16 seconds
My Documents - 4:45
Photographs - 6:15
These are seriously good numbers. The 32GB model can be found online for $69. (With the 16 GB model, for comparison purposes, at $35.) Its strengths are that the ST4 is significantly faster than most "consumer" USB 3.0 Flash drives and less expensive than the fastest high-end drive its closest to in speed. The downside is that it's not a great deal cheaper than those faster, and is a slightly bigger than most Flash drives. But it's a very admirable device and worth a close look.
There are USB 3.0 Flash drives, and then there is another level that's higher end - in speed, cost and size. The Lexar Jumpdrive Triton USB 3.0 fits with the latter.
The Triton has an extremely solid feel. It has a metal alloy back, with a stylish high gloss front. The USB connector plug is retractable, and slide outs, so there's no cap to lose. There's no hole big enough to connect to a keychain, so it uses a lanyard that you attach - not my favorite way, but it's common. A bit larger than many, it's still compact and shorter than the Corsair Voyager, at 2-1/2" and more thin. A white light glows when plugged in.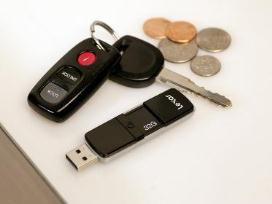 In the section below, titled "A few words about USB 3.0 testing," there will be a discussion about the sensitivity of the new USB 3.0 protocol. This can present a challenge if using an extension cord (though not if using a hub) - don't worry if this doesn't make sense here, it will in the discussion to follow. Just know at this point that the Triton was the only model tested that wasn't recognized when plugged into my USB 3.0 extension cord and would only work with the cord at 2.0 speeds. To be clear, this is not a problem with the drive itself, but the sensitivity of the new protocol and uncertainty of using extension cords. When plugged directly into a USB 3.0 port - or when plugged into the USB 3.0 hub - it worked perfectly each time.
Lexar writes that the Triton will "easily transfer 100 songs in less than 20 seconds and a full-length HD movie in less than 40 seconds." Its Benchmark results were crushing. And even in the Real World tests it was blazing fast - though, importantly, not at levels the Benchmarks would suggest. I'm going to reverse the order of results here (from how I've normally been presenting them) to make the point more clear.
Showing the Benchmark test first, you can see that its "read" speed is a remarkable four times faster than the Corsair Voyager 3.0.
Read: 133.218 MB/sec
Write: 100.915 MB/sec
However, as you'll also see, while it was significantly faster in the Real World tests, it wasn't the same four times as fast.
Outlook - 8 seconds
My Documents - 3:05
Photographs: 5:40
To be clear, these Real World results for the Lexar Triton are absolutely tremendous. Just know that they're twice as fast as the Corsair (for comparison purposes), not four times. Keep in mind, too, that this difference becomes even more pronounced the more data you're copying. Five minutes saving on 2 GB of data is good - 50 minutes of savings on 20 GB is serious.
By the way, just for fun, I did a Real World test to see the speed you'd get with the Lexar Triton when only using a USB 2.0 port. The results are slower, but still impressive - about a third faster at 2.0 connection even than the Corsair Voyager USB 3.0.
USB 2.0 connection
Outlook - 19 seconds
My Documents - 3:50
Photographs: 7:05
(I only reference the Corsair to make a speed result point. Not to compare drives. The Triton is much faster - but it's also much more expensive.)
Indeed, know that you will pay for this kind of speed. The 16 GB model is reasonably priced, though still retails for $80 at the time of writing, but can be found on Amazon for $50. The tested 32 GB version is $125 retail (available online for $80). And the 64 GB model retails at $235, but is sold on Amazon for $146. It's definitely much more expensive than most "consumer" Flash drives, but if you are regularly working with large files, or if time is critically important to you, it's seriously worth knowing about - regardless of whether you have USB 3.0 or not. And with a very nice form factor, it fits conveniently on a keychain, as well.
Super Talent's RC8 is an interesting case. It has some notable positives, some clear downsides and a range of surprising results. But one thing can't be overlooked - if you want speed, this thing is so fast it's almost unfair.
With one difference, it looks similar to the previously-reviewed Super Talent model. It has an elegant aluminum case and is solidly made. Nice, too, is that its cap doesn't slide off easily (as did the other Super Talent), but has a good drag that keeps the cap securely on. The cap too can be snapped onto the bottom for convenient storage. That one difference is that the RC8 is significantly bigger than everything else. It's 3.75" long and an inch wide, while .5" thick. Depending on your usage, it might be difficult to plug it in and have another USB device plugged into a slot next to it at the same time. Also, it would be very bulky on a keychain in your pocket. (Though obviously it's tiny enough for a purse or briefcase.)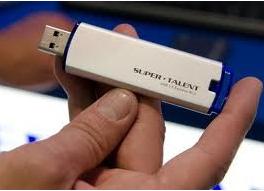 Also, looking at its Read/Write benchmark speeds, though they're very high, they are actually slower than the Lexar Triton reviewed here. (Though, to be fair, only by a hair's breath.)
Read: 123.988
Write: 94.894
But (and this is a majorly huge "but"), let this be the proof that benchmark speeds can be deceiving and my low-end Real World tests have much more meaning.
The RC8 uses eight channels of flash memory and a virtual caching system, along with a real SSD (Solid State Drive) controller. This may mean nothing to you on a human English level, but know that it translates to crushing speed in geekland.
Outlook: 11 seconds
My Documents: 1:20
Photographs: 3:05
Even though its benchmark results are near-similar (even a touch slower) than the Lexar Triton, the Super Talent RC 8 is almost two to three times faster in the Real World - and keep in mind that the Triton is blistering fast. Indeed, with a 32 GB or higher model and these speeds, you have the near equivalent of a portable SSD hard drive that can fit (somewhat bulkily) in your pocket.
But here's the even more remarkable news (and great news if you don't have USB 3.0 capability). I did a Real World test with the RC 8 on a standard USB 2.0 - and its Real World results are not only stunningly fast...they were almost as fast as with a USB 3.0 connection!
USB 2.0 connection
Outlook - 16 seconds
My Documents - 2:05
Photographs: 3:30
The point being that you can get this spectacular USB 3.0 speed even if you only have a USB 3.0 connection.
Clearly, this comes at a price. The 25 GB model (there's no 32 GB version, instead 25 GB and 50 GB) retails for $128, though it can be found online at the time of writing for $82. That, along with its large size, doesn't make the Super Talent RC 8 for everybody. But if you have a professional need to move a lot of data regularly, particularly high volume and large files, it's hard not to recognize the time that can be saved here.
A FEW WORDS ABOUT USB 3.0 TESTING...
For the purposes of this column, I had to upgrade my system for USB 3.0. I suspect that that would be the same for most people interested in the new protocol today. What it meant was installing a USB 3.0 card. I used the Plugable Technologies USB 3.0 I/O Card, a small company founded by a fellow who had been the development manager of the Windows USB team at Microsoft. Installation was a fairly easy process, and instructions were included in the box. It retails for $50, but was available on Amazon at the time of writing for $26. Know that one of the issues when installing any card is that it the USB 3.0 ports it gives you will be at the back of your computer. For devices you'll be using later that will be "plug in once and leave it" (like, say, a printer), this is fine. But it won't provide the easiest access for devices that you'll be regularly installing and uninstalling, like USB Flash drives. Therefore, I used two accessories to see how they'd resolve the situation.
First, I used a USB 3.0 extension cord. This brings its own caveat. Because the USB 3.0 standard is in its growing infancy and still maturing, it's more sensitive to cable quality than USB 2.0. Some companies don't even recommend using cables at all, but those that do currently suggest a maximum cable length of 3 feet (1m). I used the L-Com Type A Male/Female Extension 1.0m. It sells for $12.50, and there are less expensive ones, but I figured that with the sensitivity of USB 3.0, it was worth the few extra dollars.
Second, the only extension that's universally recommend is a USB 3.0 hub, which you just plug into one of your available ports. (You'll likely also have to plug it into an AC socket). The advantage of these is that they give you additional ports and compatibility you can rely on. The disadvantage is that they'll be more expensive than an extension cord. I used a slightly higher-end one, the USRobotics USB 3.0 Super speed 4-Port USB Hub. Most people could probably get by with a lower-end model, but this provides more power, so it can handle power-hungry peripherals like printers and scanners. It retails for $60, but could be found for $50 online at the time of writing.
The end result is that the extension cable worked fine for all of the USB 3.0 Flash drives tested, except the Lexar Triton. That worked fine with the USRobotics hub, as did all the other drives. Because cables are comparably inexpensive, it might be worth trying one first to see if it meets your needs, and if not, then upgrade to a hub. Unless you would prefer to have the extra ports that a USB hub offers.
Each of the Flash drives tested here have something to offer, depending on your personal needs. However, a few of them stood out in particularly important general areas. And since the information here was long and convoluted, here is a simple summary, broken down between USB 2.0 and USB 3.0 devices when considering price, speed and size.
USB 2.0 all-around - Verbatim Tuff-n-Tiny
USB 2.0 with built-in O.S. - Kensington Data Traveler 109
USB 3.0 price - Corsair Voyager 3.0
USB 3.0 speed and size- Lexar JumpDrive Triton
USB 3.0 speed - Super Talent RC8
"The Writers Workbench" appears monthly on the website for the Writers Guild of America. To see this entire column, with complete product graphics and additional "TWW Notes," please click here
Support HuffPost
The Stakes Have Never Been Higher
Related
Popular in the Community