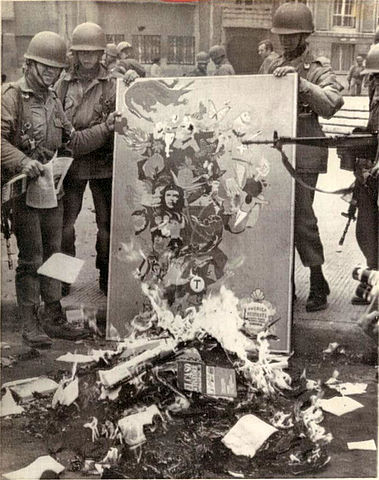 In 1973, democratically elected, socialist president of Chile, Salvador Allende, was ousted from office in a CIA-backed coup d'état. Led by Augusto Pinochet with the support of all military branches, the new government rounded up sympathizers, intellectuals, artists, educators, students, and anyone else on the left they considered dissidents, and engaged in a nationwide purge. Hundreds of people were beaten, tortured, and killed, while many escaped and sought political asylum in other parts of the world. The city of Los Angeles never received a big wave of Chilean refugees, but we did receive one who has played one of the most significant roles in advancing muralism in public spaces. At the time of the military coup in Santiago de Chile, Isabel Rojas-Williams was a pre-law student fighting oppression and social injustice, and was a big supporter of art in the streets that told the story of the people in struggle. As social ills worsened in her country, she eventually fled and ended up in the United States, which to outsiders everywhere, has always been perceived as the center of freedom and liberty. Upon her arrival in Los Angeles, one significant and obvious idea stood out, the myth of the exotic tropical paradise where wealth and democracy triumphed over poverty was false.
The writing on the walls in Los Angeles was the same in Santiago; the trajectory of suppression, pain, and suffering, existed everywhere and nobody had been spared the shame. For some people, an intensity of passion burns inside with a deep longing for change, involvement, and commitment, and for Isabel it was murals. It was the type of art that spoke directly to a population on a grand scale where depictions, ideas, and messages were conveyed through a fragmentation of the form and content, via dark progressivism. Her heart bled for them, her eyes sobbed for them, and she couldn't imagine a landscape of hope without them. At once she was drawn in to what the writing on the walls was saying, which led her to the Estrada Courts housing projects in Boyle Heights, which today is recognized for having a superb collection of murals mostly painted in 1973. The 70's was an important decade for the Chicano Movement and she became connected to the struggles and artists of the time that also represented her cultural background, but more importantly engaged in public art according to the regional concerns of Los Angeles and its uniqueness.
Today, Isabel Rojas-Williams, a renowned art curator and advocate of muralism, is the executive director of the Mural Conservancy of Los Angeles. She is a champion and heroine of the cause and is a fascinating example of accomplishment. When she first arrived in Los Angeles she wasn't allowed to enroll in the university because of the bureaucratic red tape associated with transcripts and previous foreign study, but with fervent diligence and determination, her master's thesis from CSU Los Angeles, Los Angeles Street Mural Movement, 1930-2009, sits in the research archives of Sala de Arte Público Siqueiros in México City, she is an art professor and international lecturer, a mural docent, she was appointed as an advisor for the "Siqueiros Interpretative Center", and serves as the mayor's art liaison to the Latino Heritage Committee, African American Committee, and Asian American Committee. Moreover, she led the three year campaign to lift the mural moratorium in the city along with committed city council members and artists, which was recently victorious and will help shape the current state of muralism. The city of Los Angeles is fortunate to have such a dedicated and talented person to help ignite one of the highest forms of art that proved crucial to the Renaissance, the Mexican Muralist Movement, and the Chicano Movement. Today there is a new movement; dark progressivism, and it builds upon the past and celebrates it with fierce remembrance, while carving out new geometrical forms that reflect the ever-changing fragmented metropolis.
REAL LIFE. REAL NEWS. REAL VOICES.
Help us tell more of the stories that matter from voices that too often remain unheard.