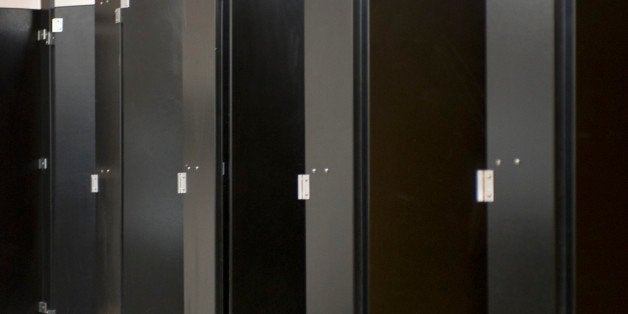 I hear a flushing sound. And school officials in Virginia should be hearing it too, after Tuesday's federal appeals court ruling for a transgender teen in a school bathroom access case. A rural Virginia school board's discriminatory policy is headed down the toilet, exactly where it belongs. And soon to follow should be the North Carolina law, the South Carolina bill, and other states' proposed legislation putting public bathroom access at the center of the nation's culture wars.
The issue in the Virginia case and the state "bathroom bills" is essentially the same: whether public entities may require transgender people to use bathrooms in government buildings, including public schools, that correspond with their biological sex. The unstated premise of these bills is hostility to transgender people, sort of a contemptuous belief that they don't "really" have the gender identity that they believe they do, because some legislator denies that reality.
What's right, and what federal anti-discrimination laws require, is that everyone--including lesbian, gay, bisexual and transgender (LGBT) people--should be allowed to use public restrooms that correspond with their gender identity. Federal anti-discrimination laws require this. But people who dislike (or even hate) transgender people have been making political hay with the argument that such access violates the privacy rights of others. In a lot of the ugly debate over these bills, some legislators have been resorting to fearmongering about sexual assaults that would ensue. There is no evidence to support these fears, and they're very similar to imaginary scenarios that have been used to persecute LGBT people in a bunch of other ways for decades
In siding with high school junior Gavin Grimm, the U.S. Court of Appeals for the Fourth Circuit deferred to the U.S. Department of Education's interpretation of a Title IX regulation that requires schools to allow transgender students to use bathrooms consistent with their gender identity rather than their biological sex. Title IX is a federal law that prohibits sex discrimination in schools that receive federal funding.
In a 2-to-1 decision, the appeals court ordered a federal district court to rehear Grimm's claims that the Gloucester County, Va., school board's policies--which require transgender students to use separate unisex bathrooms and ban them from using bathrooms consistent with their gender identity--violate Title IX. The court also ordered the district court to reconsider Grimm's request to use the boys' bathroom at Gloucester High School while the case is pending.
Senior Circuit Judge Davis's concurring opinion went a step further, giving the district court a clear roadmap for how it should rule. According to Judge Davis, Grimm "has surely demonstrated a likelihood of success on the merits of his Title IX claim" and the court "would be on sound ground" in granting Grimm's request for immediate access to the boys' bathroom while the case is pending. Indeed, Judge Davis said "the appropriateness and necessity of such prompt action is plain."
The Fourth Circuit's decision paves the way for how federal courts should address public bathroom restrictions and sends a strong message to state lawmakers pushing to ban transgender people from using bathrooms that correspond to their gender identity. In fact, because the court's ruling applies to North Carolina, the portion of North Carolina's controversial "bathroom law" that applies to public schools likely violates Title IX. So North Carolina schools that fail to reverse course now do so at their own peril. Similarly, the Fourth Circuit's ruling applies to South Carolina, providing yet another reason for that state's lawmakers to back off their controversial bathroom bill--HB 2.
Our law firm, Public Justice, has a long record of success in Title IX cases, fighting against sex discrimination of all forms--including discrimination based gender stereotypes. We believe that the Fourth Circuit's decision should serve as a wake-up call for state lawmakers pushing for public bathroom restrictions. They are on a collision course with Title IX. The public bathroom restrictions cropping up in school policies and state legislation reek of discriminatory animus. Legislators trying to advance their careers by picking on LGBT people need to read the writing on the (bathroom) wall and follow the law.
This post was co-authored by Adele P. Kimmel, Senior Attorney with Public Justice and head of the organization's Anti-Bullying Campaign.
Calling all HuffPost superfans!
Sign up for membership to become a founding member and help shape HuffPost's next chapter