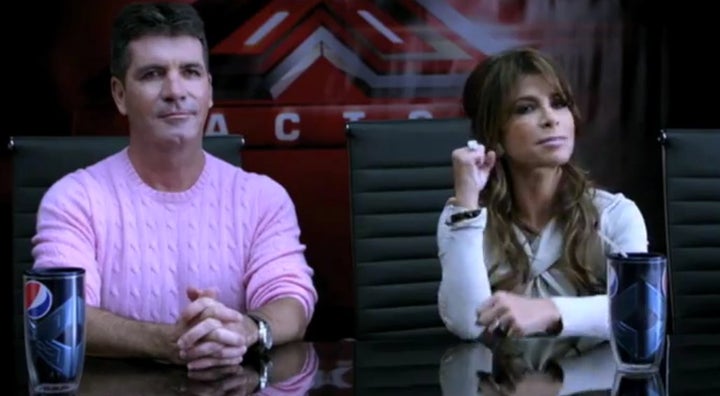 Simon Cowell is back. And gosh, does he want you to know it.
The famed producer and original "American Idol" judge, who left the show after the 2009-2010 season, is returning to TV in a big way with his own singing talent competition, the title-challenging British import, "The X Factor." Looking to make a major splash and set itself apart from every other talent competition, Cowell and company have laid out a $5 million prize for the winner -- and made clear that they've got an edge the revamped "Idol," starring Jennifer Lopez and Steven Tyler -- sorely lacks.
Finally, Cowell wakes up in a sweat, realizing it was all a dream before donning a much more characteristic designer suit, sauntering out of aircrafts like a secret agent and ripping people like he was born to do.
Cowell spoke with The Huffington Post during the casting process of his new show, seemingly taking a small shot at his replacements on "Idol" while talking about what he was looking for in "X Factor" judges.
"I was never interested in signing celebrities just for the sake of it, because I think that in the case of someone like LA Reid, even though a lot of people won't know who he is, he is actually a fascinating guy and I think a lot of people will like the fact that they're discovering him on the show," he said.
That assertion may be challenged by the fact that the audience booed Reid at initial auditions, but perhaps that's the edge that Cowell is trying to tease in the ad.
It should be noted that both "Idol" and "X Factor" will be on FOX, so it'd be interesting to know whether the network approves of the trashing, or is excited by the potential rivalry. They probably have mixed feelings on Cowell, who left "Idol" despite a reported $130 million offer from Rupert Murdoch.
Of course, Murdoch now has other things to worry about.
Calling all HuffPost superfans!
Sign up for membership to become a founding member and help shape HuffPost's next chapter