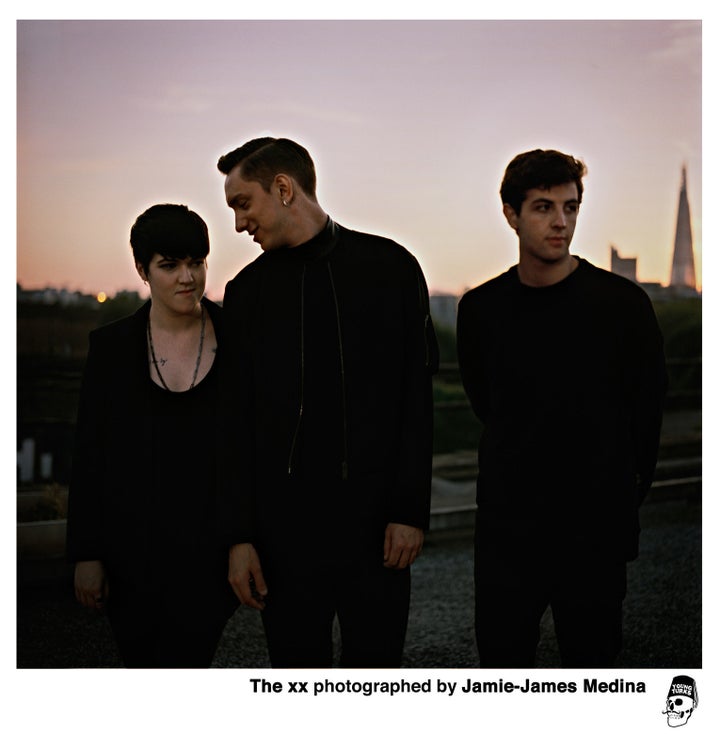 The xx broke into the indie music scene in 2009 with their mesmerizing, whispery self-titled album -- and every hipster from Brentwood to Brooklyn embraced their emotional lyrics and addictive sound.
Bandmates Romy Madley Croft and Oliver Sim started making music together at age 15, but they've known each other since they were 3 years old. Hailing from south London, Croft and Sim studied at the Elliott School, the same institution that claims Hot Chip, Burial and Four Tet among its alumni talent.
But the xx's path wasn't fated: Croft admitted in an interview with The Huffington Post that she never had the intention of becoming a musician. She took up the drums to get out of class, she picked up a guitar after not being too great at the drums, and she started singing just so she could learn the guitar a little better. Bandmate Jamie Smith joined the group later, rounding out the trio. Constantly surprised at their success, The xx has recently released their sophomore album, Coexist, and will play in a primetime Saturday night slot at Coachella. The band also will have a song in the summer blockbuster "The Great Gatsby" and have confirmed a spring tour with indie powerhouse Grizzly Bear.
Just before The xx boarded an international flight to Los Angeles, The Huffington Post spoke with Romy Madley Croft to uncover the struggles of writing personal lyrics, the fear caused by 20,000 pairs of watching eyes and what happens when someone starts to become a diva.
Your debut album received such amazing acclaim and success. What was your intention in moving onto your follow-up album, Coexist? Where did you guys want to go with it?
The thing with Coexist is we had no plan for it. We got back from touring and had been gone a long time and just wanted to make music again. The fact that we wanted to still make music again was a good thing [laughs]. We said if we get back and it doesn't happen, maybe we will just take some time out. But luckily it all happened pretty naturally. Then it was about learning to work together again after all that had happened. With this album, we definitely had grown up a little bit more.
What is your process like as a band when you're making a record? Do you write separately? Do you go into the studio with a clear-cut plan?
Oliver and I write quite separately and share lyrics over the Internet. We come up with our own things separately and then kind of collage them together. That's the way we wrote the first album. But as time went on, with Coexist, we started opening up to each other a little bit more and actually began writing in the same room. It's silly because I'm sure most people write songs in the same room, but for us it was quite different. It was like letting down a wall. We have been friends for a long time but it was a new place for us.
Another way we work is we just play things live. That's when the songs become complete with Jamie. Our rule is that everything we record has to be playable live. It's a limitation but it keeps things simple. If we can't do it live we don't do it. At the beginning I couldn't really sing and play the guitar together that well. So we had to keep it simple.
You and Oliver have known each other since kindergarten. Were you both very musical children?
Not really. We both grew up with lots of music in the house, but neither of us were born-for-the-stage children. We weren't music children prodigies. We were normal kids and both fell in love with music around the age of 14 and that's when we both started going to gigs and sort of thought, well, why don't we just try this ourselves?
What kind of music were you listening to around that age?
I was listening to heavier stuff like Queens of the Stone Age, the Yeah Yeah Yeahs and The Kills ... so a lot more distortion and more attitude, I suppose, than we have as a band. But that's really what I liked. I started playing the guitar and learning power chords and somewhere along the way that changed. I don't really know what happened!
When you first have an idea for a song, does it come to you in the form of words and lyrics or do you hear music and melody first?
It's always lyrics for me. The lyrics come first. I can basically write a poem and then work out the melody with some simple chords on the guitar. I have been writing a bit on tour recently and have been using Garage Band on my iPad, because I don't always have my guitar with me. So I have been using different tools to get the melodies out of my head. It's interesting because Jamie listens to a song and hears everything else but the lyrics. He hears the melody and the music. And I think it's good that he's different like that because we get both sides. It's good to have different interests.
You played Coachella for the first time two years ago. What was it like?
It was a pretty terrifying thing for us. We were used to playing small clubs in America -- you know, with a couple hundred people. And we walked out onto the stage at Coachella and it was like 20,000 people. It was the most people I had ever seen in my entire life. It was a really memorable moment. For us to come back and play the main stage at Coachella this year is a dream.
I saw you guys perform at the Wiltern years ago in Los Angeles. How different is it playing a show inside a theater vs. playing outdoors in the desert with so many people? Do you have a different approach?
Each is equally terrifying for me. In a small club, you can see everyone's faces and you can really see into their eyes. At a massive festival, you can just feel the fact that there are thousands and thousands of people looking at you [laughs]. We don't drastically change our show, but we definitely have some stuff planned for Coachella. We have been thinking about it for a while. The Saturday night 10 o'clock slot is a big deal for us and I feel the responsibility of making sure people have a good time.
While written cryptically in some ways, your lyrics on both albums are in fact very personal. Have you always felt comfortable writing about intimate experiences, or do you have any fear about that?
Well. It sounds silly to say this now, but in the beginning we genuinely didn't think anybody was going to hear it. We were writing these songs for ourselves, I just thought Oliver would hear it. And some of the songs were ever so slightly cryptically written because we were playing for five people in a pub that were our friends. We didn't exactly want to spell it out. It's ridiculous now to think about how many people have heard songs of ours that were never meant to be heard.
When we were going into making the second album, Oliver and I were afraid that we might hold back a bit and be more private. But after about a year at home and writing, I used it as a diary in the same way I did before. It's still very personal. So now we know [laughs]. We are going to have to sing these songs for a while, so I want to have a personal connection to them.
What inspired the title for your second album, Coexist?
I got really interested in iridescence. Like when you see a puddle of water when it's rainy and there's petrol in it in the street. I wanted to know why it forms that rainbow. I just searched online and it said oil and water, when mixed, agree to peacefully coexist. I liked the idea of these two things that are maybe not beautiful on their own but come together to make this beautiful effect. It made me think of the three of us in the band. As individuals, we can make music, but when we come together -- the three of us -- that's when we are The xx and we are better together.
And also you got an X in there with Coexist.
Yeah! It was all those reasons I just said and then we, too, were like ... "and it has an X!"
You and Oliver have spent some of your most formative years together both personally and creatively. This many years later, what is the same and what is different?
We've definitely changed a lot since we were 3! But I think we are still the same in some ways. We have always been very close. He has become more like a brother to me. It's nice the way that we are bound together now, forever. We get on the same way as any brother and sister -- we know each other inside and out. We love each other. We have that with Jamie as well. We have known Jamie since we were 11. They are like my brothers. It's a great thing to have on tour, especially with all of the traveling. It's great to have people who know you, and if you ever start to become a diva, you have someone to drag you back. That hasn't happened yet.
What music or bands are you listening to now?
I really love a band called Polica. They have an album called Give You The Ghost and I have been listening to that a lot. That came out last year and I am really exited to see them play at Coachella. They are a great live band.
You mentioned loving the Yeah Yeah Yeahs when you were younger. They will be at Coachella too.
That is going to be amazing. I saw them play when I was about 15 in London and it was just one of those incredible experiences. It's going to be amazing to see them again and to sort of have that feeling of being 15 when I was so in awe and amazed by live music.
I listen to both of your albums constantly. It's music that I can play at any time and love. That's a really special quality. Have you always felt confident in your talent or do you ever feel anxiety about being an artist?
I think to be honest, with music, it was never my lifelong dream. I didn't think I would ever be a musician. My only aspiration was go to art college and music just sort of happened. I played the drums when I was younger in school. We had these music lessons and you could get time out of class, so I did drums. And I was never really that good at it. I just picked up the guitar around 14 or 15 and it was just very natural. I picked it up quite easily. It was a happy accident. I only sang because I wanted to teach myself the guitar and the timing of songs. I did a recording and played it for my friends who said I had a nice voice, but I wasn't singing around the house. I have always been very shy about that.
It all sort of happened accidentally. I have always been pleasantly surprised by it. I love what we do. I wouldn't say I feel overly confident with it. I feel pretty surprised by what's coming out of me.
Click through photos and listen to The xx's music below: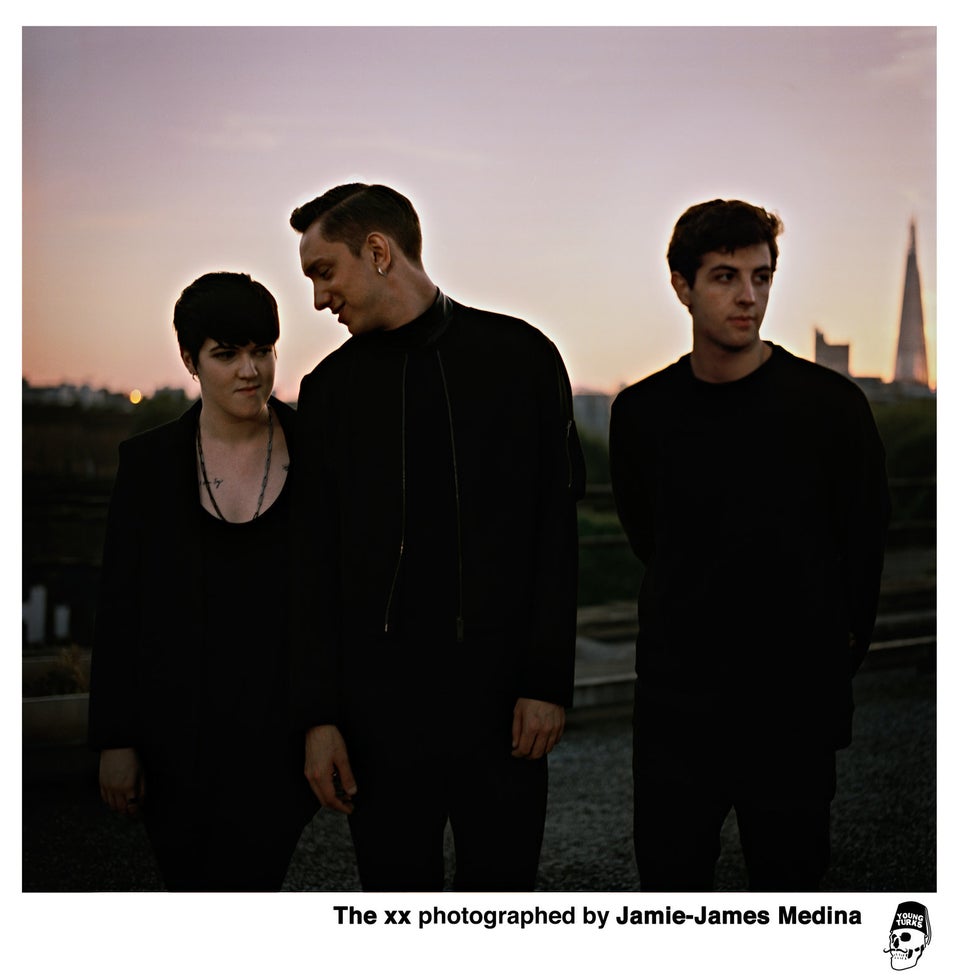 The xx
Popular in the Community