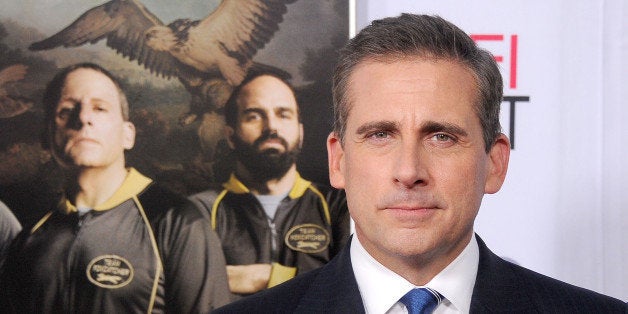 Say whatever else you want to about 2014, here's one thing I know for sure. It had 365 days. And since new movies opened on screens across the USA on a great many of those days, I feel compelled to consider the year in films.
Funny men getting serious: Steve Carell and his prosthetic nose surprised a great many viewers with an eerie depiction of John Du Pont in the very good Foxcatcher. But Bill Hader may have been even better as the troubled brother in The Suicide Twins (which, with a better ending, might have been a top ten movie.)
Women going for long walks: Reese Witherspoon and her make-up artists surprised a great many people with her strong depiction of Cheryl Strayed in the very good Wild. But I just liked Mia Wasikowska and her movie Tracks better. If you really want to get away from it all, the Aussie outback trumps the Pacific Crest Trail.
Great indie revenge stories: I suppose it says something about me that Jeremy Saulnier's Blue Ruin and David Michod's The Rover - two of the most physically and psychologically brutal movies of the year -- were in my personal top 10. But that's for me and my therapist to talk through.
"Stinky shit" somehow being considered really funny: Jillian Robespierre and Jenny Slate teamed up for the mild letdown of Obvious Child, while David Wain directed Paul Rudd and Amy Poehler in the burn-all-the-copies-and-speak-no-more-about-it They Came Together. Both went for big yuks with "stinky shit" jokes.
Adam Sandler obsessing over masturbation (I know that's true of most years): At least you can't accuse him of being one-dimensional. He can jerk off serious, as in Jason Reitman's Men, Women & Children. Or he can jerk off funny, as in Chris Rock's Top Five.
Scarlett Johansson finding new cool ways to kick ass: A year after playing a friendly telephone voice in Her, Johansson was a super alien masquerading as a regular girl in the can't-stop-thinking-about-it Under the Skin, and a regular girl evolving into a superwoman in the easy-to-forget Lucy. In either case, do not mess with Scarlett.
Cantankerous judges: If Robert Duvall in David Dobkin's The Judge was a little too gruff/sweet for you, check out Fernando Bacilio's beady-eyed Peruvian functionary in the Vega Vidal Brothers' The Mute. And I think "gruffsweet" should be a word.
Gone girls: We had the fictional one: Rosamund Pike's Amy Dunne in Gone Girl. And we had a real one: the nanny/photographer Vivian Maier in the documentary Finding Vivian Maier. Both were among 2014's most fascinating characters.
Famous onscreen characters trying to break out of their typecasting: Andre Allen (Chris Rock) tried desperately to outrun his Hammy the Bear persona Top Five, while Riggan Thomson (Michael Keaton) tried desperately to outfly Birdman in... you guessed it, Birdman. Lesson to be learned: it's hard to escape talking bears and birds.
Real life actors making disappointing vanity pieces: Hopefully, two of the better screen actors out there, Jude Law and John Turturro, got Dom Hemingway and Fading Gigolo out of their systems and can now get back to making good movies.
Great artists battling age and disease: We lost Elaine Stritch in 2014, and Glen Campbell's condition has seriously deteriorated during the year. But at least these two towering musical artists gave us brave documentary portraits of their later-year struggles to remember them by.
Double roles: The movies were both in that good-but-not-great category, but Jake Gyllenhaal in Enemy and Elisabeth Moss in The One I Love give veritable acting lessons in how two play dual roles.
A rejuvenated Ruffalo: After 2013's appalling Thanks for Sharing and trivial Now You See Me, it was reassuring to see Mark Ruffalo return to form with the charming Begin Again and the riveting Foxcatcher. And if I was writing about television, I'd give a shout out to The Normal Heart. But I'm not writing about television.
Slow, eerie covers of hard rock classics: Nouela took Soundgarden's "Black Hole Sun" and made it a very creepy closing credits track in A Walk Among the Tombstones. Meanwhile, Skylar Grey's chilling version of Robert Palmer's cheery "Addicted to Love" may have been the best thing about Endless Love (even though it only was heard in the trailers.)
Riveting life and death moments: There were not two more heart-wrenching moments on screen in 2014 than Brendan Gleeson's Father James awaiting his possible murder on the beach at the end of Calvary, and Angeli Bayani's Eliza standing with her two young children at the edge of a cliff contemplating a future of misery in Norte, the End of History. These scenes are why we watch movies.
The woman cinematographer: Reed Morano shot The Skeleton Twins and Autumn Blood. Rachel Morrison shot Cake and Little Accidents. Tami Reiker filmed Beyond the Lights. And two of the most acclaimed female DPs of all time, Mandy Walker and Natasha Braier, should get some Oscar attention for Tracks and The Rover, respectively. The odds are against them receiving a nomination, but going up against highs odds is nothing new for a woman trying to make it as a cinematographer.
The black woman director: It is very hard to get directing opportunities if you are a person of color. It is very hard to get directing opportunities if you are a woman. So how cool is it that in 2014, three black women -- Amma Asante (Belle), Gina Prince-Bythewood (Beyond the Lights), and Ava DuVernay (Selma) -- were able to put out acclaimed films. Maybe not a tidal wave, but progress.
Phoned-in failures: Monuments Men should have been better. The 100-Foot Journey should have been better. Jersey Boys should have been better. Then again, I'm sure a couple of my blogs should have been better too.
Indie God heaven: Jim Jarmusch (Only Lovers Left Alive), Wes Anderson (The Grand Budapest Hotel), and Richard Linklater (Boyhood) all made really good movies in the same year! And their English cousin Mike Leigh made Mr. Turner. It doesn't get much better than that for those of us looking smugly down on your superheroes and sequels.
English actors becoming dominant (you know, the way English actresses were twenty years ago): Seventeen years ago, four of the five Oscar nominees for Best Actress were British. A year later, British and Australian actresses grabbed six of ten total acting noms. Though Jake Gyllenhaal or Michael Keaton or Steve Carell are likely to get noms this year, could we see Eddie Redmayne, Brendan Gleeson, Benedict Cumberbatch, Ralph Fiennes and Timothy Spall monopolize all the Best Actor nominations?
One word/compound word titles: This isn't quite my top five for the year, but it's pretty damn close: Whiplash, Snowpiercer, Birdman, Foxcatcher, Nightcrawler. (BTW, my new project - Moviewatcher -- is now open for development bids.)
Marion Cotillard -- In The Immigrant, she played a poor, iron-willed Polish woman struggling to survive in New York the early 1920s. In Two Days, One Night, she played a working wife and mother struggling to overcome depression and hold onto her job in modern Belgium. The fact that she nailed both of them so thoroughly attests to the fact that this may be the finest actress in Western film today.
Can't wait to see what 2015 offers. I'm going out on a limb and predicting there will be 52 weeks.