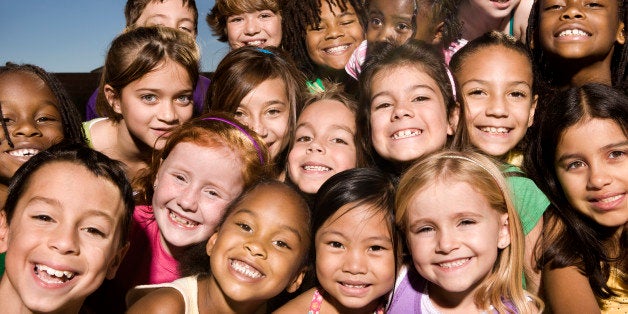 This has been a very tough year for children. Recession, wars and natural disasters have impacted children in staggering numbers. More than 16 million children are living in poverty here in the U.S. and over 400 million children live in extreme poverty around the world. To make that incomprehensible number even more devastating, this translates to half of the world's children. In the U.S. alone the number of homeless children has climbed to 1,168,354. To date 11,420 children have died in the Syrian conflict and over one million more are living as refugees.

Children are so vulnerable. They have no voting power, no way to advocate for themselves. They are dependent on the adults around them to provide them with safety, food, water, shelter and education. They are dependent upon the whims of politics, the luck or chance of where they happened to born, and to whom. Their wellbeing has little to do with how hard they work, or their "grit" or persistence. It has everything to do with circumstance.
Let's make 2014 a new kind of commitment to our world's children.

The results will benefit all of us. A recent study by UNESCO found that every $1 spent on education generates $10-15 in economic growth.
Healthier, stronger children provide benefits to the health care system, the economy and the future stability of a country. Children who are emotionally and physically strong contribute to the overall wellbeing of a nation's people.

How can we make 2014 the Year of the Child? Let's look at three different "buckets" of action: self, community, world. How in our own lives can we take action for a child? How can we take action in our communities? How can we take action in the world?

For ourselves: whether you are a teacher or a parent, or just a casual friend to your friend's child, be a transformational mentor and role model for the child in your life. Be affirming. Be specific about what you love about that child. Give the child the benefit of the doubt. It's very rare that a child is truly "lazy." Generally there is something standing in the child's way. Ask the child what is standing in her way if she is struggling with something. Be an ally. Listen deeply to her stories. Do not judge her. Read with a child. Studies show that reading aloud to a child every day puts that child a full year ahead in school compared to a child who is never read to. This is powerful stuff. Put a blank paper (or screen) in front of a child. Then say: "Tell me a story." Be the kind of listener who inspires a child's stories.

For our communities: partner with a local center or school. Ask them what they need most. If it's books, host a book drive. If it's technology, host a tablet drive. If it's volunteers, coordinate your friends and visit the school to read once a week to the most struggling readers. Provide access to books and resources. This may seem simple but community-based organizations and schools really need these things. The budget cuts have been brutal, and they have sapped schools and centers of vital resources that are simply put: life changing. Support schools working in high poverty areas such as Detroit and Los Angeles, or in rural areas where support is often meager. Find the name of a local school and send a box of books. Write an email to the principal and ask what kind of help would matter most. Advocate for early childhood education via the campaign Too Small to Fail or by supporting politicians' efforts for universal pre-kindergarten. Advocate for more concerted efforts to help a school offer twelve month programs to combat the "summer slide" with richly rewarding academic offerings.

For our world: advocate for an end to conflict. Children do not thrive in conflict. They do not thrive in a home with conflict, and they do not thrive in a world of conflict. Childhood is so short, so fleeting. Every year that goes by that a child is living in an unsettled way, or living in a conflict area, we lose one more year of potential in that child's life. We are all at risk when this child grows up unsettled because she grew up in unsettled ways. Sign up with an advocacy organization that defends the rights of children, from Save the Children to the United Nations High Commissioner for Refugees. Pay close to attention to their emails and what is being advocated for. Put your name out there. It really does matter. Children are suffering deeply in Syria, Congo and Central African Republic. These problems are overwhelming. But if we advocate for children specifically, we can be of help to them. We can advocate for funding for vaccines, for warm coats in this cold weather for refugee children, for movement in a peace process to bring about respite to the ongoing sounds of gunshots and bombs that terrify and traumatize already traumatized children. Support organizations that are doing grassroots work on the ground, from LitWorld where we sponsor children's LitCamps and LitClubs to Partners in Health, supporting children's health in the most high risk areas of the world. Every small contribution helps a lot, and the combined energy of many lifts that work up and helps it to fly.

Remember the places where natural disasters have struck, from Haiti, where people still live in tent cities, to the Philippines, where a typhoon devastated large regions and upended the lives of hundreds of thousands of children. There is plenty we can do. We can sponsor efforts to get children back to school, the most normalizing thing for children to do. We can support organizations like the Children of Kibera Foundation or Project Pearls, small community-based groups that have started actions that help children to continue learning even in spite of natural disasters. Every year we miss is a year we all lose.

Let's make 2014 the Year of the Child. Let's be driven by and guided by one question: Is this good for a child? Whether it's a bill to Congress, a United Nations resolution or an action you take in the home or the community, this is a good guiding question and the only one that should matter.
Calling all HuffPost superfans!
Sign up for membership to become a founding member and help shape HuffPost's next chapter