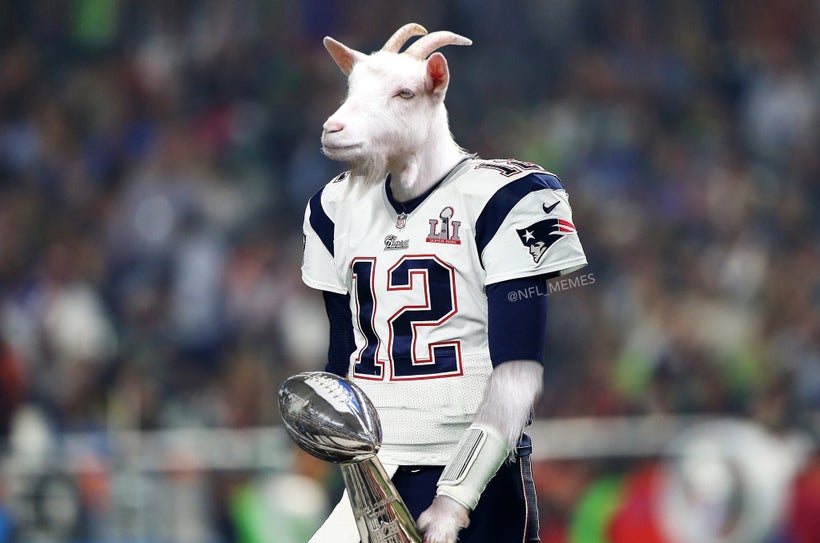 Remember the good old days?  Well, that's what your children and grandchildren will be saying about the year that was in sports in 2016/17. It was a year that saw the greatest comeback in Super Bowl history, the greatest comeback in World Series history and the greatest comeback in NBA Finals history.  Toss in some of the most dramatic, last-second finishes in both the NCAA basketball championship game and the College football championship and you've got it... the greatest single year in the history of sports!  
I'll remember 2016 for another reason, it's the year (for me anyway) that the term G.O.A.T, in sports, solidified its spot in my limited vocabulary, taking on a new primary meaning. It used to be the goat in sports was the loser who blew the game, a distinction no one aspired to. As a kid in the late 70's and 80's I loved baseball and I loved to dreamily watch grainy films of Babe Ruth, Mickey Mantle, Ted Williams…stars from a different age. They were indeed the greatest of all time. It seemed (to me anyway) that the stars of my present age didn't quite measure up. Wade Boggs was super good. Dennis Eckersley had a few great years. Mike Schmidt could pound homers… but they were not LEGENDARY. They were not larger than life. They were just talented guys with mustaches. They were Bill Buckner, All-Stars in their time, Hall of Fame(ish) in their numbers at times, but all-too-human, ball-between-the-legs, goats as well. And when my team got behind in the late innings, we NEVER seemed to come back with two outs in the ninth. I wished it! I prayed it! Never happened. When my football team needed a touchdown, and an onside kick and a Hail Mary in the final minute, it never happened. When my basketball team needed that half court buzzer-beater… it was an airball.
But that was then. Now the good old days are back and they are back in epic form!  In 2016-17 the stars aligned.  The G.O.A.T.s all came in to pasture at once. The Cav's fans who sat knowing that in trailing 3 games to 1 it was over, and Cleveland would remain the same old goat-losers as always were instead offered a miraculous comeback for the ages. The Cub fans who saw their amazing season slip away as their team crawled into a deep, dark, goat-hole, down 3 games to 1 had to know in their heart of hearts it was over. That little statistical metric that creeps and crawls in the lower corner of the ESPN real-time box score told them that their team had a 98% chance of losing. Then they won! Then the Pat's fans saw that same little meter hovering at 99.7%!  That's right…Atlanta had a 99.7% chance of winning for most of the second half.  Until they didn't.  Same for Villanova, they had no chance…'till the shot fell. Clemson looked beaten, 'till they scored with no time left. And in a tip of the hat to Title IX, the Oregon girls Cross country team became the lowest ranked team in history to win an NCAA national championship thanks to to a gutsy, all-out sprint by Maggie Schmaedick for 64th...yes 64th, place. (You gotta click that Schmaedick link...it's absurd!) If she's 65th, they lose. But she beat the girl from Michigan ahead of her...by 1/100th of a second! Oregon G.O.A.T.s...Michigan goats. It's crazy. It's too much! Someone cue Al Michaels! "Do you believe in miracles?" 
And just as I am about to close my case with a solid, but US-centric case for this being the G.O.A.T. of all sports years let me rest my case on the ultimate of all underdog stories by trotting out the lowly Leicester Foxes of the English Premier Soccer league. They won it all in 2016 after being slated at 5000-1 odds as the season started. If you are not familiar with English Soccer these guys are the Cleveland Browns and the Jacksonville Jaguars rolled into one. They came in dead last the year before. They narrowly avoided relegation (that's UK-English for "you suck so badly we are evicting you and your entire city from the majors to the minors") by going on a miraculous winning run at the close of 2015. And yet they beat teams who had single players whose salaries nearly eclipsed their entire payroll. More than improbable. Darn-near impossible. But it was 2016. Miracles were in the air.
How in the world did all this happened in just one year? What in the universe aligned to make it all so? To have so many prayers of desperation answered in one trip around the Sun? Cosmic! To have so many against-all-odds believers believe and be rewarded for believing. Crazy!
Then there's the flip side. Perhaps maybe we should consider the losers and ask if this is the W.O.A.T. season in the history of sports? For Nick Saban, for Falcon fans, for the Warriors and the Indians. What a bunch of goats!  They blew it. How do you manage to blow a lead like that! Choking at epic levels! Bad luck, bad decisions, bad karma to the extreme. A 99% shot to win and you goat your way to a loss?
The downside of goat-hood is depressing, but the upside is so exhilarating!  It's like every cheesy, improbable, unrealistic, Hollywood sports movie ending got stuck on a Ground Hogs day type replay reel in 2016. Cinderella's and buzzer-beaters and do-you-believe-in-miracles over and over again. If they were movies, reviewers would have chided the script writers for being so un-imaginative and sappy. They gave us what we wanted to see, not what we knew to be realistic. The truth is the underdogs lose and the last-gasps fall short. That's the hard truth. Usually. Except in 2016-17.
So here's to the year that was, and apparently as of the Super Bowl, is still unfolding. Even if your team didn't win against all odds, we all now know it's possible. We saw it. Over and over and over again. In fact, if we are not careful we might just begin to expect it. And wouldn't it be cool if we expected it, not so much in the sports world, but in the real world. And what if, just maybe, for once, we quit expecting to lose and quit throwing in the towel when we are WAAAY behind? Could we see parts of our careers and our marriages and our lives in general go from goat-like to G.O.A.T-like. There's a risk there because the Falcons, the Indians, the Warriors, the Crimson Tide did not chose to lose. They just did. Sometimes you lose. It's not the ref's fault, its not the coaches fault, it's not the fault of any one play or player. I must admit I still suspect there's a lot more goat in me than G.O.A.T. in me, and my teams, and my life in general. But here's to at least believing in miracles. Even if they only tend to happen to others, they happen. Even if the spreadsheets say theres a 99% chance you are about to be a loser again– keep hustling. Maybe you're that underestimated, short, slow, not-very-athletic, un-draftable, Patriots receiver that no one wanted, but who's about to pull in a catch one millimeter from the blade of grass that would end your season. Maybe that's you… there's a 99.7% chance it's not you. But, what the heck, these days, I like your odds. And besides, the rest of us need your sappy, miracle story to inspire us onward. 
Mark Moore, the author, obviously likes sports analogies and seems to pull for sports teams that lose. He works at Mana Nutrition who believes, against all odds, in the end of global malnutrition in children.
Calling all HuffPost superfans!
Sign up for membership to become a founding member and help shape HuffPost's next chapter
This post was published on the now-closed HuffPost Contributor platform. Contributors control their own work and posted freely to our site. If you need to flag this entry as abusive,
send us an email
.