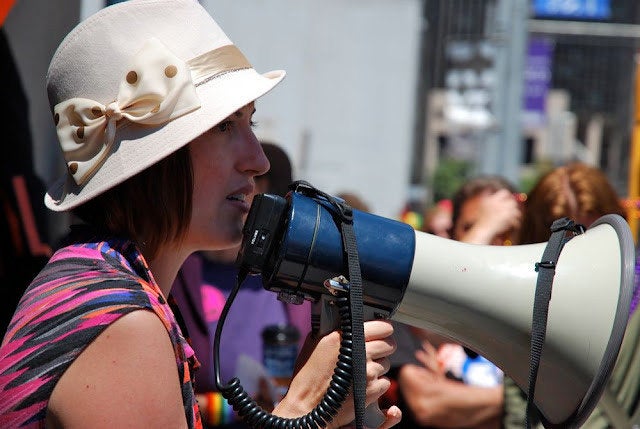 San Francisco Pride 2012 had its wasted revelry, long Porta-Potty lines, and enough boys and girls in bra-and-angel-wings-on-top, bathing-suit/fish-nets/rainbow-colored-tutu-on-bottom combos to fill Civic Center a couple of times over -- all things we've come to expect and love from the celebration. What was different from other recent years was the amount of radical activism coinciding with the festivities. A run-down:
Direct-action group Gay Shame's latest attack on the corporatization of Pride events came in the form of a poster showing a match lighting a hybrid U.S.-rainbow flag. It was shared thousands of times on Facebook before it showed up pasted dozens of places around the Castro and Mission districts. This year the group targeted San Francisco's own LGBT Police Officers' Pride Alliance (reminding readers that the original Pride march commemorated an anti-police riot outside New York's Stonewall Inn), and the city's controversial Sit-Lie policy, which makes it illegal to sit or lie on sidewalks (affecting houseless people in particular). Also making Gay Shame's most-loathed list was City Supervisor Jane Kim, who was a backer of a special tax break for Twitter that was approved by the board of supervisors in 2011. For a city recently named by the National Low Income Housing Coalition as the country's most expensive rental market, the company's new headquarters at Market and 10th Streets will push out people who don't make tech-industry salaries.
Every year San Francisco Pride coincides with the world's largest LGBT film fest, Frameline. On Saturday night a group of 20 QUIT! (Queers Undermining Israeli Terrorism) members preempted (in possibly the politest way you can preempt) an Israeli-Consulate-sponsored movie showing, garnering simultaneous boos and cheers. One member read criticisms of the Israeli government's treatment of Palestinians off a hand-made scroll; another handed Frameline's executive director, KC Price, an award for "Pinkwasher of the Year" in the form of a pink sponge. (According the QUIT!'s website, "Brand Israel" markets to the LGBT community in order to "repair an image tarnished by atrocities" against Palestinians.) Audience members were treated to moist towelettes bearing similar messaging.
The organization ACT UP became notorious for demanding action on HIV/AIDS in the 1980s and '90s in creative and often aggressive ways. (In 1989, its members chained themselves to the New York Stock Exchange, protesting the high cost of AIDS meds.) A newly formed San Francisco chapter emerged on Pink Saturday to launch banners (messages included "AIDS Is Not Over And Neither Are We") from several rooftops in the heart of the inebriated partying near 18th and Castro Streets. Down below, members distributed condoms bearing the group's famous "SILENCE = DEATH" slogan.
Finally, OccuPride crashed the Pride Parade on Sunday, filing past the street barriers while chanting, "We're here, we're queer, we're not going shopping," and wielding 99-percent-related paraphernalia along with a banner calling for the release of Cece McDonald, the black transgender woman imprisoned in Minnesota for killing a straight white man in self-defense. On the hundred or so protesters who inserted themselves into the parade for 10 minutes, Donna Sachet, a local draglebrity and long-time emcee for the Parade telecast, bantered to viewers that while "we usually avoid political issues in the parade," Occupy is "a worldwide phenomenon" and "a legitimate voice that needs to be heard," adding that the city's first out supervisor "Harvey Milk himself was very involved with reaching out to other groups."
By now, most of the glitter has been street-swept into the gutters of Castro and Market Streets, but here's to hoping that in 2013, for every banner advertising Principal Sponsors Bud Light, there'll be another bearing the message (as one of ACT UP's did), "We Don't Wanna Marry / We Just Wanna F*** / Smash The Church / Smash The State."
Calling all HuffPost superfans!
Sign up for membership to become a founding member and help shape HuffPost's next chapter