Last January 20, 2012, I spoke in TEDxMontpellier. Montpellier is a cosmopolitan city in southern France, close to Spain. I was invited to share my experience in using social media to bring about social change in the Philippines -- particularly about my experience in building up the Philippine Funds for Little Kids (or as it is popularly known, the Yellow Boat Project).
It has been an exciting journey for us over the last 16 months since I first found out about the story of the kids who have to swim just to be able to get to school in the mangrove village of Layag-Layag in Zamboanga City.
We gave the first yellow boat last March 27, 2011. And we have since expanded into three communities, namely: Layag-Layag, Talon-Talon, Zamboanga City; Isla Mababoy, Guinhadap, Monreal, Masbate; and Lakewood, Zamboanga del Sur.
We've also given three big motorized yellow boats and 120 smaller yellow boats to these communities.
YELLOW BOAT OF HOPE. Kids are now able to go to school because of available transportation. Photo from Philippine Funds for Little Kids
It was not a journey without failures and mistakes. We learned a lot during the last year especially about the real essence of volunteerism and about the challenges our country faces in education. But we continue to face these challenges.
The Yellow Boat Project became more than just a dream to help these kids get to school safe and dry -- it has become a national movement dedicated at helping communities become empowered agents of economic and social change.
When we were in the first months of the project, I wrote about how we are harnessing Filipino "people power" online and about how the project is leveraging on the power of Facebook, social media and volunteers from all across the nation and even the globe.
We have volunteers in the US who continue to raise funds for our projects, we have partners in the business community who continue to support us, and we have so many volunteers on the ground who mentor and shape decisions together with the 3 communities we are currently helping.
Early on, I emphasized the importance of using "people power" and volunteerism not just during elections but also during the governing period, when it is most important. And that is what we are trying to do.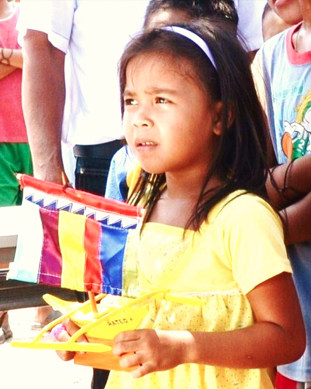 BETTER FUTURE FOR CHILDREN. Children have a better chance at life with an education. Photo from Philippine Funds for Little Kids
At TEDxMontpellier, I shared the four key lessons I learned from the project and fortunately, it is easy to remember. It stands for HOPE precisely because the Yellow Boat Project has become a symbol of HOPE.
H is about harnessing one's potential. It is about finding your passion in life. I personally feel, even after 15 months into the project, that I have found my life's mission and it is to help children who struggle to go to school.
And more than that, it is to help bring communities in the Philippines the resources they need to get a better chance in life. Without discovering what you are passionate about in life, it is very hard to stay focused on a mission, on a project. You've got to find what you love to do.
O is about opening one's mind and one's heart. When I first heard about the story, I couldn't shake it off. I didn't know what to do then. I shared it on Facebook, not thinking that it would transform into a thriving national movement helping children in three communities around the Philippines.
P is about Perspiration. You cannot help people without getting both your hands and your feet dirty. When we want to help people, we should act on it. Only in doing so can we gain insights into how our efforts and operations can be made better. Perspiration is very good for the body and the soul too, as it cleanses our system. Personally, I have become thinner as a result of my involvement in the project.
E is about empowering others. And this is for me, where the challenge really lies, even when you think of our national leadership. In order to succeed sustainably, we must equip and empower more leaders to take on the challenges in education and the other challenges our country is facing.
Help us

In the Yellow Boat Project, we continually seek out community leaders who can help us manage things. We are also now looking at sustainable models of social entrepreneurship so that the families we are helping can earn more income and become fully empowered citizens.
I used to have a vague idea of what HOPE is. It's now very clear to me. Hope is actionable. Hope is not just a symbol; it is an idea waiting to be executed and shared. So please come and jump on board our Yellow Boat (Project) and together let's make it a better world for children!
Related
Popular in the Community