In their new HBO documentary The Yes Men Fix the World, the eponymous pranksters take aim at unapologetic free market profiteers. Yes Men Mike Bonanno and Andy Bichlbaum articulate their agenda concisely: "What we do is pass ourselves off as representatives of big corporations we don't like."
It doesn't take the full measure of the duo's abundant wit to expose the unfettered greed of the corporate executives. At a conference on international finance, Bonanno poses as a spokesman for DOW Chemical (the company responsible for the largest industrial disaster in history, which left 5,000 dead and 100,000 sick in Bhopal, India following a pesticide plant explosion). To enthusiastic applause, Bonanno introduces the fictional "Acceptable Risk Project," a model to enable organizations to calculate whether the human toll of a business enterprise is worth the potential profit. Following the presentation, an audience member approaches Bonanno. "Whichever way you do this you're going to cost some lives," the man offers with a boyish giggle, "but if you're going to make money in the process it's acceptable."
As the stunts become increasingly absurd (on behalf of Exxon, the Yes Men pitch a new biofuel made from the flesh of victims of climate change) the formula begins to feel repetitive, and when the bad guys stop taking the bait, the film's message falls flat.
Even when their indictment of free market capitalism is unconvincing, their sardonic humor carries the show. At the Catastrophic Loss Conference, the Yes Men debut the "SurvivaBall," engineered by the consummate corporate villain, Halliburton. The business manager need only don this inflatable suit to protect himself from the effects of global warming, explain the Yes Men. When asked how the SurvivaBall might stand up to a terrorist attack, the pair dutifully demonstrate the "turtle position," ducking their heads into the orbs.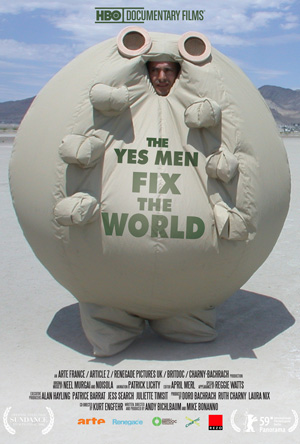 The film borrows from Michael Moore's brand of vigilante journalism but feels more honest and heartfelt than most of Moore's big-budget spectacles. The Yes Men Fix The World premieres on HBO on Monday, July 27 at 9:00 PM ET/PT.
Calling all HuffPost superfans!
Sign up for membership to become a founding member and help shape HuffPost's next chapter