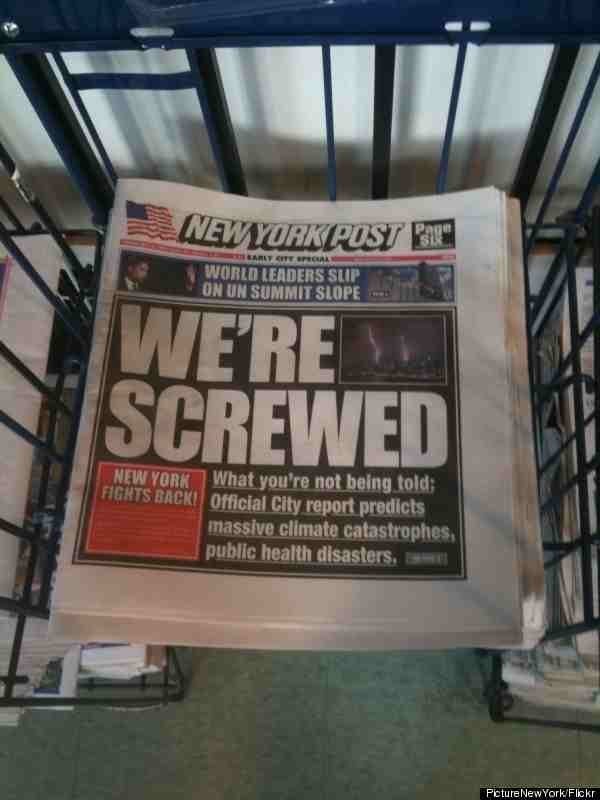 Just about ten months after the successful distribution of a lovingly crafted, satirical facsimile of the New York Times, the activist-pranksters known as The Yes Men have distributed a fake edition of the New York Post throughout New York City. This spoof bears the headline, "We're Screwed," so, naturally, the fakeness of the paper will probably escape detection, even among discerning employees of the New York Post.
The fake Post focuses on environmental issues. And while the paper is fake, the reporting is entirely on the level. The "We're Screwed" lead story documents the findings of the New York City Panel on Climate Change. "New York Fights Back" details how citizens are taking initiative to be environmentally conscious. The fake version of Page Six even "gossips" about the environmental activism of stars like Brad Pitt and Seth Rogen. In fact, many people will probably penetrate this fake by turning to Page Six, and wondering where all the venality is.
Of course, the Yes Men -- whose typical stock in trade is to pose as corporate or government spokespeople, gain access to high-profile events, "make shocking and denigrating comments about workers and consumers and then point out what appears to be a lack of shock or anger in the response to their prank" -- have taken care to cleverly plug two forthcoming documentaries: Franny Armstrong's The Age Of Stupid and their own The Yes Men Fix The World.
Read more at: http://www.huffingtonpost.com/2009/09/16/survivaball-new-yes-men-p_n_288550.html