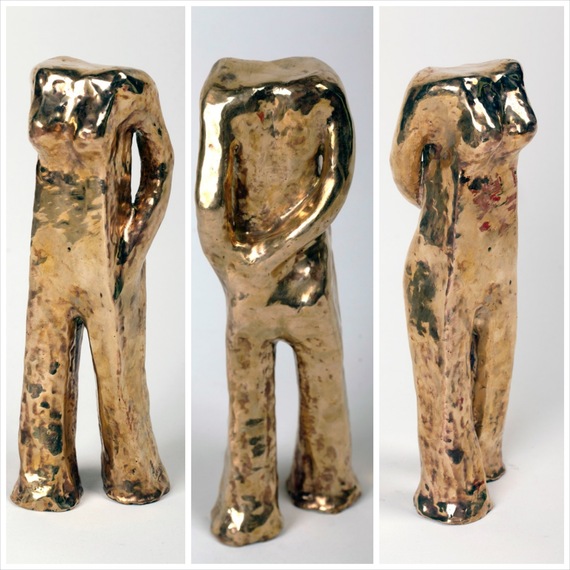 It regularly comes as a surprise when I say I've been sculpting for more than 15 years. It sometimes comes as a surprise when I say I've been offered places at Cambridge University as well as in a dual master's degree between Sciences Po and Columbia University in the City of New York.
It often comes as a surprise when I say I'll be following both paths.
It always stuns people and they rarely understand when I tell them I intend to finance my expensive studies with my art, through what I've called the "Yes, we can!" project. Their bewilderment is all the more justified that I'm 20 years old and that I've thrown myself into this ambitious project regardless of my nonexistent reputation in the art market. But facing the reality that it is hard to come by scholarships for degrees in finance-related subjects (even if I'm convinced it is a necessary step for me to work in green finance), I've harnessed my passion for art and especially my sculpture called "Yes, we can!"... made in 2008, obviously .
At a time when all talk about the higher education bubble, I wanted to share the creative and artistic solution I've imagined to avoid the vicious circle of student loans... and maybe give others ideas.
First and foremost, let's rewind to the 2008 presidential campaign. Barack Obama's motto makes a deep impression on every one of us all across the world. This "Yes, we can!" particularly stroke a chord with me on June 30th, as I had just been accepted to the Lycée Henri IV (a prestigious high school in Paris). This was really good news, and the excitement was so great that when I announced it that very night at my clay modeling workshop I broke the piece I was working on. Symbolically speaking, I couldn't stand to see this sculpture looking like a disarticulated puppet, embodying a lost momentum, when in itself it was supposed to be synonymous with a far-sighted project, a new step. As soon as I would repair it, it would break again. Once, twice... I was ready to start all over again if the third attempt hadn't been fruitful. But fortunately it was! So I decided to call this emotionally charged piece "Yes, we can!" to celebrate a historic political event, but also the determination, obstinacy and motivation the sculpture materializes.
Five years later, in March 2013, I'm organizing the vernissage of my first exhibition. Most importantly, it is the occasion to gather people dear to my heart before I leave for Moscow at the end of the summer for an exchange program. It was no coincidence that I had selected the exuberant capital for a once-in-a-lifetime experience, to simply "Move On," like the name of my exhibition suggested. It was no coincidence either that it was "Yes, we can!" featuring on the invitations. During the vernissage, I understood that my sculptures could mean more than just a hobby. Besides, I had heard that the Tsars' smelters' knowhow was perpetuated from generation to generation to present day, and that I could get an introduction to the modern craftsmen. I didn't need more to be convinced that "Yes, we can!" would be traveling with me. If the idea to make some bronzes out of this statue, already of that color, had taken root a while ago, it really blossomed when it became motivated by a tangible purpose: finance my studies.
Indeed, last February, I was offered a place at my first-choice university and program. However, this offer is conditional, notably on me being able to afford the fees associated with studying in one of the best universities in the world. I couldn't dream of a better occasion to combine passion and reason and finally throw myself into this big challenge: go for the gold thanks to the bronze. For some I'm talented, for others deserving, but for all I needed to prove I'm able to find the means to achieve my goals. Hence I launched a crowdfunding project that enabled me to raise about enough money to make eight original bronzes based on my "Yes, we can!" sculpture serving as a mould. The first five ones are shiny with rosy reflections, while the three last ones are silver-plated. Seven of them* are the assets on which I rely to cover the costs incurred at Cambridge as I've put them for sell. Up to now, a gallery in Hong-Kong purchased one, while another is exhibited in Moscow and two others in Paris. This is just the beginning.
I can't tell yet if the whole project will work out; but in any case, what I've learnt through this journey is that everything is possible as soon as you put your (he)art and soul into it. It is true that the "Yes, we can!" project doesn't fit in a box, and that as a result many people have been more patronizing to me than acting as patrons. But ultimately, I've come across incredibly supportive, caring and generous individuals (sometimes complete strangers...) thanks to this unusual and surprising initiative. It is true that my plans are somewhat unreasonable and that I cannot blame people calling me whimsical. But ultimately, by deciding to let no money issues get between me and my dreams, I'm turning them into reality.
*I intend to offer the remaining bronze, the first-ever made bronze of "Yes, we can!", to President Obama, for he has been the project's main source of inspiration and empowerment.
REAL LIFE. REAL NEWS. REAL VOICES.
Help us tell more of the stories that matter from voices that too often remain unheard.