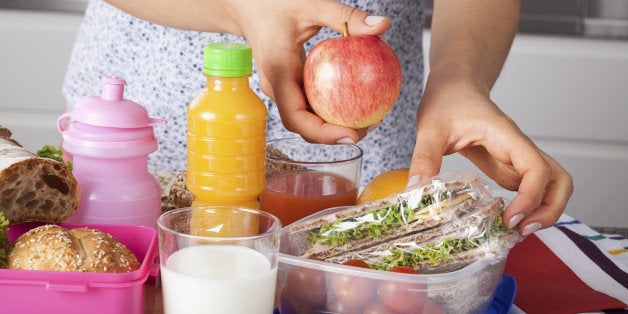 You're young, you're busy. There are so many places to go and people to see, but as we all know -- too well! -- money quite unfortunately doesn't grow on trees, and cooking every day can be a headache. Here are some tips for preparing meals for the week, and staying thrifty with your time and money along the way.
1. Gather the essentials. If you are going to be the queen (or king!) of meal prep, the first step is to invest in a few sturdy food containers. Use ones that you can stack in your fridge and throw in your bag for work or school. Glass containers are especially helpful because they are safe in the microwave, oven, and freezer. You will also need a few kitchen essentials such a large pot and frying pan with lids, a baking tray, slotted spoon, can opener, measuring cup, and strainer. A blender or food processor, toaster, slow cooker, and coffee machine or teakettle are also fun if you're feeling fancy.
2. Fail to plan, plan to fail. Planning what you will eat throughout the week is key. For each meal, start off with the staples -- grains, fruits and vegetables, and protein. Choose a whole grain such as brown rice, quinoa, oats, whole grain pasta, at least one fruit or vegetable that will give your meal plenty of vitamins and plenty of color, and a quality protein source such as chicken, beef, eggs, seafood, beans/legumes, or tofu. Dairy products like milk, cheese, and yogurt are also protein-rich. Use these main ingredients to create a shopping list for the week.
3. Shop till you drop. Pick one day out of the week and label it official meal shopping and prep day. If you're thinking "I don't have time for that!", not to worry. If you follow these steps, the process will only take a few hours at the most, and the monetary and health benefits will be well worth you time. When making your shopping list, check your house for ingredients you may already have - no need to be over-stocked! Consider buying produce, whole grains, meats, and cheeses at your local farmers' market to connect to those who grow your food and even save some cash when you buy foods in season. Don't forget your reusable shopping bags -- if you've been storing your plastic bags under the sink like me, you don't need to accumulate any extra!
4. May the prepping commence! Start with the food that will take the longest to cook -- this could be any of your food staples so check your recipes -- steaming brown rice, roasting chicken, and baking potatoes all can take about an hour. In the meantime, peel, chop, and cut up the rest of your raw fruits and veggies to have ready as snacks for the week. While waiting for your meals to finish cooking, line up your food containers in an assembly line so the process can be as smooth and fast as possible.
5. Divide and conquer. Once everything is ready, portion each meal into your food containers. Get creative! Mix and match your main and side dishes and add different sauces, spices, leafy greens, and dried fruit and nuts so your taste buds stay intrigued.
6. Finito! After each container has cooled down, place half the week's meals in the refrigerator and the rest in the freezer. Move the frozen meals to the fridge to thaw one day before you are going to eat them.
Thank you to Chiara Giombetti for her contribution to this blog post.
REAL LIFE. REAL NEWS. REAL VOICES.
Help us tell more of the stories that matter from voices that too often remain unheard.