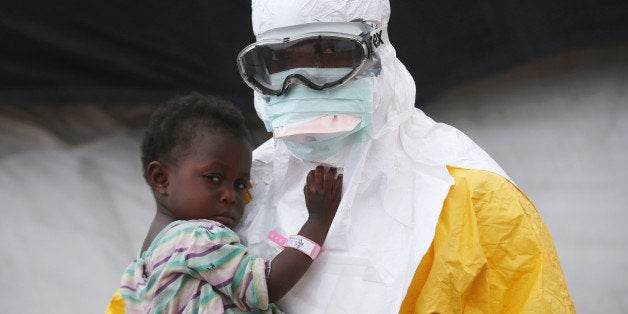 In 2002, I had the opportunity to meet Nelson Mandela. We were speaking about the phenomenon of social isolation -- a longtime area of focus for me -- and I said, "I can imagine you know a lot about isolation." But to my surprise, Madiba responded, "No." He told me that even on Robben Island, imprisoned for so many years, "We were all brothers working together with a common purpose. I was never alone."
And then he continued. "But I have seen isolation. I know what that loneliness looks like. Isolation is the child with HIV in a village with no one to care for him. No one to feed him, clothe him, or touch him. I have seen isolation. And it is very bad."
I've been thinking about that conversation a lot as the Ebola crisis unfolds, with some 9,000 people in West Africa infected by Ebola, a disease that has killed or will kill half of them.i
World Health Organization Director General Dr. Margaret Chan has called the outbreak "likely the greatest peacetime challenge" the international community has ever faced -- a threat not only to public health but to stability, prosperity and national security as well.ii
Images associated with Ebola have made the disease seem all the more terrifying. The bloodshot eyes of Ebola patients. The hemorrhagic rash Yet there is a less visible aspect of the virus that is devastating, too: The social and psychic wounds it is inflicting on the more than 3,700 children in Liberia, Sierra Leone and Guinea who have lost at least one parent to the disease.
The loss of a mother or father is traumatic in the extreme -- yet, for these children, the tragedy is being compounded by social isolation. At a time when they so desperately need comfort, contact, compassion and care, many are being shunned and ostracized for fear of contamination.
UNICEF has described a pair of Nigerian brothers, aged 17 and 21, whose mother -- a nurse -- died from Ebola. They say they can't return to their home because of stigmatization. One brother told how, when he went to church, people had accused him of trying to spread the virus.iii
For younger children, the reality of being orphaned by Ebola is even worse. With no means to provide for themselves, they are dependent on adult care -- yet even relatives are often too afraid to take them in. Children tell of being chased away by family, even though they've tested negative for the virus.iv
They are left to scavenge for food and shelter, even as their hearts are breaking. Save the Children President and CEO Carolyn Miles recently met an adolescent girl in Liberia who has been left to raise her three younger siblings in the wake of their mother's death.
Miles wrote, "Even though they were not infected by the virus, every day has become a struggle for survival."v
There can be no question that addressing Ebola's health challenges is essential. Caring for the infected, and preventing further transmission, must be an urgent priority. But emotional health is critical too -- for survivors, as well as the sick. And research shows that social isolation is one of the cruelest experiences human beings can suffer. Indeed, chronic isolation and social pain can result in health impacts similar to the effect of high blood pressure, obesity or smoking. It can accelerate aging. It can lead to despair that hampers an individual's ability to function. When you consider isolation within the context of poverty, the burden is doubly great, as people who already feel marginalized and neglected are branded with stigma and shame.
Even as experts worry about the impact of Ebola on national and regional economies, let us not forget the crippling effect it can have on an individual's wellbeing, as his or her educational and employment opportunities are cut short by discrimination and fear.
That is why, as the global community struggles to contain the Ebola outbreak, we must tackle it comprehensively. Even as we address this public health crisis, let us address the humanitarian crisis, too. Communities need to be educated about the realities of the contagion risk. Relatives need support and reassurance as they take in orphaned family members. Innovative options should be explored and embraced, such as enlisting now-immune Ebola survivors as caregivers.vi
These steps are essential to build effective and sustainable strategies that foster belonging and focus on rebuilding community connections. And health care and humanitarian organizations on the ground need funding on an urgent basis: As of September 30, UNICEF reported that it had only received one-fourth of the $200 million it had requested for emergency assistance to West African children and families.vii
Mother Teresa once said that "One of the greatest diseases is to be nobody to anybody." Children orphaned by Ebola have already lost too much. We must spare them the affliction of isolation. Surely, we can summon the courage, compassion and commitment to do better.
Kim Samuel is President of the Samuel Family Foundation and a Visiting Scholar at the Oxford Poverty and Human Development Initiative (OPHI), where her research focuses on social isolation and multidimensional poverty. In October, 2014, she convened the first global symposium on Overcoming Isolation and Deepening Social Connectedness.
http://www.cdc.gov/vhf/ebola/outbreaks/2014-west-africa/case-counts.html
http://www.who.int/dg/speeches/2014/security-council-ebola/en/
http://www.unicef.org/infobycountry/nigeria_76103.html
http://www.usatoday.com/story/news/world/2014/10/16/ebola-liberia-orphans-abandoned/17197573/
http://loggingcarolynmiles.savethechildren.org
http://www.un.org/apps/news/story.asp?NewsID=49108
http://www.unicef.org/media/media_76085.html