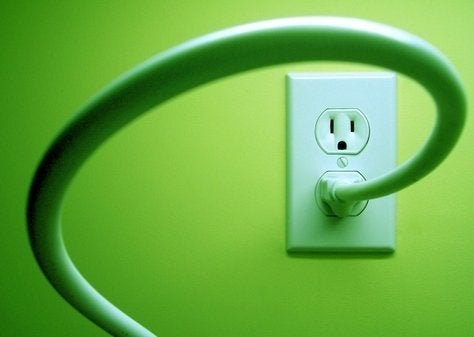 This weekend, 10,000 environmentally activated young people from around the country will amass in Washington, DC to urge our government to get serious about clean energy and the economy. The event is called Powershift and it could be the largest youth lobbyist environmental gathering in history. If Barack Obama's victory in November made a statement about the direction this country is taking then Powershift is the period at the end of that sentence. In a time when we'd expect youth activism to quell and subside, we find our youth empowered, engaged and excited. It's an interesting glimpse into the cultural, demographic and political shift we are experiencing as a nation and something tells me Joe Wurzelbacher will not be in attendance.

But what happens when the people in power actually want to see the same change as people who are otherwise chaining themselves to trees, planning sit-ins and protesting new airport construction plans? In Obama's new stimulus package, $38 billion dollars has been allocated to new Clean Tech research and implementation, so what purpose does an event like Powershift really have?

In 2007, under the rule of George W. Bush, the tone of the conference was bleak and frustrated, angry and emboldened. We saw Billy Parish (founder of Energy Action Coalition -- the organizers of Powershift) deliver a siren song rallying cry of our generation to Congress about the seriousness of Global Warming and the necessities of building a Clean Energy Core, we saw Van Jones make his mark to the youth in a "We Ain't Gonna Take It" style call and answer, and we saw thousands of young people of all backgrounds holding their hands in the air to protest the utter gridlock of the past administration. Their words and actions predictably and sadly, fell on deaf ears. However, today is a new day, and I suspect Powershift will take on a more celebratory tone as many of our generations' wants and asks have seemingly been granted to us by our new bold and pragmatic leadership.

And don't tell me Obama's only been in the Oval Office for a couple of weeks -- the man has passed his budget in record time and quicker than any president in recent memory. The stimulus package is bigger than the New Deal and thank God for it because the stakes are extremely high. It took Bill Clinton until August to get his budget passed and Reagan actually had to get shot to get his legislation through the house. So what does this all mean? It means we've entered the age of ideas, the age of progress, the age of accountability and maybe even the age of responsible government!

Speaking at the event will be Nancy Pelosi, South Bronx environmental activist Majora Carter, well known writer and speaker Van Jones, Billy Parish and many, many others. Performing at the celebration will be Phillidelphia Hip-Hop powerhouses The Roots, new-wave sensation Santigold, NYC punk rock upstarts the So So Glos and fuzz rockers The London Souls. I think it's safe to say that a change has come and it's happening right down the street (again). I'll be there with bells on.

Benjamin Bronfman is a musician and founder of Green Owl a NYC based Media and Record Label started by artists for artists with the vision that music and media can be sustainable - both economically and environmentally. Green Owl is an incubator for emerging ideas and is committed to respecting the planet through the use of sustainable technology and in the production of all its releases. He is engaged to artist M.I.A. and just recently became a father.
Calling all HuffPost superfans!
Sign up for membership to become a founding member and help shape HuffPost's next chapter