"Imagine the furore if a candidate for Mayor of London praised someone who openly defends the Taliban." - Sunny Hundal, the Independent, Monday 10th April 2016.
One expects better from the Independent, not living up to its name on this occasion, with the recent scaremongering article to hit its pages earlier this week. It could easily have been mistaken for one of the less reputable dailies, which plague not only the shelves of our shops but the minds of our impressionable.
In a climate where anxiety has become part of the daily attire donned by many of those commuting in London, it is particularly appalling that parties are attempting to cash in on this fear in an attempt to plump up campaigns ahead of the Mayor of London elections next month.

By attempting some sort of dot to dot between Conservative hopeful Zac Goldsmith and Pakistani politician Imran Khan, Sunny Hundal's article could easily be interpreted as a tit for tat for, in its own words, the "attacks he (Zac) has landed on Sadiq Khan, his opponent from the Labour Party, as a "radical" and "divisive" figure."
Hundal goes on to add, "I also asked whether the candidate for Mayor of London was aware of Khan's views on the Taliban. They are very public views, after all. Again, I got no reply."
Perhaps he should ask Bill Gates, who wrote to the so-called "Taliban Apologist" Imran Khan himself, lauding his polio eradication efforts - an effort which Imran Khan and his workers risked their lives for, by openly administering drops to children personally. The polio drive was bitterly opposed by the Taliban who killed many polio workers to stop them in their heroic efforts.
Or Hundal could ask the British Royal family, whose charitable function the "Taliban Apologist" Imran Khan was invited to, and where he spoke with Prince Charles and the Duchess of Cornwall.
Failing that, he should ask neighboring country India, who just last month invited and openly welcomed Imran Khan to commentate on the T20 Cricket World Cup - the nation's biggest passion- surely if anyone is to fear a Pakistani "Taliban apologist" it is going to be India, whose history of conflict with Pakistan is no secret.
As far as Imran Khan being one "who openly defends the Taliban", one can clearly see this as a slanderous misrepresentation, after casting an eye on the tweets below where he clearly names and blames the TTP (the Pakistani Taliban) on multiple occasions. In addition to this, Imran Khan was almost always the first and sometimes only mainstream politician not only to condemn such extremist attacks but also to arrive at the scene.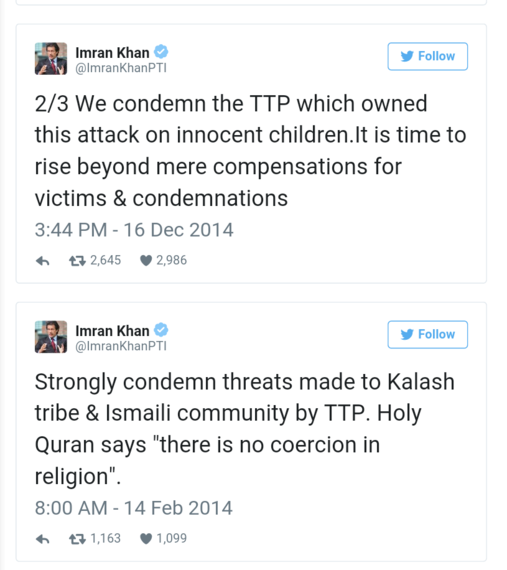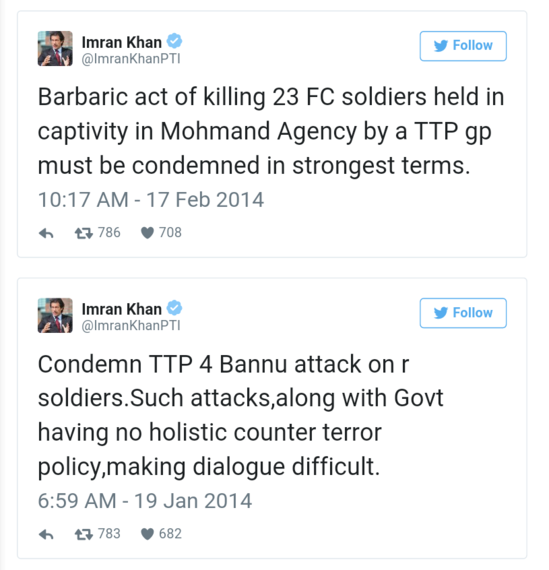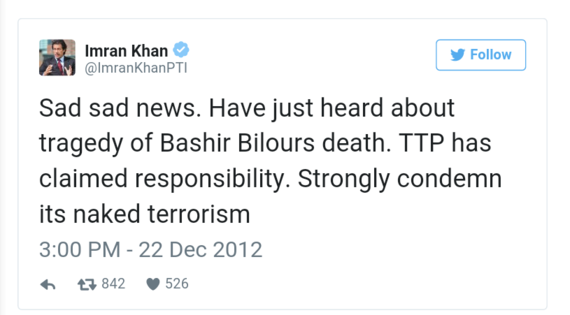 Referring to Zac Goldsmith, Hundal asks us to "imagine a candidate openly campaigning with a man who has been labelled an "apologist" because he stated those who are fighting against foreign occupation in Afghanistan are fighting a holy war."
Hundal may or may not be aware that Imran Khan was referring to the Taliban's views of it as a holy war and not his own. Ironically, it was actually a more balanced Independent article which explored this very opinion of Khan's, and states (referring to Khan) "The militants, he said, see the war as jihad."
Furthermore, believing in dialogue over military action does not make one a "Taliban apologist." In her book What Terrorists Want, prominent political scientist and specialist in Terrorism Studies Professor Louise Richardson, who is also the Vice Chancellor of Oxford University, writes "there appears to be a popular notion that to endeavour to understand or to explain terrorism is to sympathise with it, I reject this completely."
What Hundal may not have considered relevant to mention is that the national political parties of Pakistan and the government of the United States of America both eventually came to believe that dialogue was the way forward in dealing with the respective Taliban groups.
In September 2013, the Pakistan All Parties Conference resolved by consensus that dialogue be initiated with the Taliban.
In October 2015, US President Barack Obama and Pakistani Prime Minister Nawaz Sharif held bilateral talks at the White House to discuss the issue of the Afghan Taliban, where in a joint official statement both leaders "called on Taliban leaders to enter direct talks with Kabul and work towards a sustainable peace settlement."
Whether one loves, hates or is indifferent to Imran Khan, Zac Goldsmith or Sadiq Khan as politicians, is irrelevant and none of their views or parties are endorsed in this piece. But it is surely clear irresponsibility for a journalist to be painting a skeletal picture that is misrepresenting of reality in order it appears, to serve a political purpose.
Sorry The Independent, a poor article this time.
Calling all HuffPost superfans!
Sign up for membership to become a founding member and help shape HuffPost's next chapter