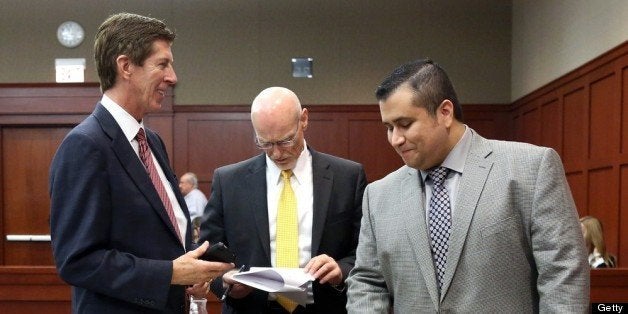 Now that the prosecution has rested and the defense is presenting its case, the odds of George Zimmerman being convicted of second degree murder in the fatal shooting of unarmed black teenager Trayvon Martin are hurtling toward zero.
Of course, if there is an acquittal, the state can say it did its best to bring a vigorous prosecution. The reality is that, under intense political pressure in the wake of the killing, prosecutors overcharged Zimmerman with a second degree murder indictment. Perhaps Florida State Attorney Angela B. Corey thought that in bringing the charge, which carries a potential life sentence, Zimmerman's lawyers might be bluffed into taking a plea bargain for manslaughter, a more appropriate -- and easier to prove -- charge. If so, it didn't work.
At this point in the trial, convincing this jury that Zimmerman, 29, acted with "ill will," "hatred," and "an indifference to human life" -- a requirement for a second degree conviction -- is proving to be an insurmountable barrier.
Last week, through Sanford police witnesses, the prosecution presented Zimmerman's self-serving accounts of the altercation that led him to shoot the 17-year-old Martin in the heart at close range. In the audio and video accounts, Zimmerman claimed he was not trailing Martin through the gated community, and that it was Martin who initiated a deadly physical assault on the rainy night of Feb. 26, 2012.
The effect of this strategic blunder by the prosecution is that it allows the defense to keep Zimmerman, a neighborhood watch volunteer, off the witness stand. This in turn shields the defendant from a potentially devastating, game-changing cross examination by Assistant State Attorney Bernie de la Rionda, the lead special prosecutor. In a second-hand effort, the best de la Rionda could do was to call into question an investigating officer's assessment of Zimmerman's statements as truthful, and to point out various inconsistencies in his various accounts.
Under intense competitive pressure, reporters and self-promoting legal commentators -- all with an interest in prolonging the trial's suspense -- are in danger of confusing rather than clarifying responsibility for the killing. Some of this is inevitable in a media-drenched trial in which journalists are required to file several times a day. "Key testimony," "bombshell," "pivotal moments" and "critical developments" keep the story front-and-center in the summer news doldrums. Cable TV has become our bread and circus.
Numerous courtroom distractions threaten to obscure what is fundamentally at issue, trees blocking the view of forest. Such questions as:
Did prosecution witness Rachel Jeantel, who spoke with Martin by cellphone during the last minutes of his life, have a bad attitude on the witness stand? Did she think her friend Martin was the victim of a racial attack?
Who was straddling whom in the fight between Zimmerman and Martin?
Which of the two men was calling for help in the struggle?
How serious were Zimmerman's injuries?
What did Zimmerman tell his friend Mark Osterman and Fox News' Sean Hannity, and were there inconsistencies in these accounts to what he told police?
Whose DNA was on what?
Were Martin's actions affected bymarijuana use?
Yet little of this matters. The operative question for jurors, under Florida law, is who initiated and then escalated the chain of events that led to Trayvon Martin's death, and who was justified in using force to defend himself. At issue is whether George Zimmerman set in motion the fatal altercation by following and approaching Martin -- who was returning to the townhouse where his father was staying -- against the advice of a police dispatcher. But no compelling evidence regarding Zimmerman's motive, required for a second degree conviction, has yet been presented.
The only thing that is relevant is the narrative being built in the minds of the six women on the jury, five of whom are white, and one Hispanic. From the forms they filled out and the pre-trial examinations, the panel's general profile is of middle and lower middle class, working, suburban mothers of small and grown children. None said they read or watched coverage of the shooting; that suggests they are either disengaged, or lying.
With the defense preparing to present its case, it is difficult at this stage in the trial to imagine this jury reaching a unanimous guilty verdict on the charge of second degree murder.
Related
Popular in the Community