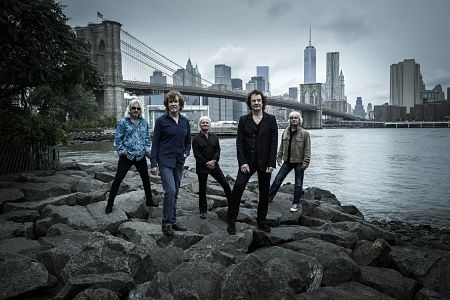 "The Pope is a fan of ours! He's obviously come to see us. We share the same audience!" -- Colin Blunstone
The Zombies have come to conquer America. Again.
I met up with founding Zombies Colin Blunstone, who was obviously joking in the above-referenced quote, and Rod Argent, at the conclusion of an exhaustive press day in lower Manhattan wherein the two rock icons spent hours upon hours fielding queries regarding their first ever live performances of their brilliantly misspelled magnum opus Odessey & Oracle album in its entirety in the United States, and the release of their new collection, aptly tagged Still Got That Hunger.
Thanks to the presence of his Holiness, who, to my knowledge did not have a new album to promote; travel within the confines of the borough were ground to a halt. As such, journalists arrived late and interviews ran overtime, yet that nagging situation did nothing to dampen the spirits nor energy of Messrs. Blunstone and Argent -- who still revel in the hustle and bustle of the Big Apple over a half-century since they first landed here.
To my ears, the new Zombies collection captures the band near the top of their creative powers akin to their elder statesman brethren and most active peers such as Bob Dylan, Leonard Cohen, Robin Trower, David Gilmour, Eric Burdon, Keith Richards, and Ian Hunter to cite a select few -- all of whom have been on the bandstand and in the recording studio since the 1960s and are still vital forces on the wonderfully fractured landscape that is rock 'n' roll music.
Unlike the baroque trappings of their Odessey & Oracle masterpiece, which inspired generations of indie rockers long after its release and initial commercial failure in 1968, Still Got That Hunger harkens back to the early days of a young, hungry St. Albans, Hertfordshire ensemble who submerged themselves in American music. In particular, New York City.
Much like they did on their first records when budgets were low and expectations were high, the band rehearsed extensively and cut tracks in the studio at a rapid pace with producer Chris Potter (The Verve, Rolling Stones) at the helm. It wasn't planned that way. Notes Colin, who is in extraordinary voice regardless of any age in his remarkable career as a Zombie and solo artist, "he took the whole weight of the sound of the recording off our shoulders so that all we had to concentrate on was the performances. My lead vocals were all done live -- it was fantastic for me! For one thing, it's much easier because I was affected by the excitement of this great band playing around me. I wasn't evening thinking 'I'm doing a lead vocal..."
When Rod recollected for me the Zombies' first foray to the United States in 1964 which is documented in the track "New York" -- Colin sat on the edge of his chair as if he was hearing the story for the first time.
"Ah, America! It was a mythical magical world!" beams Mr. Argent "It was the home of everything we loved about every form of popular music... Ray Charles, Miles Davis, Little Richard."
New York emerged quite effortlessly according to Rod.
I was driving one day and in my mind I had the image of the band walking into the Brooklyn Fox Theatre all those years ago, just like I say in the verse. We were apprehensive kids. Imagine, this was the land of Elvis and these great rhythm and blues soul singers that we suddenly found ourselves on the bill with!
I can still detect the tension in Mr. Argent's voice in 2015. And Colin is quaking!
How are they going to react to us? These callow English youths who come here to try and play their music? The second verse goes, "I walked into the Brooklyn Fox that snowy Christmas day and Patti LaBelle and her Bluebelles stole my heart away"... which they did! They took us to see Aretha Franklin.
As such the Zombies' love affair with this city was forged at the venue which was considered the centerpiece of downtown Brooklyn, and which met its doom in 1971.
We had such long conversations with Patti there," emphasizes Rod. "The black acts that we were so worried about -- people like the Drifters, Ben E. King, Chuck Jackson, The Shirelles -- they accepted us. We were taking our version of black American music and putting through the English filter, and we turned it into something slightly different.
Along with Blunstone and Argent, the band's current Still Got That Hunger line-up boasts legendary bassist Jim Rodford who is a pivotal figure in Zombies lore. As the elder cousin of Rod Argent, Jim helped the keyboardist and composer create the band in 1961, and then later served in the highly-acclaimed progressive rock powerhouse Argent with Rod, Russ Ballard, and Bob Henrit as they commenced waxing classic sides in 1970. That's Jim's timeless motif on Argent's "Hold Your Head Up" -- a bass part he modified from the Zombies' signature "Time of the Season." Mr. Rodford was also a member of the Kinks during their arena rock heyday from 1978 until their retirement in 1996. Rodford, Argent, and the Zombies are all long overdue for Rock 'n' Roll Hall of Fame honors, though that is another heated debate for another time of the season. (Note: The Zombies were nominated in 2014. Both men revere the Hall and though Rod opines "we don't lose any sleep over it," Colin hopes the band will be formally recognized. Bassists Jim Rodford and John Dalton were not enshrined with the Kinks in 1990 despite their 27-year tenure with Muswell Hill's favorite sons which included such hits as "Lola," "Celluloid Heroes," and "Come Dancing" among many, many others.)
Still Got That Hunger is no exercise in nostalgia, though there are a few noticeable nods to the history, including the song "Chasing the Past" wherein Colin croons "yesterday, it's gone, it's just as well, now we'll take tomorrow and give it hell." Deep in-the-pocket grooves, classical counterpoint, jazz harmonies, and pop melodies aplenty prevail with Argent, Blunstone, guitarist Tom Toomey, Jim Rodford, and his son Steve in the drum chair on all 10 tracks.
As for the legend of Odessey & Oracle looming large, look no further than the cover art of Still Got That Hunger wherein illustrator Terry Quirk updates his original design for the 21st century sans any spelling errors. The album format remains sacred to Colin. "What was important to you in your formative years stays with you through your whole life. I think of things in terms of albums!"
Rod agrees. "We went back to trying to capture the moment," he exclaims, "the magic of the sum being greater than the parts. I put the song sequence together because the structure of how one thing leads to another and how you feel when the whole thing is finished is so important to me... I can't help it, I still love albums! I still have to think in that collective way!"
The Zombies' Still Got That Hunger is out on October 9, 2015 on The End Records, which is a Brooklyn, New York-based imprint.
The Zombies will perform Odessey & Oracle in its entirety with founding bassist Chris White and founding drummer Hugh Grundy, and songs from Still Got That Hunger with bassist Jim Rodford and drummer Steve Rodford at the New York Society for Ethical Culture on October 9, 2015.
The Zombies are on tour in the United States through October 27, 2015.
The Zombies photo by Andrew Eccles
Popular in the Community