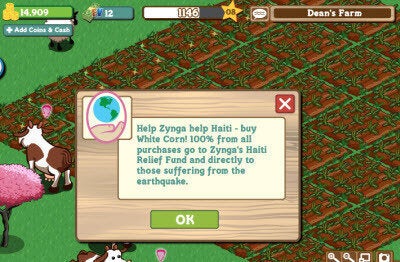 An article published on Folha Online -- a Brazillian news site -- questioned the transparency of social gaming company Zynga, which it alleged had not been completely forthcoming with what would happen to money that had been pledged to relief efforts in earthquake-ravaged Haiti. SocialMediaToday picked up the story (which has since been pulled, with a clarification post published), and the rumor mill started spinning.
It turns that Zynga has NOT kept any money that they said would be going to Haiti, and that the confusion started based on a series of campaigns -- one that took place before the January 12 earthquake -- that was sending money to projects in Haiti.
After assessing all the accusations, and speaking with representatives from Zynga, we can now report the following chronology:
•Fall 2009: Zynga announces its Sweet Seeds for Haiti program. For this program, users purchased a special virtual product, "of which 50 percent of the proceeds [were] donated to two non-profit organizations in Haiti that support the health and education of children and their families." The two nonprofits were Fatem.org and Fonkoze.org -- groups that were in Haiti well before the earthquake. The campaign raised $2.4 million, half of which was donated, as stated, to the nonprofit organizations.
•January 12, 2010: A 7.0 earthquake hits off the coast of Haiti, causing massive devastation and exposing to the world a breathtaking humanitarian crisis.
•January 20, 2010: Zynga announces that virtual goods benefiting Haiti were purchased by more than 300,000 users, totaling $1.5 million dollars. All of that money was donated to the World Food Programme.
The confusion seems to have started when Folha Online expressed shock that 50 percent of certain products were going to Haiti nonprofits -- catalyzing SocialMediaToday's post that believed that 50% of the money raised in the second campaign was kept by Zynga. It was a misunderstanding, and not true.
It's worth noting that Folha's original article had criticized the layout and communication of these campaigns, and had not alleged that Zynga kept money that it said would go to Haiti. Instead, Folha argues that many taking part in the campaign may have mistakenly believed that more of the money from their purchases would be going to relief efforts. Marcelo Ballve explains these concerns in a thorough article on True/Slant.
Thanks to VentureBeat for the screenshot of the original post on SocialMediaToday.
Related
Popular in the Community