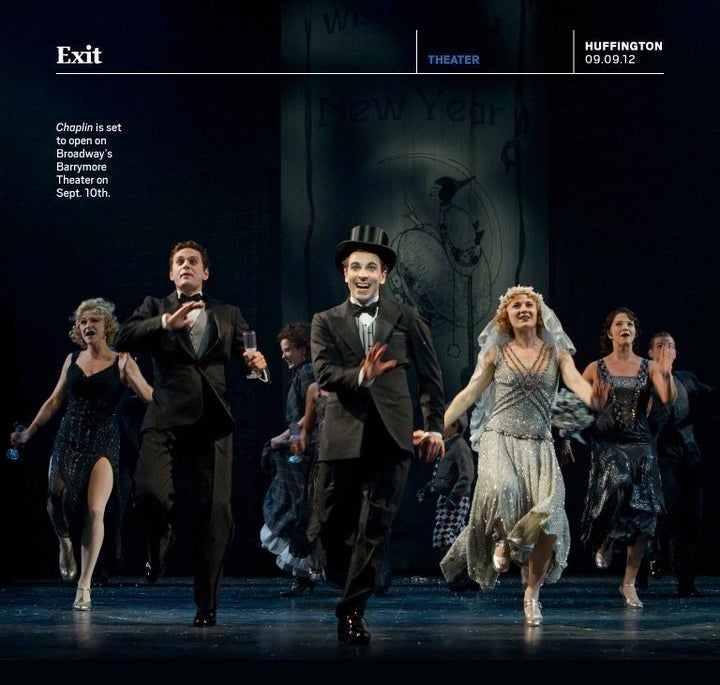 CHAPLIN THE MUSICAL * 1/2 out of ****
SALAMANDER STARTS OVER *** out of ****
INDEPENDENTS *** 1/2 out of ****
CHAPLIN THE MUSICAL * 1/2 out of ****
ETHEL BARRYMORE THEATRE
Walking into Chaplin The Musical, I thought to myself, well, if they end or god forbid even bracket the show with Charlie Chaplin's appearance on the Academy Awards after years of self-imposed exile, it's probably not going to be good. As the finale approached and they rolled out the red carpet and announced it was 1972 (the year Chaplin appeared on the Oscars to a standing ovation), sadly my prediction proved correct. This dutiful bio-musical is like Mack & Mabel without any good songs, like a Chaplin film but without most of the gags, like too many other shows where they chart a great man's life from childhood to early obstacles to triumph, crisis and final vindication with all the excitement of an A&E Biography. In many respects, it is made with care and craft. But a musical with a dull book and an invisible score, a musical without a purpose simply can't work. A great score will excuse many flaws; a poor one will obscure a lot of hard work.
But let's begin with what works and nothing works harder than star Rob McClure. It's not quite the triumph that Robert Downey Jr accomplished in the leaden biopic Chaplin. I can't say McClure became a star. But he certainly showed off a great deal of old school pizazz and mastered the Tramp's shambling walk. McClure dances on tables, walks a high wire, roller skates, sings and makes fun of Hitler, so what's not to like? It's all in an emotional vacuum unlike say Hugh Jackman's triumph in the awful musical The Boy From Oz, where he somehow managed to let everyone forget the by-the-numbers show he was appearing in. Still, it is a strong performance and it will be interesting to see if and how he succeeds in something actually good.
The story begins with Charlie's hardscrabble childhood featuring a drunken father and a mother who fell ill and lost her music hall job, her mind and her son. Like all artists, Charlie is rather self-obsessed so we see their painful parting but don't even find out he has a brother till years later. That's Sydney, played with a modest voice and a genuine warmth that marks Wayne Alan Wilcox as another talent that should outshine this show.
Charlie leaves Sydney and his hospitalized mother far behind, taking a gamble on the moving pictures. You won't be surprised that he succeeds. In the show's single best scenes, we see Charlie overwhelmed by working on a motion picture, develop the Little Tramp and film a short that makes the Tramp a star.
In the show's dogged attempt to chart every step of Chaplin's progress, a little boy comes out and announces Chaplin's latest hit... and then comes out a little later and announces another hit...and then comes out again later and announces yet another hit. So he's a hit; we get it.
The framing device of the show is not thankfully the Academy Awards but is sort of the conceit that we are watching the filming of Chaplin's life. Unfortunately, that is dropped soon, though it was a good idea. Still, throughout some clever touches can be found. At many points, the stage is filled with the flashes and crackles of an old movie, as if we're watching a ragged print of a classic film, complete with pops and scratches. It's done quite subtly and nicely, along with the sound of a projector humming along that often makes an appearance.
The costumes by Amy Clark and Martin Pakledinaz are built around a black and white palette for most of the show, a tricky challenge they meet nicely, as my guest David pointed out. (The splash of color at the finale was appreciated intellectually but didn't have quite the pow it should have emotionally.) Similarly, the wig and hair design by Paul Huntley ages McClure subtly throughout. The set design by Beowulf Boritt (great name!) and video projection design by Jon Driscoll work nicely at certain key moments, such as the reenactments of filming those classic shorts (a set piece that is over too soon) and Chaplin's first experience watching a movie.
But there's a curious, circus-like theme that keeps reappearing. Plus virtually all of the songs (by Christopher Curtis, who teamed with Thomas Meehan on the book) are interchangeable and forgettable. That leaves little for director and choreographer Warren Carlyle to do. Big numbers appear and have literally no purpose. Why does act one end with a bunch of Tramp impersonators? To remind us that Chaplin was world famous? We know. To tell us even in a crowd of Tramps he's still alone? Yikes. None of this is really hinted at in the number. It's just a spectacle with the Tramps dancing around the stage and bits of business tossed out and then it's over.
Act Two should have more of a drive to it since it actually features some conflict. Gossip columnist Hedda Hopper is so annoyed that Chaplin won't give her an interview that she decides to drag him down, dogging the entertainer with accusations of communism (he makes her job easier by repeatedly addressing communist rallies) and hedonism (all those young brides and lovers) until it finally sticks. In the show, Chaplin is driven out of the US in shame. In real life, it's a little more accurate to say he stormed off, annoyed that anyone would question the great artist. Besides, exile overseas when you have millions and live like a king is hardly the sort of trying experience most people can identify with. Jenn Colella is good as Hopper and makes the most of her big number. Unfortunately, she is singing a song that echoes lines that have been used repeatedly throughout the show. She sells it but we've already heard it. Michael McCormick is good as producer Mack Sennett and numerous other parts, but they're all gone too soon.
I can't blame the director for throwing the kitchen sink at this story and filling up the stage whenever possible with all sorts of diving and hoops and pratfalls. I can't blame the cast that gave their all, especially McClure. Sure, Chaplin had an exciting life but that alone doesn't mean you've got a compelling reason to tell his story. What about him excites you? What about his life intrigues you? Why his particular story and in what particular way are you going to tell it to make it come to life? In the second act, Chaplin says he refuses to make another movie until he's had a great idea. The people behind Chaplin should have done the same. Sure, he's world famous even now. But if they had an idea (however misguided) about how to tell his life story in a unique and meaningful way, I have no idea what it was.I don't think they do either.
It's time to say goodbye to the 2012 New York International Fringe Festival. You've still got a few more chances to catch some of the most popular shows of the fest at the Fringe Encores series. I used it as an excuse to check out the musical Independents for the second time. You can read my rave review after seeing it the first time right here. A second look only reinforced what I believe: this is a show filled with talent on stage and behind the scenes and I'll be keeping an eye out for them in the future. I don't think I praised enough the anchoring performance of Jacob Roa as Liam, the hero of the piece that all the other characters revolve around. He has that gift of likability; the moment he appears you want to root for him. The show is squeezed into the Soho Playhouse, so much of the excellent direction by Charlie Polinger is lost here. People are on top of each other on stage and have to troop up and down the aisles repeatedly. But you shouldn't miss this one. I just wish I could buy the score.
As for other shows, I was very happy I got a chance to catch the solo piece Salamander Starts Over, which was written and performed by Armando Merlo and directed and developed by Leigh Ann Pedra. It's a sweet and simple story. The particulars are new but you've heard it before.
Armando relates how he grew up in a rough neighborhood with a dad who didn't seem to "get" him and a funny, loving, but perceptive mother who always knew how to steer her boy onto the right path. Well, almost always. When Armando trips on acid and falls asleep in the gutter and gets arrested, his parents decide an all-boys Catholic school is just the ticket. Armando hates it and then loves it, falling somehow into wrestling which proves his ticket to self-confidence, dedication to hard work and a chance at his dream college NYU. He stays in touch with the old gang even as he grows up and drifts away. Armando even sort of realizes his dad isn't so bad and maybe just maybe his folks had some good advice every once in a while.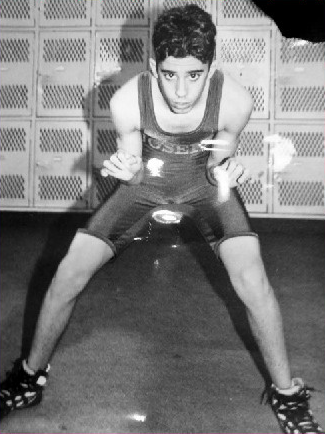 Like I said, you've heard it all before. But this is Armando's story and he tells it with passion and love (and without trying to puff it up into something it's not). It's modest and engaging and sweet and a solid showcase for a very appealing performer. Armando doesn't disappear into every character but he does deftly paint a portrait of all his chums, his gruff dad, his hilarious mom, right down to the pizzeria owner who gave Armando a free slice every day. I'm not certain if Armando will be writing plays for other actors now that he has this out of his system or whether he'll use this as a calling card to get work in other shows. But I do believe he's not starting over as such -- he's just beginning.
THE THEATER SEASON 2012-2013 (on a four star scale)
Thanks for reading. Michael Giltz is the cohost of Showbiz Sandbox, a weekly pop culture podcast that reveals the industry take on entertainment news of the day and features top journalists and opinion makers as guests. It's available for free on iTunes. Visit Michael Giltz at his website and his daily blog. Download his podcast of celebrity interviews and his radio show, also called Popsurfing and also available for free on iTunes. Link to him on Netflix and gain access to thousands of ratings and reviews.
Note: Michael Giltz is provided with free tickets to shows with the understanding that he will be writing a review.
Support HuffPost
The Stakes Have Never Been Higher
Related
Popular in the Community