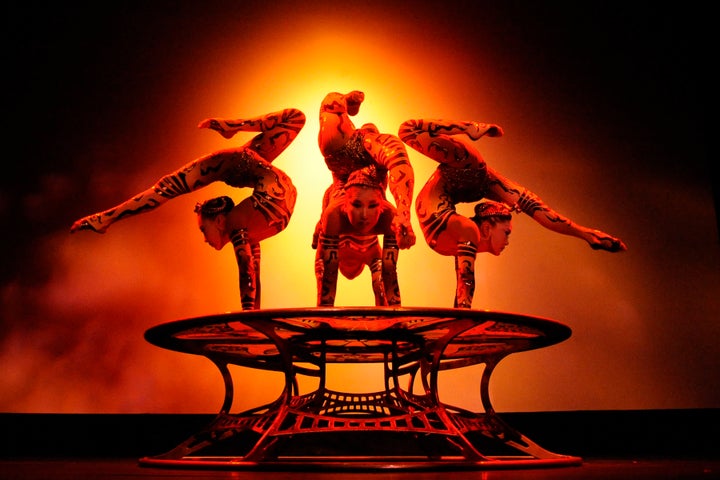 The troupe Cirque du Soleil is a victim of its own success. Cirque virtually reinvented the circus for modern audiences. But over the years so many of their new shows have popped up all over the world it's inevitable that expectations have been raised and lowered many times. Sometimes they come up with a genuinely fresh way of presenting their acts that feels cohesive and original, that feels like a "show." Other times, it seems like Cirque has come to town and you've seen it before.
But that's what the circus is like too. When Ringling Bros. comes to town, you'd don't expect some radical new experience. You expect clowns and trapeze artists and animal acts and cotton candy. Sure, they usually give each edition a special name and hype some particular act, but it's the circus and you know what that means.
The same is true for Cirque, especially after so many years of innovation. Their latest spectacle is Zarkana, designed specifically for the grand space of Radio City Music Hall. Go into it expecting some fresh new experience and you'll be disappointed. Go expecting to see some world-class acts with Cirque's usual Euro-pop trappings and you'll be fine.
This particular show -- Zarkana -- really is a load of nonsense. The ringleader Zark stands around singing generic pop songs about his lost girlfriend (and his lost magical powers) and by the end of the show they reunite. Usually, Cirque's songs are performed in a nonsense language; this time they chose to use English lyrics, unfortunately, so you have to hear all sorts of blather in between the acts.
Fortunately, those acts come tumbling one after the other. Cirque makes good use of Radio City for some grand visuals (like snakes crawling up the side of the proscenium; a spider's web and performers seeming to dangle in the air way, way in the distance until you realize it's video projection. I loved how they used the video screens to get the thousands of people focused on intimate acts like the wonderful sand artist that opened act two. Act one began modestly with a juggler who actually had quite a few bobbles; this was in fact a nice reminder that these stunts don't come automatically and unintentionally created an edge of suspense for the more daring feats. Since even a juggler can mess up, how much more dangerous is it when two men are jumping and whirling in the air both inside and outside metal cages that spin over and under each other high above the stage?
Even more suspense of an unintended sort was created when a man who we later discovered was an expert in hand balancing came out on stage, felt the moment wasn't right for whatever reason, and simply walked off again. The platform he abandoned stayed in the middle of the set for a few minutes while the music continued and other performers stood around expectantly until the show finally moved on. My guest said, "I'm totally confused" and laughed. It was another rare moment of quirkiness and the human element.
Far more often, acrobats whirled across the stage without missing a beat; men tossed flag-sticks high in the air and across the stage to fellow performers, all of it in beautiful synchronicity; and artists formed human pyramids or swung each other through the air high above the stage and it all came off perfectly.
The tone might be a smidgen darker than usual. But the clowns are always on hand ready to dispel any air of gloom after a six-limbed baby in an aquarium rolls across the stage or snakes and spiders have dominated the action for a few minutes. Sure, you've seen it all before, at least when it comes to the specialty acts. But they're still daring and fun. Cirque can't reinvent the wheel any more. And sometimes as with Zarkana they shouldn't try so hard to make it appear as if they are.
The Theater Season 2011-2012 (on a four star scale)
Thanks for reading. Michael Giltz is the cohost of Showbiz Sandbox, a weekly pop culture podcast that reveals the industry take on entertainment news of the day and features top journalists and opinion makers as guests. It's available for free on iTunes. Visit Michael Giltz at his website and his daily blog. Download his podcast of celebrity interviews and his radio show, also called Popsurfing and also available for free on iTunes. Link to him on Netflix and gain access to thousands of ratings and reviews.
Note: Michael Giltz was provided with free tickets to this show with the understanding that he would be writing a review.
Support HuffPost
The Stakes Have Never Been Higher
Related
Popular in the Community