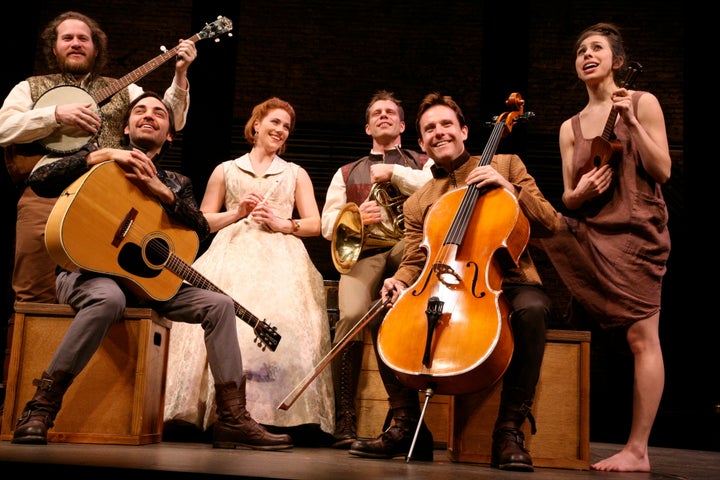 This clever, crowd-pleasing production of one of Shakespeare's shakiest plays ran for two sold-out weeks in January. It was gone before most people -- including me -- knew they were missing anything. Now in a rare and worthy gamble, the Theatre For A New Audience revival is getting a limited run Off Broadway at the Barrow Street Theatre. No excuses for missing it this time.
Cymbeline (Andy Grotelueschen) is the king of Britain during the era of the early Roman Empire. He had three children and believes two of them are lost forever. (Ha!) All this widow has is a daughter Imogen (a strong, appealing Jessie Austrian) and a new wife (Emily Young). Being a stepmother, the queen is scheming and vicious, hoping to pair off Imogen with her cruel and moronic son (also played -- amusingly -- by Grotelueschen). Imogen loves the fair and true Posthumus (Noah Brody, who also co-directs) so he is quickly banished. What follows quite rapidly is a bet with an Italian over Imogen's chasteness, her own departure, the appearance of two princely young men who have been raised in the wild (could it be? do you think?), numerous plots within plots and a happy finale for all but the villains.
This is accomplished on a simple, bare stage dominated by a trunk that doubles as a throne, a cave dwelling, a ship and so on. The six-member cast often double or triple up their roles with Ben Steinfeld (who also co-directed) especially good as the duplicitous Italian Iachimo et al. and Paul L. Coffey redoubtable in too many parts to mention. The invention is not constant as in the truly remarkable Peter and the Starcatcher at NYTW last season, but it achieves delightful high points like Imogen's journey, that cave dwelling and a well-staged battle. It all climaxes wonderfully with a finale that reaches a comic peak with revelation tumbling upon confession and bumping into avowals of true love with silly abandon.
It's an ensemble in the true sense, but two actors don't hold up their ends. Brody leaves little impression as the noble Posthumus, but then noble characters are often the dullest to play and he's responsible for the fine direction (with Steinfeld) so we'll give him a pass. But he and Steinfeld should have reined in Young. While everyone else is thoroughly grounded in real characters and emotion, with the comedy arising naturally out of their actions, Young is performing a Mel Brooks-like spoof or maybe auditioning for a role on Saturday Night Live. Her scenery chewing is so disruptively different (especially as the queen) it throws off this diversion by demanding laughs rather than earning them. It would be fine work in a very different show; just not this one.
All ends well indeed with that comic finale; it gets full delight out of the absurdity of Cymbeline's plot. Thanks to Theatre For A New Audience, one of Shakespeare's weakest plays is transformed into a treat that celebrates Shakespeare and theater itself.
The Theater Season 2011-2012 (on a four star scale)
Thanks for reading. Michael Giltz is the cohost of Showbiz Sandbox, a weekly pop culture podcast that reveals the industry take on entertainment news of the day and features top journalists and opinion makers as guests. It's available for free on iTunes. Visit Michael Giltz at his website and his daily blog. Download his podcast of celebrity interviews and his radio show, also called Popsurfing and also available for free on iTunes. Link to him on Netflix and gain access to thousands of ratings and reviews.
Note: Michael Giltz was provided with free tickets to these show with the understanding that he would be writing a review.
Support HuffPost
The Stakes Have Never Been Higher
Popular in the Community