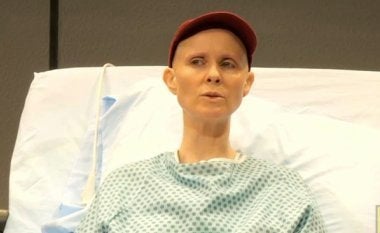 Context is everything. I saw Wit on Broadway recently and found this production more satisfying than the original Off Broadway version starring Kathleen Chalfant. The supporting cast is stronger here, letting the work feel more like a full play rather like a one-woman show the way it did with Chalfant dominating proceedings. But a new look at Margaret Edson's work reinforced my belief that this show is not successful beyond its strong central character and becomes less interesting as the drama of watching our heroine die takes over.
In this Pulitzer Prize winner, Nixon plays Vivian Bearing, a college professor who specializes in the metaphysical poet John Donne. Chalfant seemed to live entirely in her mind and was somewhat clueless about her effect on those around the imperious professor. Nixon strikes a more vulnerable note, with Bearing using her intellect more as a barrier or a way of ignoring the emotional emptiness in her life. She is stricken by cancer and we watch the all-too familiar stages as she is diagnosed, defiant, confused, angry and ultimately takes solace in the attention of those around her. It might be played as taking the professor down a notch -- this intellect who disdains the nurse as stupid is at the end of her life desperate for a shared moment of humanity. She is reduced or more accurately opened up to the importance of others, whether it's a med student with terrible bedside manners or a nurse who politely shares a popsicle, knowing how much patients need contact.
Neither production took this tack, choosing to view her ultimate emotional vulnerability as natural and understandable. It's the same reason the new film about Prime Minister Margaret Thatcher focuses on her late-period dementia; sympathy comes easily to anyone seeing it, whatever you think of her politics.
Lynee Meadows smoothly directs Nixon, who like the play is stronger earlier on when Bearing is at her best. The text by Margaret Edson simply isn't very interesting -- the general conceit of wit as an insight into Donne or life in general simply doesn't flower here. The dig at the nurse might be seen as a complicating view of Bearing, but it too doesn't register. The nurse isn't stupid, just uneducated or at least certainly not as well educated as Bearing. I wish the play had made better use of the slight; it's a cheap laugh that doesn't pay off later except in the most sentimental, obvious manner.
The cast is strong, with Michael Countryman good in dual roles, Suzanne Bertish very good as our heroine's mentor, Carra Patterson strong in the straightforward role of the nurse and Greg Keller using a funky voice and amusingly self-absorbed manner to score the strongest of any supporting player as Jason Posner, the trainee who is as clueless as Bearing about social skills but bonds with her about research and science.
Plus, a lovely grace note at the end is utterly ruined by Edson. When the friendless Bearing finally gets a visit from her mentor, she moans over the possibility of being read Donne and instead they snuggle up to a children's book. The sweet, simple rhythms of a picture book stand in stark contrast to the life of the mind Bearing has embraced (or perhaps taken shelter in). It's not a condemnation on Bearing's life, just an acknowledgement that at the end simpler pleasures are called for. This gentle finale is spoiled by Edson clumsily having the mentor rather grandly and unnecessarily tacking on a quote from Hamlet when a simple "The end" (the finale to every picture book and every life) or simple silence would have served much better. The great poets know what to leave unsaid.
In general, the reviews are much stronger than what I've written here. My complaint in general is with the play, not Nixon or the production on display.
But what context was I referring to at the beginning? Shortly after seeing the show and before reviewing it, suddenly two people I know were stricken unexpectedly with heart ailments. One is the sister of a best friend; the other a friend I've known for 20 years. Both were unconscious and heavily sedated, with multiple diagnoses confusing everyone. The woman is healthy and home, albeit with the lingering stress of an unusual ailment only recently identified and with no known treatment. The man died peacefully after it became clear he would never revive and -- per his instructions -- life support was removed.
Combine this with a visit to my increasingly frail father (not to worry; he'll never see this since he never goes online and would stay on the Fox News website if he did) and I'm very glad I didn't have to see the show this week. In that context, I'd probably cry like a baby. If anyone finds comfort and solace in this well-acted production, I'm glad. As a play, I don't think it will stand the test of time, though it's certainly a good vehicle for talented actresses in their 40s. As comfort for those facing the awful finality of death for themselves or someone else, I happily acknowledge any support Wit can offer.
Here's a link to the Wikipedia entry for Five Wishes , a living will that meets legal standards in 42 states and DC. Everyone should fill one out to make precisely clear your wishes during a medical emergency.
The Theater Season 2011-2012 (on a four star scale)
NEW YORK MUSICAL THEATRE FESTIVAL 2011
Thanks for reading. Michael Giltz is the cohost of Showbiz Sandbox, a weekly pop culture podcast that reveals the industry take on entertainment news of the day and features top journalists and opinion makers as guests. It's available for free on iTunes. Visit Michael Giltz at his website and his daily blog. Download his podcast of celebrity interviews and his radio show, also called Popsurfing and also available for free on iTunes. Link to him on Netflix and gain access to thousands of ratings and reviews.
Note: Michael Giltz is provided with free tickets to shows with the understanding that he will be writing a review.

Calling all HuffPost superfans!
Sign up for membership to become a founding member and help shape HuffPost's next chapter