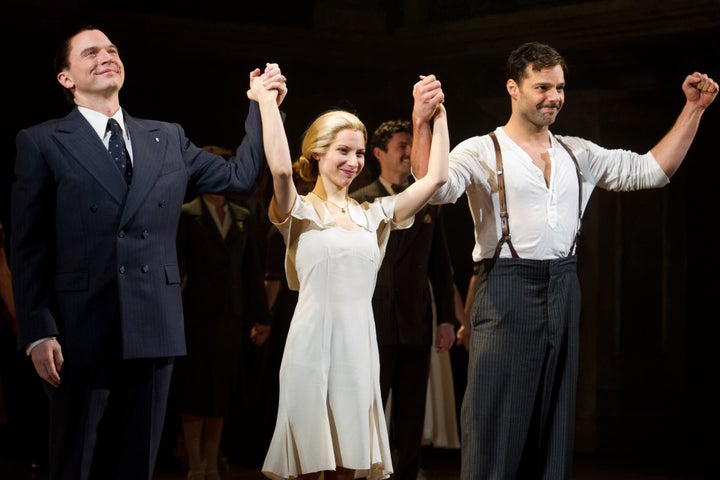 Broadway fans can go see Jesus Christ Superstar and Evita back to back and appreciate anew how the team of Andrew Lloyd Webber and Tim Rice were growing by leaps and bounds even as their collaboration was coming to an end. (They reunited over the years, including writing some songs for a London production of The Wizard Of Oz that opened last year.) Compared to Superstar, this musical about the life of Eva Peron is the height of sophistication, though Rice's lyrics remain blunt and banal. Lloyd Webber has remained cursed with poor lyrics his entire career (not counting T.S. Eliot, mind you).
Taken on its own terms, however, my first brush with the show on stage (I saw the film version with Madonna) leaves little impression. Most of the numbers blend together and the strongest melody is reprised throughout beginning with "What A Circus," the famed peak "Don't Cry For Me, Argentina" and the finale. This unfolding of a melody throughout a show can climax with a powerful "reveal" of the number. Here it simply feels like leaning on a good tune too often.
Still, this is a handsome production with a full orchestra sounding marvelous. One can imagine a hungry, attention-grabbing actress like Patti Lupone making the most of the spotlight. Unfortunately, the acclaimed actress Elena Roger can barely hold the stage. Her voice is not remotely equipped for the part and her stage presence is minimal. You look at the spectacle of this Evita when you should be riveted on Eva Peron herself. An entire nation prostrates itself at her feet? You doubt they'd even notice her.
The story is simple: Eva is a young girl in the provinces who hitches her star to a singer so she can get to the big city. The should-be amusing "Goodnight and Thank You" shows Eva working her way through lovers and up the social ladder until she's a famous entertainer and can meet the rising political player Juan Peron (Michael Cerveris). Together, they become a dynamo and rocket to power, though illness will quickly undermine the noblesse oblige of Evita, who likes to help the little people when it suits her. She dies tragically young, almost a saint to the downtrodden but despised by the wealthy class she both yearned to join and hated. It's all narrated by Che, of all people (Ricky Martin), who cynically reminds the audience of the poor peasants forgotten along the way.
Evita should be a fiercely ambitious character as embodied in her singing. But Roger's voice is so thin and small (she played Edith Piaf in another hit show in London) that it simply disappears in the higher register. You're more worried for her than intimidated or magnetized. Her best moments occur when she can stay in that lower register and speak-sing a song, such as the duet "I'd Be Surprisingly Good For You," with Cerveris. He, by the way, is a marvelous performer, but paired with Roger and singing what is essentially a dull and uninteresting role, even Cerveris can't do much. Also less demanding vocally (though during this song she's dancing quite a bit) is "Buenos Aires" with Martin. He's an amiable presence on stage albeit with little of the ability to give Che the edginess and cynicism the role desperately needs.
When it comes to that iconic number "Don't Cry For Me Argentina," Roger simply makes you feel nervous. It works better at the end when her frail voice can be seen as in character, since Evita is dying when she reprises the tune from her deathbed (where, frankly, it makes more emotional sense than it does on the balcony anyway). She's especially exposed on "You Must Love Me," the ballad written for the film which she sings alone on a stage with Cerveris. Without sets and dancing and other cast members to distract, you have nothing to focus on but her unconvincing vocals.
Frankly, it's difficult to understand why she was cast in London, much less here, where the standards for musicals are and should be the highest in the world. Roger unquestionably does not posses the pipes to sing this part. Since this isn't a dance show where dancing might be the most important talent and she certainly doesn't act anyone off the stage, why would her ability to -- at best -- get through the big numbers rather than nail them be acceptable? The entire show is built around what should be the fiery performance at its heart, making this Evita very cool indeed.
That said, it looks great. Director Michael Grandage and choreographer Rob Ashford keep everything moving smoothly and the storyline is clear from start to finish. The sets and costumes by Christopher Oram are very good, with the central set serving among others as the framework for a cafe, a city square and the presidential palace for the balcony scene. They lean a bit too much on some stills and video footage from real life, which soon lose their immediacy. The opening with mourners and dancers hidden in darkness and fog at the news of Evita's death is eerie. But that fog never seems to dissipate; it returns again and again throughout the show, demonstrating a lack of imagination that the lighting by Neal Ostin can't overcome. What was at first effective ultimately becomes too familiar and -- like the documentary footage of Evita -- loses its power.
Cerveris as mentioned makes little impression, which should tell you how emotionally flat this show is since Cerveris almost always makes an impression. Martin's return to the stage is not bad and it would be interesting to see him in a lighter, romantic part where he might work well. Max Von Essen has fun in the small role of Evita's first love, Magaldi. And Rachel Potter is a blessed oasis performing one of the show's strongest tunes "Another Suitcase In Another Hall." You're tempted to assume that the main reason Evita tosses out this mistress of Juan Peron is simply because Potter has a much better singing voice.
Nonetheless, with Joseph & The Amazing Technicolor Dreamcoat and Superstar back on Broadway several times over the years and now, finally, Evita, one has to ask: is it time... dare I wonder if they're planning to revive... Cats?
The Theater Season 2011-2012 (on a four-star scale)
NEW YORK MUSICAL THEATRE FESTIVAL 2011
Thanks for reading. Michael Giltz is the cohost of Showbiz Sandbox, a weekly pop culture podcast that reveals the industry take on entertainment news of the day and features top journalists and opinion makers as guests. It's available for free on iTunes. Visit Michael Giltz at his website and his daily blog. Download his podcast of celebrity interviews and his radio show, also called Popsurfing and also available for free on iTunes. Link to him on Netflix and gain access to thousands of ratings and reviews.
Note: Michael Giltz is provided with free tickets to shows with the understanding that he will be writing a review.
Calling all HuffPost superfans!
Sign up for membership to become a founding member and help shape HuffPost's next chapter