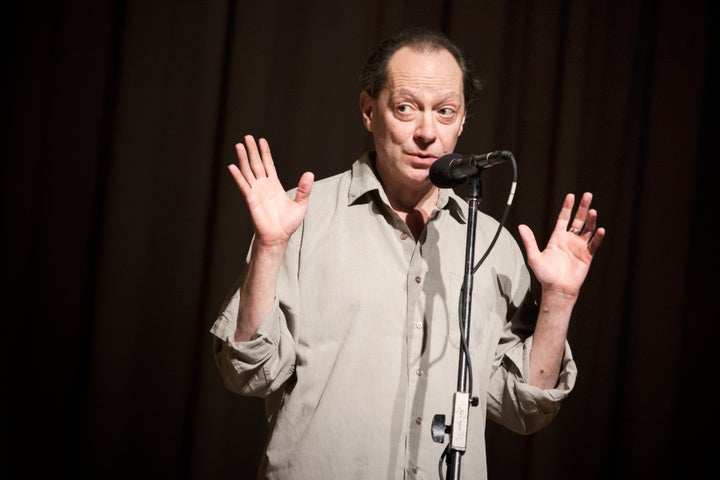 Have you ever felt that you arrived late to the party? That's certainly the feeling I got at the performance of the one-man show Helen & Edgar. Star Edgar Oliver walked out onto the stage and the applause was warm and happy; this was clearly an old friend to most of the people attending. He began and they were immediately caught up, laughing quickly and sharply, knowing his style, his quirks, his obsessions... and loving them.
Oliver is a mainstay of The Moth, a long-running storytelling showcase that also launched a radio series. This new show focuses on his childhood with Edgar, his sister Helen and their... unconventional mother. Make that, nutty as a fruitcake, smothering, needy, obsessive, destructive, frightened and yet somehow memorably eccentric and delightful, as long as you're hearing about life with her rather than actually living it.
They are ensconced in Savannah, Georgia, a city that is a trap, their mother warns them. You can try to leave Savannah but it won't have it and lures you back in, slowly but surely. They share one bedroom in a dilapidated old house, their father long dead of a heart attack (or so they're told). The dark frightens them all so they sleep together in one upstairs bedroom, each with their own single bed and each bed pointing in its own eccentric direction. Mother demands constant affirmation from Helen and Edgar, any interloper is the enemy -- family most of all -- and driving here and there to sketch the run-down sections of the city is their main pursuit.
Outside contact is thoroughly discouraged, though Helen and Edgar occasionally make forays into the world, perhaps a picnic at the beach with a schoolmate or simply running away late at night, with their mother in hot pursuit, determined to drive the kids and their bicycles off the road rather than let them escape. Summers involve a planned trip to the far north reaches of Baltimore, but Mother invariably gets frightened of family and stops in D.C., where they linger as long as possible before timidly setting forth again or scurrying on home. The children rebel by learning to speak French and speaking it to each other in front of their mother, who can't understand a word. It's that kind of family.
This is all presented in short vignettes. Oliver comes to the microphone, his arms curled up towards his chest in modest pleasure, his eyes twinkling with delight that you've come to see him again. His sonorous voice begins to tell a tale, a short story about that picnic on the beach or the itinerant worker who kept returning to their house demanding he be hired to clear away the clumps of ivy that are enshrouding their home, ivy anyone else would consider a pest but which Mother (and therefore the children) prize above all else. Between tales we see photographs of his family or paintings (by Oliver? his mother? who knows) flashing on the wall behind them, two or three evocative images before fading to black, when he returns to the mike.
Oliver's voice is a curious thing, beautiful sounding and vaguely foreign. (The way he pronounces "car" and numerous other words sounds more like Bela Lugosi than anything else I can think to compare it to.) It's hard to know how much of his autobiographical work is embellished but it's very easy to believe that, growing up in Savannah, people would constantly say, "You're not from around here, are you?" and insist he must be from somewhere like Transylvania until eventually he just began agreeing with them that yes, he and his sister were from Transylvania.
I assume some of the tales (three in the first act and two in the second) have appeared before. Oliver's stories here seem ideally suited to the radio or an evening of storytelling. I can imagine hearing all sorts of tales and having Oliver step in for 15 or 20 minutes, casting his spell and winning the strongest applause of the night. Strung together into an entire evening, however, the stories began to blur a bit. Just as some short story authors are best read in short bursts of one or two tales so you don't diminish their power, Oliver's stories in this evening would undoubtedly be more powerful when not heard all at once. There's a sense of conclusion in the final tale, but it's modest and the other works could probably be performed in any order without anyone being the wiser.
That said, as my first exposure to Oliver I enjoyed myself immensely and each tale on its own was certainly vivid and memorable. His talent is unique and clear. Here's a clip of Oliver telling another story about his mother. This time he and his sister are returning home to bury her. It gives you a sense of the spell he can cast though, naturally, it's far more effective in person.
I have little to say about Grace because it inspires very little thought. The story is a familiar one in its way, of financial crisis and faith and personal redemption. Whatever the faults of this production of the play by Craig Wright, they are certainly not found in the fine cast, the striking staging by Beowulf Boritt or the direction of Dexter Bullard. It's all in the text or, more to the point, it's not in the text.
Paul Rudd, appealing as always even when playing a subtly unlikable guy, is a fervent Christian who has moved to Florida to roll the dice on his dream project: a chain of Bible-based motels, complete with Promise Keepers tie-ins, a baptismal pool and so on. "Where would Jesus stay?" is the tacky slogan. His wife is the sweet and understanding Kate Arrington but it only takes a few short, sharp words to see how Rudd keeps her in her place and has an explosive temper. (Which he always immediately apologizes for.) After a phone call or two, we realize the deal is falling through and that Rudd is on the hook for a lot of debt. That does nothing to calm his nerves.
Their neighbor is Michael Shannon and, in one of many lengthy monologues, we hear his complicated tale: he's a tech geek of some sort who was married but a horrible car accident left Shannon disfigured and his wife dead. We learn that from Ed Asner, the grumpy German pest control guy who keeps roaming their apartments and spraying pesticide. He has his own convoluted tale about the Holocaust, a story which prompts Rudd to his knee-jerk reaction of proselytizing. His wife's hesitation every time he launches into his spiel (invariably a poorly judged moment) and her unhappily submissive response to his outbursts set the stage for the obvious: a growing intimacy with the damaged, needy, but essentially kind neighbor next door.
All of this is laboriously spelled out and essentially uninteresting. Asner's monologue about the Holocaust is pretty much like countless other tales of woe that sprang from the war and that particular horror. Shannon's story of loss is similarly vague and generalized, with nothing to distinguish it from many others. Even Rudd's faith and the lack of faith of others isn't terribly detailed or interesting. And I am partial to such topics, and happy to see here it's not a tale of hypocrisy as such when it comes to religion. Rudd may be terrible at winning over people to Jesus, but his desire is real.
It all fails to build to a climactic finale revealed in the very first scene: in it, we get a "rewinding" of the action, like a movie shown in reverse. We see bodies slumped on the floor, then we see Rudd kill himself, then we see him kill his wife and then kill their neighbor. It's a clever, striking moment and the only one in the show. A similar rewinding is done late in the play for absolutely no discernible purpose dramatically or emotionally.
Another decision doesn't quite work either. We're told in the show notes that the action takes place in two identically furnished apartments, which means one set with actors criss-crossing each other though they're not in the same space. Early on this is just confusing when we think Harrington is barging into Shannon's home. Very little is made of this occupying of the same space and it proves more distracting and lazy than anything else. Ditto the undistinguished sound design of Darron L. West. Still the set (with an oval sky in the background and doors and windows that slide slowly from one side to the other when necessary for the action) is handsome in its own terms.
Ultimately, none of it engages our interest and a late revelation from Asner strains credulity and makes the use of the Holocaust as anecdote even more questionable. We don't buy the breakdown that Rudd is driven too, either. Financial collapse and your wife's emotional betrayal should be plenty to break anyone but Rudd's violent outburst depicted in the beginning is never earned. Grace is lacking, simple as that.
THE THEATER SEASON 2012-2013 (on a four star scale)
Thanks for reading. Michael Giltz is the cohost of Showbiz Sandbox, a weekly pop culture podcast that reveals the industry take on entertainment news of the day and features top journalists and opinion makers as guests. It's available for free on iTunes. Visit Michael Giltz at his website and his daily blog. Download his podcast of celebrity interviews and his radio show, also called Popsurfing and also available for free on iTunes. Link to him on Netflix and gain access to thousands of ratings and reviews.
Note: Michael Giltz is provided with free tickets to shows with the understanding that he will be writing a review.
Support HuffPost
The Stakes Have Never Been Higher
Related
Popular in the Community