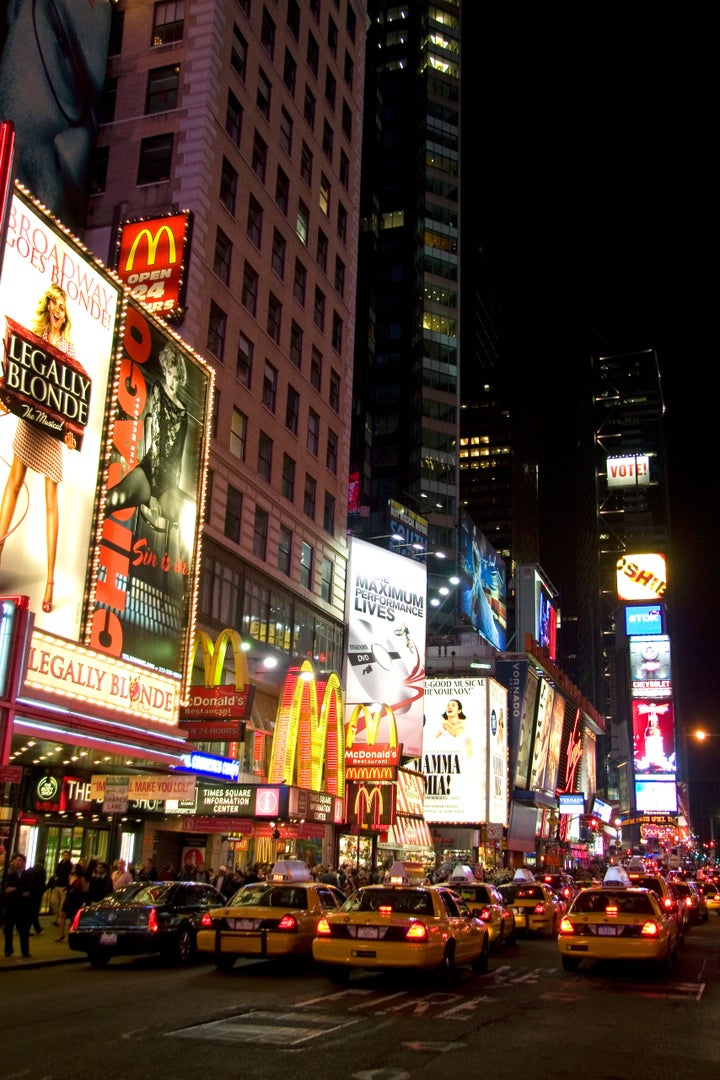 Ethan Lipton is a talented performer and singer with a retro sensibility and a mordantly modern attitude. After seeing his new show/performance at Joe's Pub, I think of him as in the tradition of Van Dyke Parks and I'm a fan.
No Place To Go is a song cycle and/or theater piece about work. Lipton begins with a spoken word monologue about his job as an "information refiner" for an unnamed but profitable company. His passion is his music, but Lipton needs a job and this gig is a good one. He's a "permanent part-time" employee, enjoys his work and is pretty good at it and likes the people he works with. After years there, it's a place to go in the morning.
Lipton tells us this while his crack band (the music is the show's strongest suit) provides accompaniment. Part scene-setting, part social commentary, part hipster vibe, this intro smoothly segues into the song "Place To Go" and I settled in happily.
Turns out the company Lipton works for is making a profit even in this economic downturn. But it's not enough of a profit and the company has decided to relocate... to Mars. (Land is pretty cheap there, apparently.) Everyone is invited to come along but of course the company knows not everyone will; they can then replace those people with cheaper workers on Mars who won't have the salary of a 10 or 20 year veteran. Will Lipton decide to uproot his life and go on the exciting adventure of moving to Mars? Or will he face life as an unemployed man when getting any sort of job can be scarily difficult?
That's the dramatic thread holding the show together and it takes Lipton from a jokey tune about the last sandwich left in the conference room after a meeting to "Aging Middle Class Parents" (maybe he and his wife should move back in with his folks to save money?) to "Three Tear Plan," Lipton's reaction to all this drama.
Song by song it's a lot of fun and the drama of the piece is certainly laced with humor and great music. I recommend the CD where you can hear guitarist Eben Levy effortlessly conjure up rock to jazz to retro pop, bassist Ian M. Riggs provide a supple groove and the terrific saxophone work of Vito Dieterle. A fun time is had by all.
As a piece of theater, however, Lipton needs to dig deeper and create the show he is surely capable of producing. One challenge is his deadpan onstage demeanor. It works in the context of a concert, but his mellow vibe flatlines any dramatic arc. He's got one temperature and it's smooth and unvarying; that's not helped by the fact that the central dilemma of the show (Should he move to Mars) never seems like a genuine option for our hero. More importantly, the songs too often settle for jokes or rough ideas when more vivid characters and tension are needed.
Our hero is married but we have no sense of his wife. "Final Sandwich 1" (that bit about the left-over food from a meeting) is a 30-second gag that is unfortunately reprised two more times to diminishing returns. Another storyline comes in later with Lipton up for a fellowship or grant of some sort. It's a very modest sum but would give his creative life validation. It's dismissed in one tune with a surreal touch (he eats his competition before the winner is announced) out of keeping with the rest of the show. if any bit should be reprised throughout the show, it should be this: while Lipton struggles with whether to move to Mars, he's also up for a fellowship that would give his music a stamp of meaning. Finding out whether he gets a grant will surely impact how he feels about risking all on his music or taking the gamble of moving to Mars.
Some other songs are missed opportunities. "Soccer Song" in particular is less than it should be. As soon as Lipton mentions the company soccer team, you start to think about the rich possibilities of it for a song. Company sporting events (volleyball, softball, basketball, bowling or whatever) are rich areas to explore in a song (or even an entire show, frankly). It's the one place where all the employees interact on a level playing field. Top management rub shoulders with rising stars and temp workers and guys from the mailroom. Older vets want to prove they're not just paper pushers, young workers want to show off without upstaging their boss, women want another chance to prove they're the equal of men and the oft-ignored backroom employees of the mailroom suddenly find themselves given a chance to prove their worth and put those who barely know their names in their place. Van Dyke Parks or Randy Newman would have a field day. With all that ripe potential, Lipton just builds the song around some vague sideline cheering and morphs the tune into other topics.
This is all to say that a fun outing with Lipton and his band can and should be much more if they're going to pursue No Place To Go as genuine theater. "WPA" is a clever but very pointed and effective song about the economic policies that lifted this country up during the last Depression. The opener and hopeful closer ("Nothing But A Comeback") effectively combine his monologues with a song. And "Three Tear Plan" captures what Lipton does best: mix in humor and emotion with a great melody in a strikingly original style. No Place To Go has a lot of growing to do, but I'm definitely won over by Ethan Lipton and his wryly amusing style.
Serious fans of musical theater know that the Town Hall series Broadway By The Year -- created and hosted by Scott Siegel -- will always deliver at least a few special moments every time. This night -- devoted to the musicals of 1950 -- was perhaps not the strongest of all but was time well spent when it came to highlights.
Beth Leavel didn't have to wait for a revival of Guys & Dolls to put her stamp on "Adelaide's Lament." She stepped up to the mike and delivered this show-stopper with the pipes and personality of a Broadway star. So, Broadway classic delivered in high style? Check.
The marvelous Bobby Steggert anchored "There's A Building Going Up," a paean to the United Nations then under construction in the 1950 revue Alive And Kicking. He was joined by Alexander Gemignani and Matt Cavanaugh on this wide-eyed and wonderfully optimistic tune. So, rendition of an obscure but enjoyable song from a show that will never be revived? Check.
Married Broadway stars Matt Cavenaugh and a beautifully pregnant Jenny Powers dueted on two comic numbers: "Cherry Pies Ought To Be You" (a list song by Cole Porter) and "Darn It Baby, That's Love" from a revue called Tickets, Please! The latter was especially cute, though both were highlights. So, glimpse of the cabaret act to come from what is apparently Broadway's answer to Steve Lawrence & Eydie Gorme? Check.
The band led by Ross Patterson was not at their best; the usual fine accompaniment for this series was a little more intrusive and muddy than usual. They simply never got in sync with the singers. But the very talented hoofer Kendrick Jones delivered with his usual aplomb and class, Bill Daughtery got to reprise his entertaining a cappella rendition of "Sit Down You're Rocking The Boat," Aaron Lazar impressed on "The Best Thing For You" and Gemignani (the show's director) has a modest voice but like a true performer knows exactly what he can and should do with it. He's a real pro.
Still, for me the star of the night was Steggert. Charming and romantic on Irving Berlin's "It's A Lovely Day Today," duetting nicely with Leveal on "You're Just In Love" and providing vocal support on other numbers, Steggert's voice is beautiful, his stage presence warm and assured and he's always present and in the moment -- finding the emotional heart of a tune or simply watching and enjoying others as they sing onstage.
The Theater Season 2011-2012 (on a four-star scale)
NEW YORK MUSICAL THEATRE FESTIVAL 2011
Thanks for reading. Michael Giltz is the cohost of Showbiz Sandbox, a weekly pop culture podcast that reveals the industry take on entertainment news of the day and features top journalists and opinion makers as guests. It's available for free on iTunes. Visit Michael Giltz at his website and his daily blog. Download his podcast of celebrity interviews and his radio show, also called Popsurfing and also available for free on iTunes. Link to him on Netflix and gain access to thousands of ratings and reviews.
Note: Michael Giltz is provided with free tickets to shows with the understanding that he will be writing a review.
Calling all HuffPost superfans!
Sign up for membership to become a founding member and help shape HuffPost's next chapter