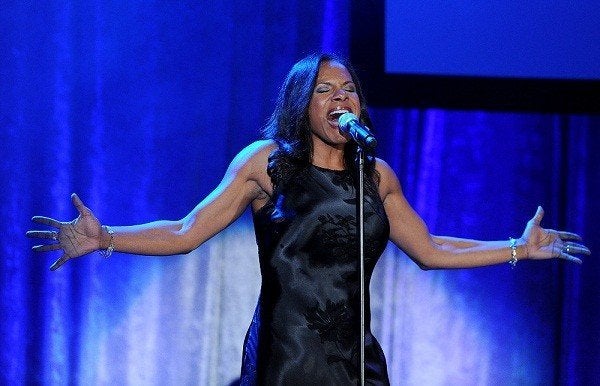 The title is the only clumsy thing about this smartly mounted, beautifully sung and movingly acted new production of the landmark musical theater work. Perhaps it helps that no ghosts swirl around this show for me. I know the music very well, from the Simon Rattle opera to concept albums by Ray Charles with Cleo Laine, Mel Torme and the Miles Davis instrumental version down to countless versions of the standards that came from it like "Summertime."
But for all that, I'd never seen a production of the show and -- being loathe to read plot summaries that might spoil my first opportunity -- I came to this with only the dimmest idea of the plot. It wasn't a revelation, as such; I knew the show had a tremendous score. But of course knowing the emotional context makes the songs that much more meaningful.
Audra McDonald is Bess, the kept woman of the vicious, brutal drunk Crown (the sensationsl Philip Boykin). You know she's a woman of easy virtue because McDonald stumbles around the stage in a bright red dress that practically falls off of her. (It's the only unsubtle note in an otherwise marvelous production.) When Crown brutally kills a man, he runs away and tells Bess to take up with whomever will watch after her but to remember, "It's temporary." (Those words have rarely sounded more threatening.) Virtually an outcast (especially among the women), Bess is taken in by the crippled beggar Porgy (Norm Lewis).
His kindness soon blooms into love and that love is unexpectedly returned by Bess, who for the first time in her life knows what it's like to be loved, accepted by the people around her and not constantly weighed down by her addiction. (If there's one central truth about Bess as played b McDonald, it's not necessarily that she's weak-willed or fickle; it's simply that she's an addict.) Bess cleans up in every sense of the word. The women of Catfish Row -- led by Mariah (an exceptional NaTasha Yvette Williams) -- give her responsibility and a sense of place. Porgy even looks forward to the leg brace and new crutch that will allow him to walk more like "a man."
But don't forget: this was originally conceived as an opera. Pain and sorrow -- and Crown -- are never far offstage.
This Porgy And Bess adapted by Suzan-Lori Parks and Diedre L. Murray with sterling direction by Diane Paulus is gratifyingly strong in every element. One immediately gets a sense of Catfish Row as a community and the cast -- apart from being strong singers up and down the line -- define their characters confidently.
The scenic design by Riccardo Hernandez is neither heavily detailed nor radically abstract. He allows wooden walls and windows to give a sense of space for the street scenes, with a simple drawing in of screens to create a sense of intimacy for indoor moments. A white sheet splashed with gorgeous lighting and color (by Christopher Akerlind) takes us right to the island off South Carolina where a picnic gives Bess her best glimpse of a happy community. The stage floor is wooden and sturdy, with the crossbeams girding it all quite visible and a stretch of platform on stage left serving as boat and dock. The costumes by ESosa strike the right balance (except for Bess's first red dress), with a lot of fun had with Sporting Life's citified look without turning him into a cartoon. And the sound design by Acme Sound Partners is strong throughout, not just on the flashy moments when it lets you believe a hurricane might just tear Catfish Row apart.
Boykin is a marvelously menacing villain (the audience even happily booed him during the curtain call). David Alan Grier is the flip side, an oily seducer always offering the men drugs and Bess a vision of life in New York City, where she "belongs." Grier is solid throughout and by no means a weak link. However, he delivered his big numbers "It Ain't Necessarily So" and "There's A Boat That's Leaving Soon" without rocking the house the way those show-stoppers might. In this show, Sporting Life is not a threat himself, so much as a means to an end. Joshua Henry (so good in The Scottsboro Boys) is a great presence as Jake, a fisherman. Like much of the cast, you immediately believe in this man and his world. When Jake goes missing during a storm, Henry's strong presence makes the potential loss all the more hard to believe. A storm drown Jake? Christopher Innvar and Joseph Dellger score strongly in their small, nasty roles as white members of the law; they make these two men hateful without ever degenerating into moustache-twirling villainy. That believability makes their casual meanness all the more effective. And Williams is a delight as Mariah, the unofficial matriarch of Catfish Row.
But of course the show lives and dies by its title characters and this one has sterling talents with McDonald and Lewis. He can blast out a number with the best of them, but Lewis chooses to use a simple, unaffected delivery for many of his songs that suit the time and the place and the man to a t. It's a part filled with showy potential as Porgy shambles and scrambles around the stage. Lewis avoids every pitfall and makes this character an indelible one. Without ever downplaying his physical challenges, it doesn't take long to believe he's the best shot at happiness Bess will ever have. That makes his exultation in a violent climax all the more powerful and striking.
McDonald of course is one of the most lauded actresses of her generation. Her performance here is another example of why that's so. She sings beautifully but it's the acting moments that will stay with me. When Bess is confronted by Crown on that island where the town had a picnic, it's a rollercoaster of emotion she handles thrillingly, from her initial horror to her pleading ("What You Want With Bess?") to her struggle and reluctant physical attraction to this brutal man right down to the devastating moment when Bess doesn't just give in to his demands and resign herself but blackens her heart with a despairing embrace of the fate she can't imagine avoiding.
Later when Bess is tempted and teased by Sporting Life and his drugs, we just know that Bess could resist if only someone was there for her. (Porgy is being held by the police at this point.) I'd prefer a bolder lie from Sporting Life here (why doesn't he just tell Bess that it's over and that the cops are going to lock Porgy away for good, rather than just hinting that her man might never come back?). Still, McDonald's makes Bess's resistance to his powder and pleas heartbreakingly convincing. So when she gives in and is on the ground snorting up the drugs that a moment ago she bravely tossed away, you can feel her pain and humiliation when Mariah sees Bess and immediately and resolutely shuts her out.
It's a powerful, moving show and yet, I must admit it wasn't quite what I expected. So much was made of this being a musical as opposed to the opera it is traditionally performed as -- I was influenced by all those versions I heard over the years and expected a jazzy take on most numbers with perhaps the most operatic tunes banished or entirely rethought. Instead, this show happily and easily combines operatic voices on the appropriate tunes (it does after all star McDonald) and a Broadway touch at the right points. It's not a radical break with the show's history, but a natural continuation of it. I'd love to see a more intimate, swinging take on all the tunes someday. Perhaps with the success this show deserves, they'll have the confidence to let Porgy And Bess take on many different forms. And that will allow it to survive and flourish as opera, as Broadway musical and in any combination that lets artists tell this rich story and perform this terrific score as often as possible. Porgy and Bess was last on Broadway for three months back in 1976/77, I believe. That is surely far too long.
NOTE: Ronald K. Brown's choreography was so natural and well-integrated into the production that I failed to mention it in my review. That's a high compliment in a way, but his omission should be rectified. He deserves to be credited with contributing to the cohesive effort that makes this Porgy And Bess rooted so believably in a real community.
The Theater Season 2011-2012 (on a four star scale)
NEW YORK MUSICAL THEATRE FESTIVAL 2011
Thanks for reading. Michael Giltz is the cohost of Showbiz Sandbox, a weekly pop culture podcast that reveals the industry take on entertainment news of the day and features top journalists and opinion makers as guests. It's available for free on iTunes. Visit Michael Giltz at his website and his daily blog. Download his podcast of celebrity interviews and his radio show, also called Popsurfing and also available for free on iTunes. Link to him on Netflix and gain access to thousands of ratings and reviews.
Note: Michael Giltz is provided with free tickets to shows with the understanding that he will be writing a review.
Calling all HuffPost superfans!
Sign up for membership to become a founding member and help shape HuffPost's next chapter