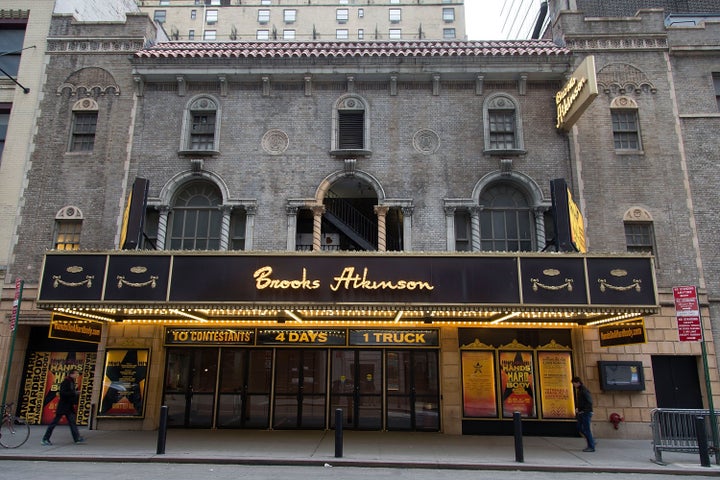 This new musical is such an odd duck on paper that you couldn't help thinking maybe something good would come out of it. In an era when many musicals are based on world-famous comic books are best-selling children's stories and fairy tales, Hands On A Hardbody is based on a documentary most people have never heard about.
The subject matter? A contest in a small Texas town where a group of people keep their hands on a brand new truck for days on end with a 15 minute break every six hours. The last one to still be touching it wins the truck. You can see how the challenges inherent to this might appeal. A musical where everyone is essentially rooted to one spot, with at least one hand touching the truck at all times? Serjio Trujillo is credited with musical staging and he has some modestly inventive fun moving the actors around and around that gleaming red truck.
Since the characters are stuck on the lot of a car dealership, you might imagine the show will be a character study a la Assassins, where each person steps forward and tells their story. That's what we have here in a book by Doug Wright (I Am My Own Wife) and lyrics by Amanda Green (Bring It On) and music by Green and Trey Anastasio of Phish. Unfortunately, every character is a type we know immediately and no song, no plot twist changes or deepens our initial impression. You've got a returning war vet who wants to prove to his family he can still accomplish something, two kids who fall in love during the contest and dream of heading to LA, a religious woman who has prayer chains galore rooting for her to win and a deep conviction that God wants her to have that truck, a young man who wants to sell the truck so he can go to veterinary school, a blonde ringer who is fooling around with the head of the dealership, a stubborn old coot of a woman and Keith Carradine as an aging man recovering from surgery who just wants to feel useful again, to name a few.
Nothing any of these people say or do during the five days of the contest will surprise you in the least. The lead trouble maker is Benny (Hunter Foster) who already won a truck in the contest before and a guy who's watched too many episodes of Survivor. Benny thinks the only way to win is to taunt and prey on the weaknesses of others. Turns out his son died fighting overseas and Benny's wife left him for another man (taking that truck with her) so you can bet we'll feel a little sorry for him before it's over.
It's hard to feel a rooting interest in who wins. The church lady really needs the truck to drive her kids to school and such. Ronald (Jacob Ming-Trent) wants to use it to start his own lawn service. Jesus Pena (Jon Rua) is the guy who wants to go to college. But of course how can we not root for the affable Keith Carradine? Yet he doesn't seem to need the truck at all. The show misses whatever little emotional heft it might have by not reaching for a grander gesture at the end when it comes to winners and losers.
Of course the really grand gesture is the religious undercurrent where souls need to be saved and people need to repent for their hateful prejudice. That's made explicit in "God Answered My Prayers" (though it's an old religious joke -- God said "No.") But the redemption of Benny isn't terribly interesting since we don't see the church lady or anyone else saying or doing anything that might conceivably cause the wonder-working transformation of this bitter, sad man. It just...happens. Still, the songs that go for a religious bent are the modest high points of the show, especially "Joy Of The Lord," in which the contestants create the rhythm of a revival meeting by pounding their hands on the side of the truck and even beep the horn at the climax. Combine that with clever choreography and you have a small glimpse of a far more interesting show.
Musically, I'm not sure if it sounds like country and gospel played by Broadway musicians or Broadway music played by country and gospel musicians. But however they got there, the arrangements are inauthentic and anonymous throughout. Mind you, the songs aren't helped by a weak-voiced cast. Keith Carradine has charm to spare but his vocals are modest. That's fine except that he's surrounded by people who also need to talk-sing and act their way through a song rather than belt it out, with the exception of Keala Settle as the one-note but strong-voiced church lady Norma.
Combine this anonymous heartland vibe with a drab set dominated by a faded brown billboard and you've got a show that isn't nearly Broadway enough for theater fans, country enough for music fans or quirky enough for fans of the movie. Here the risk-taking started and ended with the choice of project. No creative choices after that one were nearly bold enough.
THE THEATER SEASON 2012-2013 (on a four star scale)
Thanks for reading. Michael Giltz is the cohost of Showbiz Sandbox, a weekly pop culture podcast that reveals the industry take on entertainment news of the day and features top journalists and opinion makers as guests. It's available for free on iTunes. Visit Michael Giltz at his website and his daily blog. Download his podcast of celebrity interviews and his radio show, also called Popsurfing and also available for free on iTunes. Link to him on Netflix and gain access to thousands of ratings and reviews.
Note: Michael Giltz is provided with free tickets to shows with the understanding that he will be writing a review. All productions are in New York City unless otherwise indicated.
Popular in the Community