Two people. Two tables. Two chairs. What more do you need for very satisfying theater? Nothing. Heisenberg is a world premiere play at Manhattan Theatre Club and it surely marks a very good week for author Simon Stephens. On Sunday, he'll be celebrated for The Curious Incident Of The Dog In The Night-Time, which Stephens adapted from the novel by Mark Haddon. An unlikely project, it's likely to win multiple Tonys and probably the Best Play Tony for Stephens himself. That show had every bell and whistle imaginable for bringing to life the interior mind of a young man somewhere on the spectrum of autism.
With Heisenberg, Stephens has pared it down. The staging is as simple as possible, featuring two actors, two tables, two chairs and nothing else. It's the perfect counterpart to Curious Incident. While it's not as ambitious as that work, it's a very good play given a very good production with two very good actors.
Mary-Louise Parker plays Georgie Burns, a flake of a woman. The play begins just after she's apparently walked up to a much older man on a train platform in London and kissed him on the neck. She doesn't know him, he doesn't know her, she can't really explain herself but there it is. From this nutty moment spills out a story of friendship and romance.
The man she's nibbled is Alex Priest, a butcher who lives alone and never married; clearly, he hasn't been kissed on the neck or anywhere else for a very long time. Denis Arndt is wonderfully good capturing the quiet humor, integrity and wary warmth of this man. He's no easy mark but a mark he is, perhaps.
Georgie apologizes and flirts and rambles on; it's the sort of nutty character that can grow tiresome very quickly and one I've a knee-jerk aversion to in stories. But Parker is too good for that -- she keeps Georgie too real to be dismissed as some wacky "character." Georgie tracks Alex down (there aren't many butchers in that area of London with his name, after all). Once she's explained "googling" to him and admitting she lied about this and that when they met and suggests he ask her out -- even though Alex is old enough to be her grandfather (never mind her father) -- we're off to the races.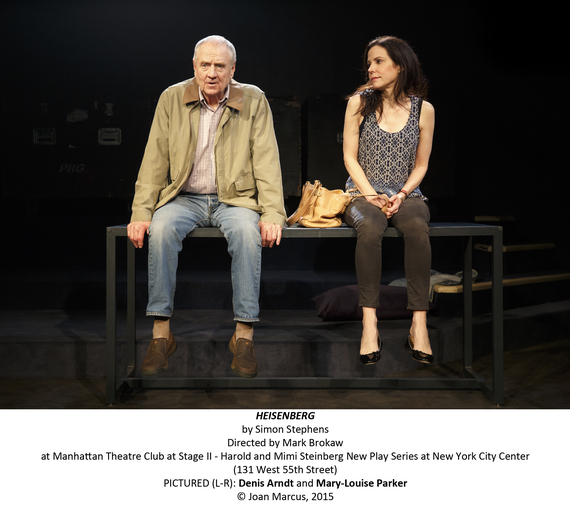 Director Mark Brokaw provides a steady, sure hand to these proceedings. I'd call them modest proceedings but it's too rich a tale and too well-performed for that. Frankly, it's a pleasure as always to see the merest props become a bench at a train station, a butcher's shop, a bedroom, New Jersey (yes, New Jersey) and so on using just our imagination. Georgie is a lonely soul who has let her son drift out of her life. Alex is a man whose business is slowly fading; no one needs a butcher much anymore and he's left alone to ponder the one long-gone love of his youth. It takes little imagination to see how they could be drawn to each other.
Tony and Emmy winner Parker is marvelous of course and it's a pleasure to see her in such intimate surroundings as The Studio at Stage II of New York City Center. The audience is seated on two sides of a small rectangular play area, with the two actors between us. When the work is good (as it is here), when the actors good and the director in control, you never feel in these sort of stagings that an actor has their back to you or they're playing to the other side of the room; it just feels natural and believable. Parker is matched very well by Arndt, a veteran and accomplished actor I don't believe I've seen before. It's a battle of wits and while Parker is given fancy moves and a torrent of words, Arndt parries easily with a raised eyebrow, a choice phrase or just stoic silence.
Stephens makes one crucial choice about halfway through the play that was a little too conventional, a choice that explained things too neatly for my taste. Happily, it wasn't a fatal error and the story recovered once it got back to the relationship of these two equally needy and interesting people. Some ideas are left dangling. Alex announces that he has a habit of bursting into tears every once in a while for no apparent reason. But this spontaneous act never really happens. (Oh, he cries once but it's clearly motivated and doesn't startle you in the least.) And I must have missed any particular allusion to the Heisenberg Uncertainty Principle or some other reason the play is called Heisenberg. Nonetheless, I'm certain this is a production worth seeing.
_____________
Thanks for reading. Michael Giltz is the founder and CEO of the forthcoming website BookFilter, a book lover's best friend. Trying to decide what to read next? Head to BookFilter! Need a smart and easy gift? Head to BookFilter? Wondering what new titles came out this week in your favorite categories, like cookbooks and mystery and more? Head to BookFilter! It's a website that lets you browse for books online the way you do in a physical bookstore, provides comprehensive info on new releases every week in every category and offers passionate personal recommendations every step of the way. It's like a fall book preview or holiday gift guide -- but every week in every category. He's also the cohost of Showbiz Sandbox, a weekly pop culture podcast that reveals the industry take on entertainment news of the day and features top journalists and opinion makers as guests. It's available for free on iTunes. Visit Michael Giltz at his website and his daily blog. Download his podcast of celebrity interviews and his radio show, also called Popsurfing and also available for free on iTunes.
Note: Michael Giltz is provided with free tickets to shows with the understanding that he will be writing a review. All productions are in New York City unless otherwise indicated.
Popular in the Community