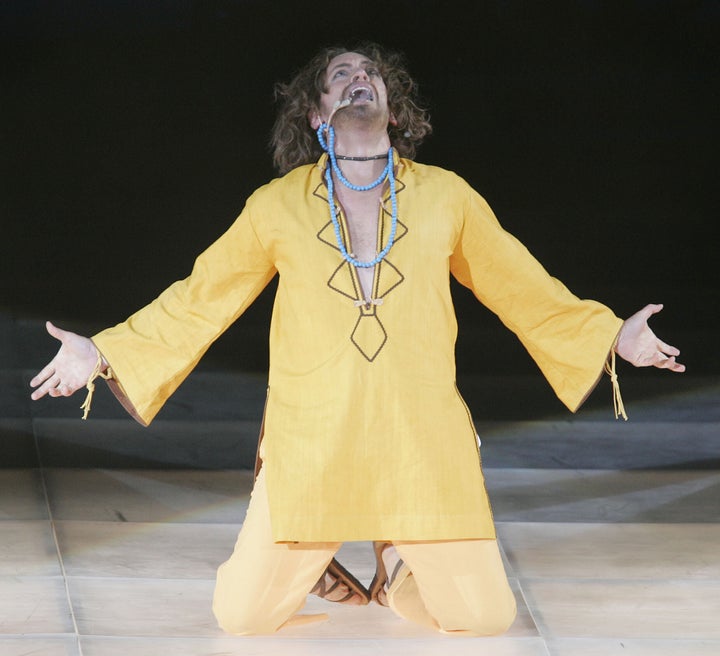 First things first: Jesus Christ Superstar is not really a rock musical. Composer Sir Andrew Lloyd Webber has about as much affinity for rock and roll as Liberace. This production contains thudding, muffled orchestrations that emphasize the anonymous nature of Lloyd Webber's "pop" sound. He's much happier taking inspiration from Puccini than the Rolling Stones. (Or even from the tango and other non-pop areas, as Evita would soon prove.) The music direction and supervision is by Rick Fox, but the blame lies with Lloyd Webber.
The show has been revived on Broadway twice before (once briefly in 1977 and again almost as briefly in 2000). On each revisit, the work seems less distinguished and the same is true here. This production began in Canada and is helmed by Des McAnuff, who had such a success with The Who's Tommy. Unfortunately, his magic is lacking here. It would take a miracle to keep this open for much longer than the five months the show enjoyed the last time around.
Despite the title, the musical -- which began as a concept album -- really focuses on Judas. Rather than a pure villain, it takes the revisionist approach to imagine Judas as confused by Jesus suddenly seeming to embrace divinity, worrying about the presence of women among his followers (a scandalous, radical act for the time) and genuinely striving to keep Jesus from endangering his life. Their back and forth as Judas struggles with what to do before making the fatal mistake of betrayal he immediately regrets is the engine that powers the show.
Of course, any musical lives and dies by its songs and Lloyd Webber is always good for a few catchy numbers. This time they are the brief "Hosanna," sung by the crowds when Jesus enters the city before Passover; the three note riff of "Jesus Christ Superstar" (effective even in this context) and "I Don't Know How To Love Him." But songs don't work if they're not sung well and this show commits the mortal sin of casting poor singers. That always seems unforgivable for a Broadway show, when New York is bursting with so much talent.
Chilina Kennedy is not remotely up to the vocal or acting demands of Mary Magdalene, modest as they are. Paul Nolan has a few effective moments as Jesus, especially his wrath at the moneychangers in the temple, but is otherwise undistinguished in a role that is admittedly very passive and sedate. Tom Hewitt actually commands attention as Pontius Pilate, turning "PIlate's Dream" into a quiet highlight and creating genuine drama out of Pilate's desire to get Jesus to say something, anything that can help Pilate spare him in "Pilate and Jesus." But up and down the line, virtually every other part large and small is sung poorly by the ensemble.
The shining exception is Josh Young as Judas, who not only betrays Jesus but practically steals the show out from under the Messiah. I'm tempted to call it a star turn by Young, but the material doesn't quite justify that. Still, from the very first note, Young makes the most of Lloyd Webber's melodies and the lyrics by Tim Rice, such as they are. Every moment he's on stage, you can look at Young and know what Judas is thinking and feeling, his internal conflict and moments of grace. Looking sexy and confident in an all-blue suit at the finale (despite having just hung himself), Young singlehandedly almost manages to shake the show out of its dreariness. This is his Broadway debut but hopefully it won't be his last.
Other than Young, there's little to praise. The scenic design by Robert Brill is functional and unsurprising. The costumes by Paul Tazewell are drab and -- for the "naughty" scene at Herod's -- just silly. The lighting by Howell Binkley confuses glaring brightness with a glimpse of the divine. And the choreography by Lisa Shriver leaves no impression.
Obviously, a better production of JCS is possible, starting with a cast that can bring to life the not-very-demanding songs. But it seems doubtful the show is worth the effort. Lloyd Webber would soon far outpace this effort with Evita and other works. What once seemed cheeky and modern (Herod's joke about daring jesus to prove he's a God by walking across his swimming pool) now seem mild and tame. Godspell seemed hopelessly naive in comparison even at the time. But it has influenced the music of Christian worship for generations and its revival makes the piece feel timeless, if not exactly earth-shattering. This Jesus Christ Superstar is stuck in the seventies.
It's true that audiences often give standing ovations at the drop of a hint but surely this show has a guaranteed one built in. When Jesus has died for your sins and the bright lights break out and the orchestra plays the triumphant "da-da-dum" of the title song and the actor playing Jesus strides in blazing white to the front of the stage, you can't help but feel it would be churlish not to rise to your feet, whatever you thought of the show. Besides, you never know -- He might be watching.
Matt Charman is clearly the hot young playwright in the UK. He's got a commission from the National Theatre for a new work, he's writing a screenplay for the venerable film company Working Title and he's developing a drama for the BBC. Let's hope they're all more promising than this thin play about a group of men isolated at cabins in Nevada in 1954, waiting to establish residency so they can get a divorce.
It takes six weeks to stake that claim to residency, just enough time for men to bond over their travails, reveal why their marriages collapsed, fight, bicker and have a sentimental goodbye. This is a perfectly valid basic for a play, but Charman piles on the plot twists and buried secrets, confusing revelations with drama. The new guy shows up but Caleb (Ansel Elgort) immediately sticks out like a sore thumb. Caleb claims he's 21 but he sure doesn't look it. And even if true, that's an awfully quick leap from the honeymoon to despair.
The other guys almost can't believe it, but since they make a game out of figuring out the backstory of newcomers, they don't have to believe it. Gruff, ex-military man Robert (Curt Bouril) imagines Caleb killed a man and is hiding out. Timid pet store owner Alvin (Richard Topol) guesses that maybe Caleb stole something. But the one-time school teacher Ben (a fine Brian Hutchinson in the show's best performance) figures out something deeper and unexpected is at work and at the very least nails Caleb over his age, forcing the kid to admit he's just 18 years old.
Mrs. Duke (Adriane Lenox), the owner of the establishment, just wants the men to bother her as little as possible and keep women out of their cabins. That brings her in sharp conflict with Chrissie (Alexis Bledel), the local prostitute with a heart of gold that -- surprisingly -- doesn't take a shine to the preternaturally handsome Caleb but sleeps with the besotted Robert and yearns for the stability of Ben.
Again, the basic material for drama is here, but Charman doesn't trust his characters enough to simply let them come to life. He brings in the Red scare, Hollywood, abusive fathers, suicide and more in revelation after revelation to spice up the events. None of it is terribly convincing.
The cast is by and large capable, though Lenox is saddled with a cliched, truth-telling black woman. She drives two white men to their cabins from the bus station and later says she could already see death in the eyes of one of them. Because, you know, black women are always in tune with the supernatural.
The two unfortunate exceptions are Bledel and Elgort. Bledel is a charmer on TV and has proven Gilmore Girls was not a fluke with movies like Tuck Everlasting. However, in her New York stage debut, she clearly doesn't have her theater legs yet and needs voice work to allow her to project the wonderfully natural and quirky delivery she's capable of in a live setting.
Even less successful is Elgort, making his professional acting debut. Typically, young actors can shine in roles that reflect who they are in real life, at least to a degree. But the complicated backstory of Caleb (married, in love, fleeing the Feds) is far afield from the experience of any teenager. Elgort simply doesn't have the tools to tackle this part and struggles to look comfortable onstage, despite his background in professional ballet. Director Carolyn Cantor was simply wrong to cast him. The play is flawed but certainly might have been presented better with a more experienced lead.
In a rare show of restraint, Alvin talks repeatedly about getting up the gumption to start playing his clarinet again. I would have bet money we'd end a scene or the show with Alvin breaking out into a glorious tune. Instead we hear him practicing roughly and sketching out rather nicely but tentatively a song at one point. It's believable and true, something Charman would do well to focus on in the future.
The Theater Season 2011-2012 (on a four-star scale)
NEW YORK MUSICAL THEATRE FESTIVAL 2011
Thanks for reading. Michael Giltz is the cohost of Showbiz Sandbox, a weekly pop culture podcast that reveals the industry take on entertainment news of the day and features top journalists and opinion makers as guests. It's available for free on iTunes. Visit Michael Giltz at his website and his daily blog. Download his podcast of celebrity interviews and his radio show, also called Popsurfing and also available for free on iTunes. Link to him on Netflix and gain access to thousands of ratings and reviews.
Note: Michael Giltz is provided with free tickets to shows with the understanding that he will be writing a review.
Calling all HuffPost superfans!
Sign up for membership to become a founding member and help shape HuffPost's next chapter