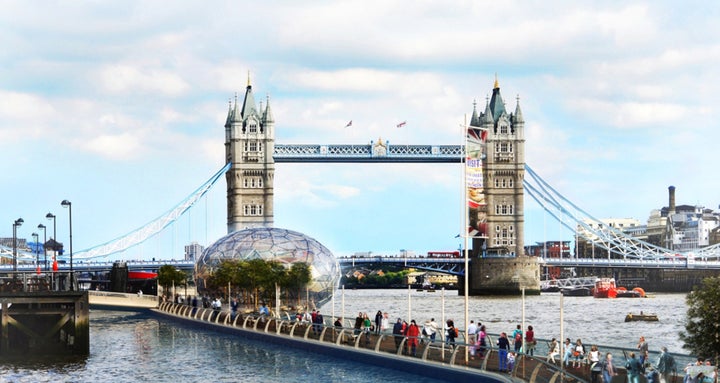 If you're planning to visit London soon, after you've seen Buckingham Palace and then tried to spot the royal newlyweds returning gifts at Harrods, check out One Man, Two Guvnors at the National. It's a crash course in very British humor that will teach you as much about post-war Britain as a hundred walking tours. You may not be convulsed with laughter at every double entendre and every single bad pun, but the people around you will be having such a grand time you'll be certain to enjoy yourself and learn something about the Brits at the same time.
Carlo Goldoni's durable comedy The Servant Of Two Masters has been modernized and plopped down in Brighton in 1963. Our hero -- James Corden of The History Boys -- is desperately hungry and decides to work for two guvnors in the hopes of being paid quicker and finally, finally getting to have a proper meal. Little does he know, those two masters are both in disguise and in love. One is a woman disguised as her gay, homicidal, criminal and deceased almost-twin brother. The other is her one true love, a silly toff who killed said brother (quite by accident on purpose) and wonders if his sweetheart will ever forgive him. Toss in a man up to his ears in debt who promised to marry off his daughter to that bothersome and unreliably dead gangster, a would-be actor who yearns for the daughter almost as much as the sound of his own voice, a terribly ancient waiter and a buxomy accountant who likes a fellow with a bit of meat on his bones and you've got the makings of low-down farce.
Nicholas Hytner directs a show adapted by Richard Bean that gets all the little things right (except for the poster, which does nothing to convey this comedy's silly, breezy nature). A skiffle band performs tunes before each act and during set changes, joined at times by actors from the cast who provide percussion by slapping on their bare chests, honk on car horns or whiz away on the xylophone. Yes, it's that kind of show, a revival of the music hall spirit where everyone has a go, the actors joke with the audience and even drag one or two people up onstage for a bit of business. The set by Mark Thompson has just the right clever feel, giving the grand Lyttleton a more rinky-dink atmosphere. The songs, by Grant Olding, fit in quite nicely, even as the band switches from skiffle to pure rock and roll and the cast joins in on the finale.
What kept this from being delirious fun for me was a cast split about evenly down the middle between those who are performing this silliness and those who feel it deep in their bones. Most of the women fare poorly. Suzie Toase is the lone exception as the saucy accountant who can deliver silliness about a world where petrol stations have three times as many loos for women as for men and garner applause. Jemima Rooper was less vivid as the cross-dressing Rachel Crabbe and Claire Lams made no impression as Pauline, the girl in love with her hammy suitor. Fred Ridgeway does no better as Pauline's father and Trevor Laird has so little to do other than move along the plot it wouldn't be right to say he succeeds or fails.
Don't despair: those actors don't drag the show down; they just don't lift it up to the comic heights reached by the rest. Daniel Rigby is quite fun as Alan Dangle, the thespian who loves Pauline almost as much as he loves himself and wants everyone to know it. Tom Edden is a priceless addition as a doddering waiter, added to the famous set piece where our hero Francis Henshall tries to deliver meals to both of his guvnors in separate rooms while nibbling away himself. Edden falls down the stairs so many times you're certain it will stop being funny. And yet it never does. But for me, the show's genuine find is Oliver Chris as the silly blueblood Stanley Stubbers. Chris captures the tone of this sort of comedy with ease, landing virtually every single line (whether it's a clever retort or just a "Hmm") with panache.
Front and center of it all is James Corden as Francis. He's working a little harder than Chris (who makes it all seem so easy) but his warmth and easy rapport wins over the audience from the start. Pratfalls, lies, beating himself up (literally) and desire for food battling with desire for sex -- Corden does it all. A growing force in television -- where he's written numerous sketches and comedy bits, not to mention co-creating the sitcom Gavin & Stacey -- Corden has found the perfect role for his talents. And I should point out that I'm almost entirely alone in finding even the slightest bit of fault with this show. The British press raved over it and the audience I saw it with was convulsed with laughter from start to finish. The show goes on tour after its limited engagement, but is certain to find a home in the West End after that.
If you can't make it to London, you can check it out anyway by catching the live broadcast of a performance of One Man, Two Guvnors in movie theaters across the U.S. on September 15 as part of the NT Live season.
NOTE: Michael Giltz was provided with a free ticket to this show with the understanding that he would be writing a review.
Thanks for reading. Michael Giltz is the cohost of Showbiz Sandbox, a weekly pop culture podcast that reveals the industry take on entertainment news of the day and features top journalists and opinion makers as guests. It's available for free on iTunes. Visit Michael Giltz at his website and his daily blog. Download his podcast of celebrity interviews and his radio show, also called Popsurfing and also available for free on iTunes. Link to him on Netflix and gain access to thousands of ratings and reviews.
REAL LIFE. REAL NEWS. REAL VOICES.
Help us tell more of the stories that matter from voices that too often remain unheard.