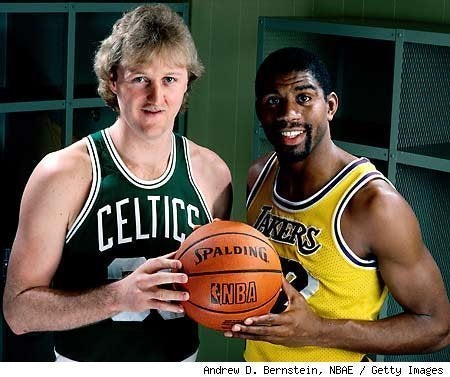 Surprisingly, Magic/Bird is the second basketball-themed show to hit Broadway recently. In many ways, it's even less likely than the high school musical comedy Lysistrata Jones. It's an odd duck, no doubt about it. But the mild curiosity over exactly what they're going to put onstage to depict the careers and and friendship of Magic Johnson and Larry Bird soon dissipates when its dull, pseudo-documentary style reveals itself.
You can make a good documentary about Magic and Bird (in fact, HBO did). But having actors reenact some public statements of these famous athletes while rotely going through their career highlights does not make good theater.
In fact, this play by Eric Simonson (who also authored the sports-themed Lombardi) has all of two scenes that offer even a little opportunity for drama. One involves the shooting of a TV commercial the two athletes appeared in. They're in Bird's hometown and his mother insists Larry (Tug Coker) invite Earvin (Kevin Daniels) over for lunch. As Bird's mom, Deirdre O'Connell is endearingly sweet and straightforward as she bustles around preparing the meal, diving into basketball statistics and praising Magic as one of her favorite players of all time. Compared to most of the show -- they played this game, they played that game, this team won this, that team lost that -- this is high drama. We get actual characters for a moment with Bird and Magic sparring gently, revealing themselves and telling stories. It's mild, but by gosh it feels like a three pointer.
The other scene with some mild dramatic import tellingly involves neither of these athletes but fans in a sports bar arguing over their favorite teams. Francois Battiste (who also has a blast doing Bryant Gumbel) and Peter Scolari (in multiple roles, including coaches) get to play actual people, drunken men who are passionate about their basketball and ready to argue and tease and mock each other. They also get to dance a little closer to the issues of race that the rivalry and the media portrayals of those two men invariably raise. Both these scenes go by quickly but they stand out in this moribund work for actually trying to do what drama usually does: create characters and tell a story.
The rest of the show is a dull recitation of facts with most of the excitement coming from old footage of great games. Even that TV commercial provides more zing than most of the actual play. Simonson's piece typically demonstrates a lack of drama by beginning with Johnson's announcement that he was HIV positive and then barely hinting at the fact that Johnson was compulsively sleeping with hundreds if not thousands of women throughout his career. Think that might make for some interesting drama? Me too.
The show ends with the dull as dishwater Dream Team "triumph" at the Olympics that offers no tension or excitement whatsoever. The actual drama of the All Star Game prior to that is similarly glossed over. Many players rebelled over sharing a court with Johnson (who was elected by fans even though he'd retired) out of unreasoning fear of AIDS. Bird stood by him. We hear about this, but only in passing and Simonson doesn't begin to create conflict out of it.
Coker plays the monotone Bird to some amusing effect early on but it soon palls. Daniels has the easier part of the more engaging Johnson but neither man has been given more than a few moments to dig deep. Not that it matters, but Coker sort of handles the ball and makes a few modest shots whereas Daniels looks like he's never even seen a basketball, much less dribbled one.
The set design by David Korins, the sound by Nevin Steinberg and the media design by Jeff Sugg all work together nicely to present a sharp looking, clean production with all sorts of elements like old stills, game footage and the noise of crowds blended together in an unobtrusive manner. If there were an actual play going on, their work would be providing fine support. They did come up with a clever touch in this piece directed by Thomas Kail (Lombardi and In The Heights). The cast is introduced as if they're players taking the field. It's a cute moment at the very beginning. Unfortunately, it turns out to be one of the few instances of originality in the entire piece. Anyone looking to ease the pain of going cold turkey on Linsanity should stick to reruns on ESPN Classic.
The Theater Season 2011-2012 (on a four-star scale)
NEW YORK MUSICAL THEATRE FESTIVAL 2011
Thanks for reading. Michael Giltz is the cohost of Showbiz Sandbox, a weekly pop culture podcast that reveals the industry take on entertainment news of the day and features top journalists and opinion makers as guests. It's available for free on iTunes. Visit Michael Giltz at his website and his daily blog. Download his podcast of celebrity interviews and his radio show, also called Popsurfing and also available for free on iTunes. Link to him on Netflix and gain access to thousands of ratings and reviews.
Note: Michael Giltz is provided with free tickets to shows with the understanding that he will be writing a review.
Calling all HuffPost superfans!
Sign up for membership to become a founding member and help shape HuffPost's next chapter